Shanghai Jiao Tong University's Antai College of Economics and Management offers the best value MBA in mainland China—that's according to the Financial Times MBA Ranking 2021.

Antai College at Jiao Tong ranked third in mainland China and 53rd globally in the latest FT ranking, but it's the school's performance across different ranking metrics—used by the FT to decide overall rankings positions—which is especially notable.

As well as Antai's ranking as one of the best value MBA programs—second only to HKUST Business School in Hong Kong considering China overall—the school ranked sixth in the world for careers.

Antai is also the second best business school in the Asia-Pacific when it comes to the overall satisfaction of its students—a new metric added to the FT MBA rankings in 2021—with a high score of 9.33 out of 10, second only to Beijing's Tsinghua University.
---
See the FT's full rankings table
---
Best MBA for value for money
The school's success is a sign of some of the progress made under dean Chen Fangruo who took office in 2018. Antai's dean has looked to combine theory and practice within the International MBA curriculum, bringing industry professionals into the classroom, championing social responsibility and innovation, and ensuring positive career outcomes for MBA students.
The FT's value for money rank is calculated using the salary earned by MBA graduates three years after graduation, the program length, fees, and other costs, including the opportunity cost of not working for the duration of the program.
Antai International MBA graduates can expect to earn over $120,000 three years after graduation, according to the FT, with a salary increase of 159%, the sixth highest increase for MBAs globally.
98% of Antai MBA students are employed within three months of graduation—only three FT-ranked business schools better that statistic in 2021.
---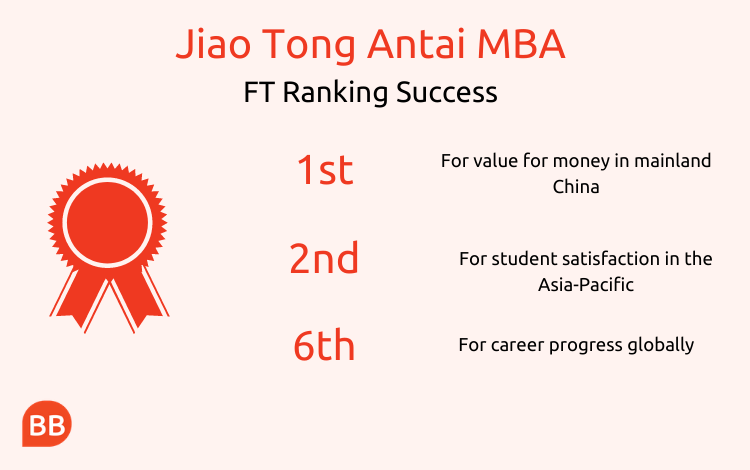 ---
Anais Pothon (pictured below) who worked in hospitality in Switzerland and Cambodia before enrolling on the MBA at Jiao Tong's Antai College, managed to change her career trajectory after graduating from the program.
While writing up her final thesis, she was offered a full-time job as a client relations manager at IMA Asia in Shanghai, a company that brings together peer groups of CEOs and business leaders in Asia.
"Antai is very supportive from the start in maximizing each student's exposure to [career] opportunities," she says.
---
Read: Why MBA: Shanghai Jiao Tong University—Antai
---
Top MBA for careers
Anais is just one of many Antai MBA students who have benefited from the career-focused MBA program.
During the two-year MBA, students meet with executives from local and multinational firms via company visits and project work. Antai is partnered with organizations like Ant Financial, the world-leading financial technology company, and the Bank of China.
At the annual Antai Symphony summit, business leaders come on campus to discuss the latest developments in cutting-edge business topics. The 2020 summit focused on how artificial intelligence is transforming industries like healthcare and retail.
The Industry Community Class then sees industry figures run a lecture series for Antai MBA students. Recent lectures were delivered by Xie Jian, president of Red Star Macalline Group, one of China's largest furniture sellers, and Xu Weiguo, former president of Shanghai Xinhua Hospital.
Access to senior business leaders pays off when it comes to MBA careers. The FT's career progress metric—for which Antai is ranked among the best in the world—is based on the changes in the level of seniority and the size of company MBA alumni work for three years after graduation compared to before their MBA.
---
---
Why MBA in China?
Antai is also ranked among the best business schools in China for international mobility, according to the FT, with incoming students and alumni working in various countries. The school recently signed the Shanghai Declaration, alongside 195 global business schools, to commit to promoting globalization.
Antai has a strong representation of women on the MBA program; 50% of MBA students and 33% of faculty are female.
As the only local Chinese business school listed among the FT rankings' global top 100 for eight consecutive years, combined with the cost of tuition which, at $50,000, is more affordable than many top MBA programs in the US or Europe, Anais suggests international candidates should consider an MBA at Antai in China.
"As in any other big city, living in Shanghai gives a lot of opportunities," she says. "Studying an MBA here gave me a China-based network and strong friendships, and I would never have my current job if it wasn't for my MBA."
Related Content: