Leadership skills will always be in demand, but perhaps even more so after a year marked by confusion, fear, and change.
As we enter 2021, you might already be looking ahead to how you can hone the right leadership skills to lead your team through future crises.
"Most people think leadership comes with strong characteristics—the assumption is you need to be a super-person, but sometimes we forget leadership is also a process." reflects Dimitrios Spyridonidis, associate professor at Warwick Business School.
Dimitrios teaches leadership on the Distance Learning MBA, which is was ranked the number one online MBA in the world by the Financial Times in 2020.
He admits that "2021 will be all about recovering from the crisis." To do this, MBAs will have to channel a slightly different set of skills in their leadership roles, in order to make sense of the "disruption, prolonged pressure, and a rapidly changing work environment" in the coming months and years, he says.
Helped by Dimitrios' insights, we've identified five of the most important leadership qualities you'll need in 2021 to successfully navigate out of the crisis.
---
1. Visibility
"Leaders must be more visible during periods of crisis," Dimitrios asserts. Whether you're leading a small team or are the CEO of an international corporation, your leadership should be visible even when you're not.
Though it's impossible to be visible at all times—though the wonders of Zoom and Slack can help with that—Dimitrios says "having a strong purpose can help you be visible."
On the Distance Learning MBA at Warwick, students are led through a personal transformation, working to understand their own identity and purpose, building confidence in the process.
"We provide a safe environment to challenge how they think about who they are," Dimitrios explains, "and vocabulary to think about how to do things differently."
---
2. Emotional Intelligence
A crucial leadership skill at all times, emotional intelligence becomes even more important after a crisis.
"What you need to consider is that people are dealing with extreme fear," Dimitrios remarks. "Fear really impacts the leader, and to a lesser extent, the team."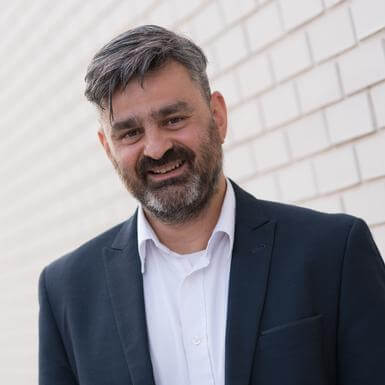 Emotional intelligence is needed if leaders are to understand their teammates, and help them through such challenging times.
In order to develop his students' emotional intelligence, Dimitrios makes sure to emphasize the importance of "[understanding] where people are coming from.
"We make them mindful that they need to practice in a multi-disciplinary, diverse environment," he adds.
To help MBAs gather feedback on their leadership style, Dimitrios asks them to record themselves when they are giving a talk or they're in a meeting, and use the video to evaluate themselves.
"It gives you really honest feedback, and the ability to see how you come across in the eyes and ears of your audience," he notes.
---
3. The Ability to 'Zoom In and Out'
This one's got nothing to do with the video conferencing tool—something else we've all been getting to grips with. Instead, Dimitrios emphasizes the importance of being able to see things from varying points of view.
"Leaders need to switch their mindset regularly to deal with paradoxical tensions," he explains. "Although they need to take care of individuals—themselves—they also need to switch their mindsets to the broader co-dependencies that their organizations have."
This interdependency is increasingly stark, with uncontrollable forces influencing businesses around the world. If you can't combine big-picture thinking with meeting the needs of your team, you won't be best placed to lead in a crisis.
Dimitrios summarises this paradox: "You obviously need to be aware of the nature of a team—but we shouldn't forget the role of increasingly interconnected economies."
---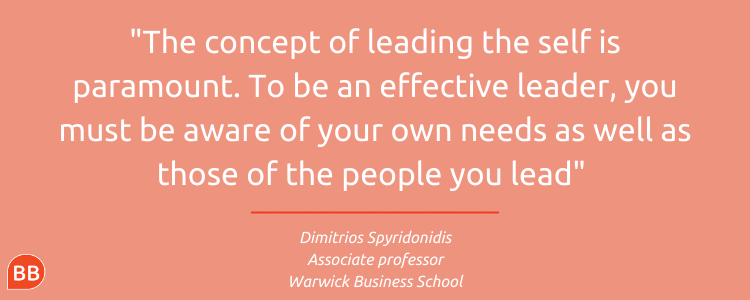 ---
4. Fact based decision-making
We all saw the consequences of the rapid spread of misinformation last year, whether from social media or major global leaders.
Dimitrios sees a growing interest in leaders being able to "lead with wisdom" in the aftermath of a year fraught with falsities and misinformation.
"There is a lot of noise out there right now from the media and others, and of course there is a lot of fear about the coronavirus," he admits. "I think we need our leaders to lead with facts and not fear.
"Try to educate yourself as much as possible, but also try to engage with your team and encourage inclusivity," he suggests.
---
5. Leading the Self
The most important leadership skill of all, Dimitrios argues, is the ability to "lead the self." To do this, leaders must ensure they "take care of themselves emotionally and physically," he says.
The growing impact of the crisis on mental health is becoming more apparent. Whether you're suffering from anxiety, are feeling the loneliness of working from home, or just miss your old life, these are all issues that leaders should be aware of before they can tackle managing others.
"The concept of leading the self is paramount," he asserts. "I think the impact on mental health as a result of recovering from crisis is enormous on leaders.
"To be an effective leader, you must be aware of your own needs, as well as those of the people that you lead."
Related Content: