Studying an Online MBA gives you the chance to gain management skills, build your global network, and develop broad business insights—all without having to relocate or give up your job.

And these programs are growing in popularity. According to research from the Graduate Management Admission Council (GMAC), global demand for Online MBA programs grew by 44% in 2020.

Here's how the Online MBA program at Maastricht School of Management helped two alumni advance their careers without having to take a break from work.
---
New perspectives on a social enterprise—Florisa De Leo Magambi
An Online MBA helped Florisa De Leo Magambi (below, right) take her social enterprise, Kibébe, to the next level.
Kibébé is an African lifestyle brand that offers a range of toys and gifts handcrafted by refugee artisans in Malawi, using local chitenje fabric. All proceeds support There is Hope, a nonprofit providing vocational training and scholarships to people living in Malawi's largest refugee camp, Dzaleka.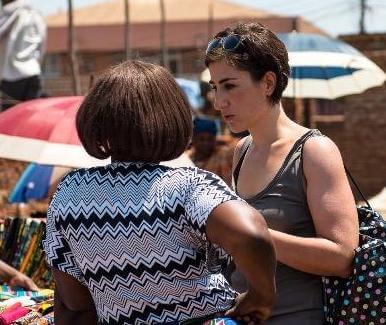 Florisa founded Kibébé in 2012, after moving from a corporate job in the UK to volunteer in Malawi. At Dzaleka, she encountered talented artisans selling handmade items to support their families. The problem was, these items were sometimes old fashioned and didn't have universal appeal.
In the same stretch of time, Florisa's first child was born with a disability, but she couldn't find suitable sensory toys for her. She'd spotted a gap in the market.
"Those two things together led me to founding Kibébé," Florisa explains.
"The people around me were very skilled, and I understood the tastes and needs of people with disposable income. I thought if we got together, we could create something viable."
Florisa's formula worked. Kibébé became far more popular than she'd initially expected, and she began to see opportunities for even more growth. But as Florisa worked on planning for the organization's future, she realized there were gaps in her business knowledge.
That's where an Online MBA came in. Studying online meant that Florisa could access an MBA without leaving Malawi, Kibébé, or her young family behind. MSM stood out for its generous Woman Ambassador Scholarship, which provides up to 50% of tuition fees to women with outstanding leadership experience.
The program's international cohort was another attractive feature, and during the program, learning from these peers was a real highlight for Florisa.
"Because they came with a different worldview, they often had a fresh outlook on my day-to-day challenges," she explains. "Kibébe needs to be viable, so it was good to be in a setting where most people come from a commercial background."
The Online MBA also sparked Florisa to expand Kibébé's reach to the US, leveraging social media marketing to get the word out. She's currently looking into drop shipping, which would allow the organization to fulfill every order from Malawi without an intermediary.
Florisa would highly recommend the Online MBA to other non-traditional students working in areas like nonprofit, social entrepreneurship, or government.
"The skills taught in the program are skills every nonprofit practitioner should have to a certain level," she reflects. "And achieving an MBA did a lot for my confidence."
---
Bridging the gap from research to management—Ferry Winter
Ferry Winter's chemistry expertise took him a long way in his career with petrochemical giant, Shell. But as he started taking on more managerial responsibility, he wanted to back up this know-how with broader business acumen.
When he moved into a general manager role with Shell's catalysis department, Ferry decided it was time to close the gaps in his knowledge with an MBA. Since he travelled a lot for work and had family commitments to think about, an online program was the obvious choice—and MSM fit the bill perfectly.
"The Online MBA at MSM is highly regarded, as is the school," Ferry explains.
During the program, one of the most important skills Ferry developed was communication in a business setting. Having to interact with classmates asynchronously, he learned to write considered responses that would generate further discussion.
"My writing has become much better," he reflects. "You have to be conscious of the number of words and sentences you use and know how to communicate concisely.
"I keep that at the front of my mind today when I work with a team of chemists."
Another highlight was interacting with classmates across functions and industries, who could share their knowledge, and benefit from Ferry's knowledge in return.
"I really learned a lot by hearing the experiences of other people from the cohort," he says. "It's fascinating because they work in different businesses and different areas."
Ferry graduated in 2020, and has recently stepped into a new role as general manager for Shell's Amsterdam-based technology center. He'll be accountable for everything from community building to managing external relations, site operation, and safety.
Despite the challenge, he feels confident equipped with the insights from his MBA.
"I expect I'll be using 80% to 90% of what I learned in the MBA on a daily basis," he concludes.
Related Content: