Steven N. Adjei built a career as a pharmacist but always felt something was missing that he couldn't put his finger on. He was interested in business and leadership but wasn't sure how he could apply that interest.

Steven chose to do a Distance Learning MBA at Warwick Business School (WBS) to remain close to his family and continue his job. With the leadership, strategy, and management skills he gained there, he set up his own business, BlueCloud Healthcare.

BlueCloud was formed to incubate African healthcare businesses that primarily served the booming middle class, introduce quality medicines into Africa, and develop a fund that would directly invest in scalable African healthcare businesses.
---
Making the jump from a pharmaceutical career to a leadership degree
Steven had a lengthy background in healthcare. Steven was born in the UK but moved to Ghana where he qualified as a pharmacist. When he moved back to the UK in 2001, he qualified there too and was one of the first black pharmacists in Plymouth, Devon. However, he always felt there was more he could do.
He was interested in business and leadership when he was young, and he felt an MBA would allow him to discover his path beyond pharmacy.
"When I was a child, I was always drawn to business books, leadership books, and books about self-improvement. I knew I had to do more than be a pharmacist, and I needed the MBA to unlock something more," Steven says.
Steven decided a Distance Learning MBA would be the best decision for him and his family. His son and daughter were five and three, his wife worked full-time, and since they had no family in the UK, he wanted to stay close to them.
Another factor that affected his decision was the need to earn money throughout his studies.
"I couldn't leave my job for a whole year, and I needed some income to come in for my family and to afford the MBA," Steven explains. "I wanted to have the best of both worlds."
WBS struck the perfect balance between distance learning and quality education.
"I researched many courses. Warwick offers the best flexibility at the best quality."
---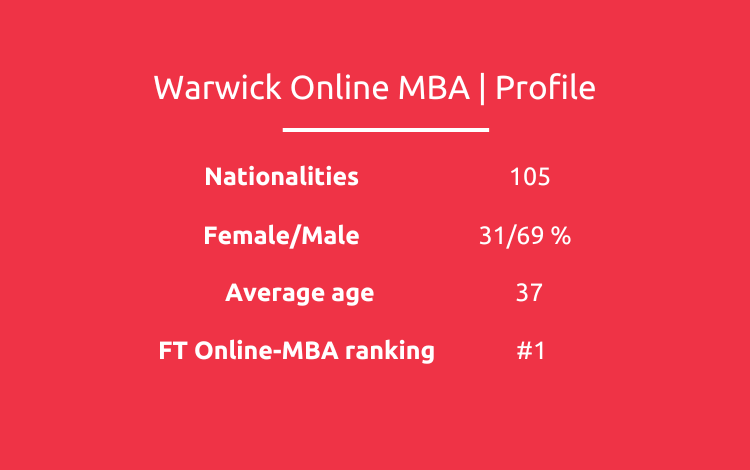 ---
Gaining a transferable leadership skillset at Warwick Business School
In 2022, Warwick Business School's Distance Learning MBA was ranked the best online MBA in the world by the Financial Times for the fifth year in a row.
The WBS Distance Learning MBA prioritizes flexibility. You can complete the program in two to four years and stop or slow down if your circumstances or job need to take precedence.
This flexibility meant Steven could apply what he learned in class at work in real-time. He says this was a highlight of the program.
"I loved that I could apply what I was learning directly. The next day I could go to work and apply what I was learning on strategy and managing people or finance and accounting. That was very compelling, and the quality was brilliant," Steven says.
The Distance Learning MBA's core modules include Leadership and Innovation and Strategic Entrepreneurship, and you can choose from a range of electives, including International Business and Corporate Finance.
"Being born in the UK but living in Africa, I was particularly enthralled by the international business strategy side. We learned about culture, how countries differ and how they do business."
Not only did Steven learn about international business he also forged a network of international contacts, including people from Nigeria, the US, and Europe. He launched BlueCloud with a fellow colleague from WBS, and they still work very closely with fellow Warwick MBA alumni all over the world.
---
Launching his own healthcare company
Steven launched BlueCloud Healthcare in his last few months at WBS.
"It was at the end of my course that I finally realized what I wanted to do – to launch a company that focused on healthcare, incubation strategies, and investments in Africa."
With the knowledge he built up at Warwick and his experience in healthcare both in the UK and Africa he felt he had the skills necessary to channel his ambitions and start his own company bringing healthcare to Africa's growing economy. He fine-tuned his strategy by using his MBA project to research into successful healthcare innovation and investment in Africa.
"We specialize in bringing products, quality medicines, and quality products from the UK, the US, Dubai, and India into Africa because of the shortage of medicines,
"There are lots of long-term diseases happening: hypertension, diabetes, asthma. So-called Western diseases, which they were ill-equipped to handle, so we stepped in to try to fill the void," Steven explains.
As part of BlueCloud's mandate to promote healthcare investment in Africa, Steven has organized and been a keynote speaker at conferences across the world, from Cape Town, Dubai, Nairobi, Accra, and London.
Steven also partnered with a charity called Compassion to sponsor high-achieving Africans who want to further their healthcare career.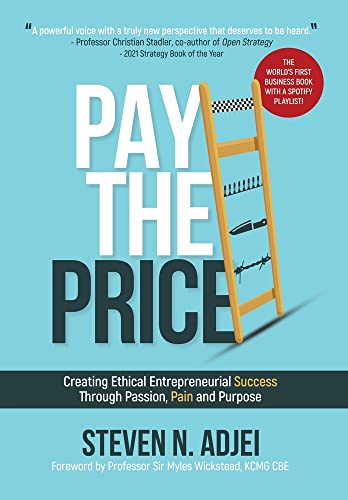 Since then, Steven's entrepreneurial ambitions in healthcare have flourished. BlueCloud signed a deal with a British medicines manufacture in 2021, merged with the Emerald Group, a Dubai-based consulting firm, and now have offices in London, Dubai and Delhi and is planning a fourth office in Accra, Ghana in 2023. He's also written a bestselling book, Pay The Price: Creating Ethical Entrepreneurial Success through Purpose, Pain, and Passion (see picture) which offers a fresh perspective on Ethical Entrepreneurship.
Despite his success, Steven still works at the pharmacy in Plymouth but is becoming increasingly involved in the business as the revenues for the merged company grow.
Related Content: