Online MBA programs are perfect for busy individuals who aren't looking to take a break from their career but are hungry for a challenge.
An Online MBA in Marketing is a specialized MBA program that allows professionals to gain a concentration in marketing alongside fundamental business knowledge.
Here's what you could gain from studying an Online MBA in Marketing at some of the world's best Online MBA programs in Marketing, according to the US News Report rankings.
---
1. You can learn to blend your marketing and leadership expertise
The University of North Carolina (UNC) Kenan-Flagler Business School offers the best Online MBA in Marketing, according to the US News rankings.
The program promises to help professionals become both marketers and leaders.
Courses are aimed at educating professionals on areas such as identifying consumer purchasing and behavioral trends, leveraging analytics and data, and applying new technologies in marketing.
Possible career opportunities include head of marketing, market research lead, or brand strategy.
---
2. You don't have to take time out of your career
There's no denying that studying for an MBA program will take significant time out of your busy schedule, with many full-time MBA students leaving their careers before embarking on a business degree.
If this isn't something you want and you'd prefer to continue progressing in your marketing career, an Online MBA might be right for you.
The University of Michigan Ross School of Business offers a top-ranked Online MBA program that ranks second in the US News Online MBA in Marketing rankings.
Online classes are taught in a high-tech studio with small class sizes. The program offers synchronous and asynchronous study, as well as in-person learning opportunities.
Courses related to marketing include Marketing Management and Advertising Management.
82% of grads from the program have received a promotion since beginning the Online MBA.
---
Considering an Online MBA?
Download our Online MBA Guide 2023
---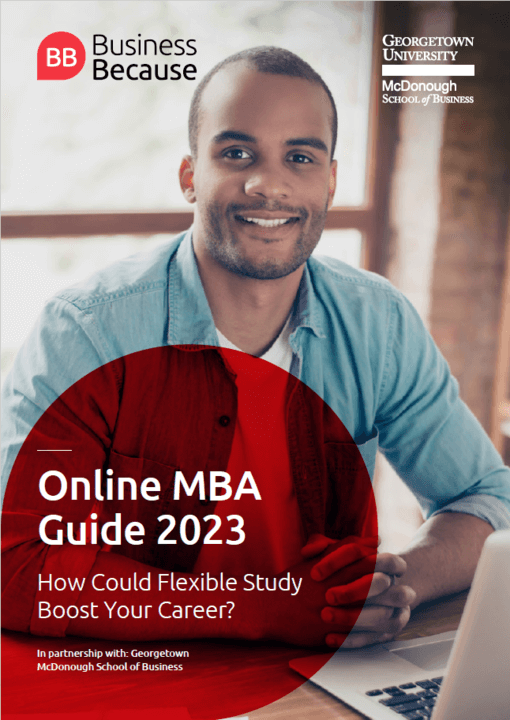 ---
3. You can still gain practical learning experiences
Some students might be concerned that Online MBA programs don't offer the same level of experiential learning opportunities as full-time MBA degrees.
This isn't the case for many Online MBA programs.
One example is the Direct Online MBA at Kelley School of Business, which ranks third in the US News rankings.
The Kelley Direct Online MBA offers immersion courses that enable students to work with a business to solve a strategic problem, such as consulting Fortune 500 executives on pricing strategy.
---
4. You can access an online global network
Attending an Online MBA in Marketing means gaining unrivalled access to a global digital network at your fingertips.
Since Online MBA programs can be joined from anywhere in the world, you'll often work with peers from across the world in group projects and class exercises.
The Arizona State University W. P. Carey School of Business Online MBA offers professionals access to a 120k-strong alumni network.
The 24-month Online MBA program ranks fourth in the US News Online MBA in Marketing rankings.
---
5. You can gain a new career or advance in your current MBA job
Many ambitious professionals are attracted to Online MBA programs that will help them gain a promotion or even switch to a new career.
With an Online MBA concentration in marketing, you'll be ahead of the game when it comes to the latest developments in the business and marketing space. This will stand you in good stead for progression opportunities at your existing company or a new firm.
The 21-month Online MBA (OMBA) at University of Southern California (USC) Marshall School of Business is one of a handful of Online MBA programs that offer career support services that are tailored towards students' aspirations.
Grads from the Online MBA have used their degree to advance their careers in a variety of sectors, including financial services, healthcare, and the entertainment industry.
The top-ranked program ranks fourth in the US News Online MBA programs in Marketing rankings.
If you have a burning desire to transform your career yet you're making great progress in your existing role, an Online MBA could help you make the leap.
Online MBA programs with a concentration in marketing are perfect for those who are looking to gain a deep understanding of the marketing sphere and want to stand out from the crowd. All you need is a laptop and a drive to succeed.
---
Next read:
Online MBA Guide 2023: Everything You Need To Know About Online MBAs