POLIMI Graduate School of Management, previously MIP Politecnico di Milano, now offers a New Generation MBA as the school recalibrates its purpose according to the challenges facing business leaders today.

Nowadays it's not enough for future leaders to just learn managerial skills; it's also important to understand how you can build a profitable and sustainable business by motivating a workforce towards the common purpose of contributing positively to society.

Professor Federico Frattini, dean of POLIMI Graduate School of Management, believes the school has a responsibility "to train and inspire leaders that hopefully will be able to tackle some of the most important challenges that our society is facing."

That's why POLIMI GSoM has chosen to relaunch the New Generation MBA in partnership with the Mind at Work—a global consultancy—to bring purpose-oriented courses at the core of its MBA curriculum.

"The New Generation MBA aims to really develop people who could make a difference in the long term, those who will become our future leaders," says Antonella Moretto, associate dean for open programs at POLIMI GSoM.
---
Who is the New Generation MBA for?
POLIMI GSoM's New Generation MBA is aimed at candidates with more than three years of professional experience who are ready to develop their managerial, leadership, humanistic and life skills over a 12-month program.
A key aim for POLIMI Graduate School of Management is to increase the diversity and gender parity in the MBA classroom. The 2022 class comprises 18 different nationalities, with 49% female students.
While the New Generation MBA is a full-time degree, working professionals who wish to enroll at POLIMI GSoM without taking a break from their career can apply to the school's international part-time MBA.
---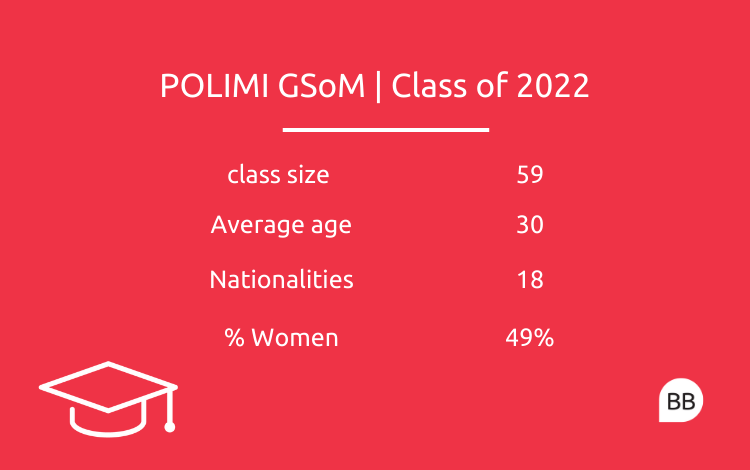 ---
POLIMI GSoM New Generation MBA | Cost and Admissions
The triple accredited POLIMI GSoM New Generation MBA costs an estimated €39k ($39.4k) with a €5k tuition fee reduction available to all students who are funded by a selection of POLIMI GSoM MBA Partner companies.
When applying you may also be eligible for further financial aid through one of several merit-based scholarships aimed at specific groups including expats and women. Some scholarships may request for an essay, motivational letter, or competition entry when applying.
It's important you keep in mind POLIMI Graduate School of Management provides priority to early applications and can cover up to 50% of your tuition fee if you apply early.
The application timeline:
Step 1: Submit application and documents
1. CV in English
2. University Degree
3. Official University Transcripts
4. GMAT/GRE score (optional but recommended)
5. English proficiency
6. Motivational statement
7. 2 x Letters of Reference
8. Copy of passport or ID
9. Digital Picture
10. Pay application fee (€150)
Step 2: Motivational interview and POLIMI GSoM test (exempt from the test if you have a GMAT score of 590 or higher)
Step 3: Final decision
Step 4: Confirm participation by paying first instalment of €7,000 within 15 days of receiving the offer
To understand whether the POLIMI GSoM MBA is a good fit, Antonella (pictured) advises prospective students to consider their purpose and values and ask whether POLIMI GSoM can help them design their aspired future.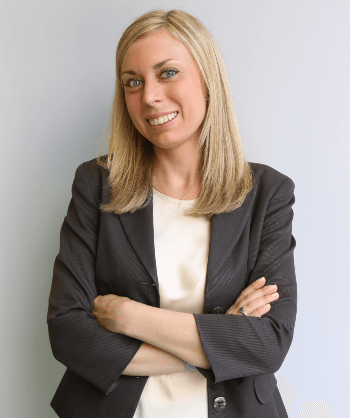 "The perfect candidate is someone who really wants to make a change in the world, that feels the need to contribute to the future and believes their decisions matter," she explains.
If you're someone who wants to bring about positive change through innovation, the POLIMI GSoM MBA will likely be a good fit. The New Generation MBA curriculum focuses closely on sustainability, a key source of innovation according to Antonella.
Outlining a passion for these areas in your motivational letter or essay is a good start to securing a place. Antonella adds you should feel safe to be open about yourself, your characteristics, aims, and long-term aspirations.
---
POLIMI GSoM's New Generation MBA | Curriculum
POLIMI GSoM, in partnership with Mind at Work, wish to emphasize to the new generation of business leaders the importance of purpose over profit. They're developing a new approach for their MBAs and EMBAs which highlights that positive financial results can be driven by a purpose-motivated workforce.
The New Generation MBA brings a focus on purpose and soft skills to the heart of all courses to help develop students into this future leader.
The 12-month MBA starts off with an introductory course titled 'Management with Purpose', which helps you view the business world from a less traditional standpoint.
"It was implemented to provide students with an overview of the grand challenges companies are facing, the new requirements business needs to do, and also present new theorized frameworks of analysis," says Antonella.
During the core section, students learn the foundations of business management. This is divided into four sections: Analyzing the Business and the Context, Managing Business Activities and Processes, Planning Innovation and Transformation, and Realizing Innovation and Transformation.
---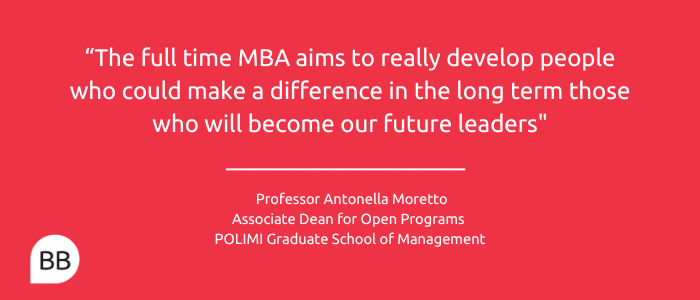 ---
Hoping to bridge the gap between theory and practice, the New Generation MBA will require students to take part in a series of experiential activities with business simulations or company visits related to the core modules.
"We're really trying to put the individual at the center of the new MBA and emphasize the human dimensions of leadership through coaching, workshops, and experiential immersive activities on the topic of purpose and humanities for business," says Federico.
He adds, "the hard managerial skills are still required but not under the perspective that the sole purpose of an organization is to maximize profit and create share value."
In a bid to weave sustainability throughout the entire curriculum, POLIMI Graduate School of Management has also partnered with non-profits and members of the third sector, such as UNICEF, to offer practical expertise and skills.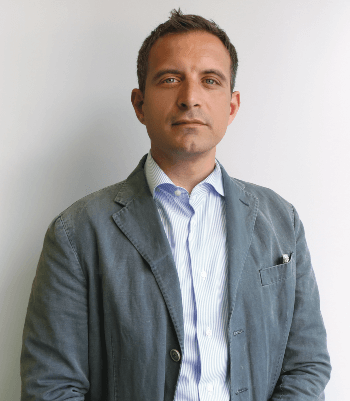 "It's not enough to understand or study it, you must also get your hands dirty," Antonella says, "all our students take part in an experience scheme to work with companies and labs or do projects with firms or NGOs to translate ideas into practice."
During the second half of the course, you can choose electives in areas such as Digital Transformation and Big Data Analytics, Entrepreneurship, Innovation and Startup Development, Luxury and Design Management, or Global and Sustainable Management. There's also the option to go on a study tour in Silicon Valley, or undertake a business excursion in Mexico.
"Sustainable impact is not something you can teach with the classical approach of providing the theory and putting it into practice," Federico (pictured) says. "Sustainability teaching involves personal reflection, helping students understand why they should care about the future, what their values are, as well as why they want to work for certain companies over others."
---

If you aspire to become a purpose-led and conscious leader who wants to bring about positive change through collaboration and teamwork, the New Generation MBA may be the program for you.
What makes the POLIMI GSoM MBA so unique is its devotion to students' personal development in relation to the self and towards others. The inclusion of various elements aimed at developing your mindset can support you in designing conscious strategies and will prepare you for management in the modern workplace.
If you're considering applying, make sure you look at the many scholarship opportunities available and apply early. It could save you up to 50% of your overall tuition!

Related Content: