Stanford Graduate School of Business' MSx program is different from your usual business master's. Aimed at mid-career professionals with substantial leadership experience, the Stanford MSx seems closer to an EMBA than a master's degree.

The program features world-leading faculty, an intensive curriculum, and guest appearances from some of the most influential people in business. After graduating, Stanford MSx students typically go on to take powerful executive roles or launch their own ventures.

Here's everything you need to know about this unique program, including its curriculum, class profile, and application process.
---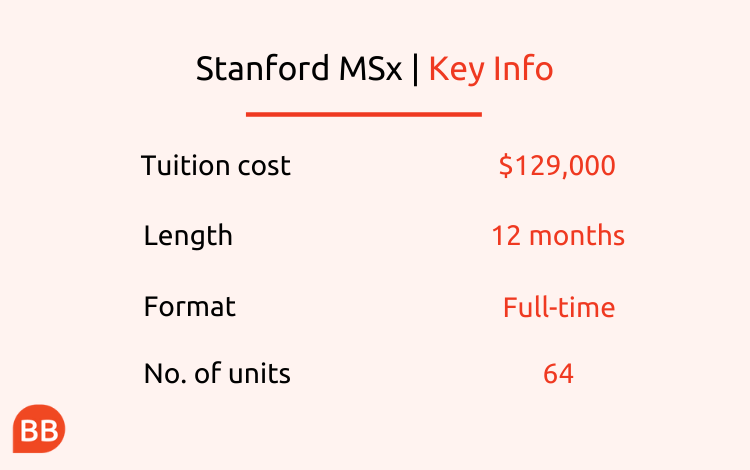 ---
Stanford MSx | Curriculum
The Stanford MSx costs $129,000. Taught over one-year, the Stanford MSx curriculum comprises 28 core modules covering typical business subjects like accounting, finance, economics, and marketing.
Students also have 36 optional electives covering a wide range of subjects, which even include modules taught outside of the business school.
"When you get into the world of electives it is nothing short of spectacular," says Katherine Garlinghouse, a current MSx student. "You've got professors who are the world's experts in whatever they're teaching, many of whom have also run businesses in their discipline."
The curriculum also features a tailored leadership development program. Using feedback and reports provided by former managers and colleagues, the MSx team develops a profile of your key strengths and weaknesses which they use to work with you throughout the program.
Across a series of leadership activities, including career planning sessions, executive modules, and communication coaching; the MSx team develops your leadership skills. This program is delivered through a mixture of one-to-one and group sessions, and workshops.
With a tailored leadership program and a curriculum which is more than 50% customizable, each MSx student's experience is different. "While we provide guidance and support, every student charts their own path when it comes to academics and their career," says Michael Hochleutner, director of the MSx.
---
Read more BusinessBecause program reviews:
University Of St.Gallen SIM Review
MIT Master Of Business Analytics Review

---
Stanford MSx | Beyond the curriculum
As one of the world's most prestigious business schools, Stanford attracts a large number of high profile guests who deliver guest lectures and attend networking sessions for MSx students.
Guests include CEOs from Fortune 500 companies like General Motors, along with key players at disruptive innovators like the trading platform Robinhood and fintech company Stripe.
"We have constant interactions with industry leaders," says Saurabh Jain, a current MSx student. "They come here and talk about their experiences in terms of launching ventures, scaling up ventures, taking them to an IPO and how they navigate that," he adds.
Networking opportunities also come from within the MSx cohort. Saurabh is a former strategy and digitalization director at Volvo and managing consultant at IBM, while Katherine was head of communications in functional transformation at Chevron. They're joined by people from all over the world who've held leadership and director roles at companies including Amazon, Deutsche Bank, EY, and Accenture.
MSx students also have access to the program's alumni as well as the 30,000 strong Stanford GSB network. The immense opportunities this provides is a differentiator for the MSx, says Saurabh.
"It's like a huge river with a lot of things flowing past you, and you just have to pick and choose what you want to hold on to," he says.
---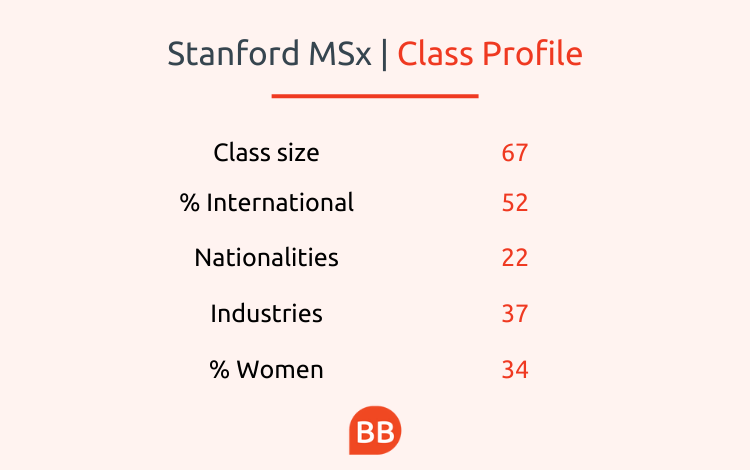 ---
Stanford MSx | Who is it for?
The Stanford MSx class of 2021 was comprised of 67 students from a total of 37 different industries and 22 countries. On average students have 14 years of work experience with around eight years in a management role.
The school doesn't value any particular industry over another, preferring to focus on the individual and their leadership experience.
"The ideal applicant is someone who has already grapplied with real leadership roles, who has the confidence and focus to tap into the many opportunities the school and network can provide," says Michael, the program director.
---
Stanford MSx | How can you apply?
To apply for the MSx you'll need to complete four steps. You have to submit your personal information including your background, career aspirations, academic degrees and transcripts, and any awards or honors you have.
You'll also need to answer two essay questions, and submit a résumé along with two reference letters. After that, you'll have to submit test scores. As the MSx is an executive level master's, you can take the Executive Assessment test along with the standard GMAT or GRE.
Successful applicants are invited to attend Zoom interviews where you'll need to show your communication skills and critical and strategic thinking, before the final cohort is chosen.
---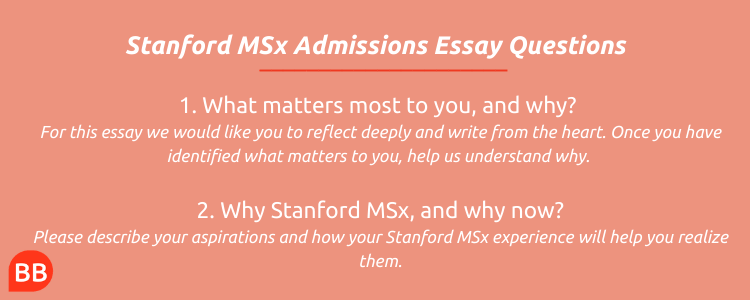 ---
Stanford MSx | Careers
Stanford GSB is renowned as a hub of entrepreneurship and the MSx is no different. MSx graduates formed 38 companies between 2015 and 2018, with 25% of graduates becoming entrepreneurs.
Students who don't plan to launch their own venture will typically take leadership roles in firms after graduation. 18% of graduates decided to return to their former employers while taking a higher role during that time.
These roles require them to drive growth and innovation, using intrapreneurial skills. The focus on entrepreneurship, along with the quality of the program, means they're prepared for this, thinks Michael.
"The fact that it's Stanford assures you have the best academic resources around, as well as the culture of innovation and entrepreneurship we're known for," he says.

While the Stanford MSx is expensive, especially considering its short length, the career benefits of studying under world-leading faculty and gaining access to the Stanford GSB network justify the price. Stanford alumni are also some of the most employable in the world.
If you're at the mid-stage of your career and looking to step up the ladder or move in an entirely new direction, the Stanford MSx offers a unique, top-quality program which could help you make that career change.
If you're interested in launching your own venture, the entrepreneurial pedigree of Stanford and the MSx mean it could provide you with everything you need to begin your journey.

---
Next Read:
Specialized Masters Degrees | 5 Programs To Look Out For