Online MBA programs have been on an upward growth trajectory over the last few years. According to the Graduate Management Admission Council (GMAC), 84% of online MBA programs recorded growth in overall applications in 2020.

But one online program, the iMBA at the University of Illinois Urbana-Champaign Gies College of Business, has been on a growth journey for more than half a decade.

Since launching in partnership with edtech platform Coursera in 2016, the Illinois iMBA has grown from 263 students to more than 5,407 students in 2021.

The Illinois iMBA saw year-over-year growth of 20% in 2021, and student satisfaction with the program sits at 96%. The school also made the decision to suspend its full-time and part-time residential MBAs in 2019 to focus solely on investment in the iMBA program.

BusinessBecause caught up with Illinois iMBA students and staff to find out more about the program, including admission requirements, cost, and career outcomes.
---
Who is the Illinois iMBA for?
The iMBA targets working professionals hoping to move into more managerial and leadership roles, without having to pause their careers or uproot their families.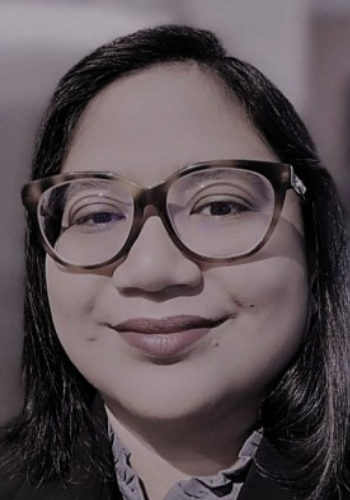 Of the current cohort, the average student is 37 years old with 10.9 years of work experience. However, the program can be a great fit for learners of all ages and stages; the youngest member of the class is 22, whereas the oldest is 65.
Subhodeep Ghosh, an engineer at Hitachi group, and Ginger Torres, a medical director at Ipotum, are both part of the current Illinois iMBA cohort. They explain the benefits of undertaking a flexible MBA whilst maintaining full-time employment, particularly when you have a family.
"I had already earned a bachelor's degree from the University of Illinois and had such a great experience there. I chose to do the iMBA because of the flexibility and the price. I could keep my full-time job and still learn and complete an MBA," notes Ginger (pictured).
---

---
iMBA Illinois: Cost and Admissions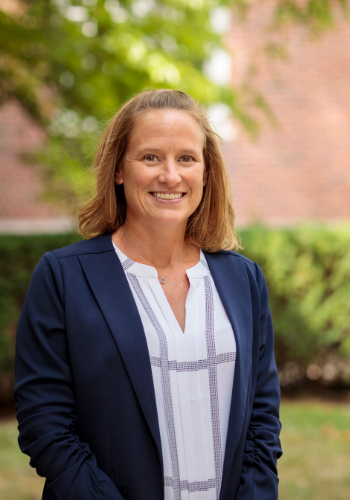 The 72-credit-hour University of Illinois iMBA is fully accredited by AACSB and costs an estimated $23,000—placing it among the world's most affordable online MBA programs.
"We put our top professors in the iMBA program. These are experienced faculty, who are recognized as experts in their field, delivering live content for our learners in real time. That kind of access and personalized experience is unheard of at our price point," says Whitney Smith (pictured), Illinois Gies' iMBA program director.
The iMBA also offers a limited number of need-based scholarships to students. Funded in partnership with Coursera, these scholarships cover 70% of tuition for qualified students, and recipients are selected based on need, academic standing, and essay submissions.
---
The minimum requirements for the Illinois iMBA:
1. Bachelor's degree with a recommended GPA of 3.0 and above
2. Minimum of three years full-time, rich work experience
3. All required application materials:
a) Online application
b) Academic credentials
c) Professional resume
d) Personal statement
e) 2 x letters of references
f) English proficiency scores (international candidates only)
---
Students who don't meet all the requirements for admission—for example, the required work experience—can apply through the Performance-based Admissions Track (PAT).
Students who ask to be considered for the PAT go through the same application review as a degree-seeking student, including a possible interview. If admitted into the PAT, they take three predetermined iMBA courses, and upon completion with a cumulative GPA of 3.0 or higher (B or better in at least two courses), will be automatically admitted into the iMBA. The credits earned are transferred towards the degree.
"If students feel like they lack in the professional work or perhaps don't have the strongest undergraduate GPA, we want to offer them the ability to earn their way into the program. So we take many factors into consideration," notes Whitney, adding that the school looks for candidates who tell an individual story throughout their application.
"We really look for not just what our program can do for someone, but what individuals are bringing to the program," she says.
---
How long does it take to do the Illinois iMBA?
Students in the iMBA typically take between two and three years to complete their degree; however, the school allows them up to five years to finish. This provides maximum flexibility for learners who may need to step away for a short period of time based on demands from their career or their personal life.
---
Illinois iMBA Admission deadlines:
The iMBA at the University of Illinois admission deadlines for Fall 2022 are:
- Priority One Deadline: Thursday, May 5th 2022
- Priority Two Deadline: Thursday, June 2nd 2022
- Final Deadline (August start): Thursday, July 7th 2022
- Final Deadline (October start): Thursday, September 8th 2022
---
Illinois iMBA: Curriculum
The University of Illinois iMBA consists of both asynchronous and synchronous learning. On the Coursera platform, students complete the foundational elements of each course—learning takes place through pre-recorded videos and self-assessed quizzes and peer-reviewed assignments.
Then on the University of Illinois Canvas platform, students participate in live lectures with top faculty, group assignments, and graded exams. Live sessions are offered multiple times throughout the day for maximum flexibility, and they are recorded so students can watch them at a time that's more convenient. There are also class Q&A forums so students can get their questions answered by faculty, teaching assistants, and peers.
The course material in the iMBA is designed specifically in a way that student can immediately apply what they learn in class. The program helps students develop leadership skills to fit the new forces shaping the future—digitalization, globalization, and innovation.
---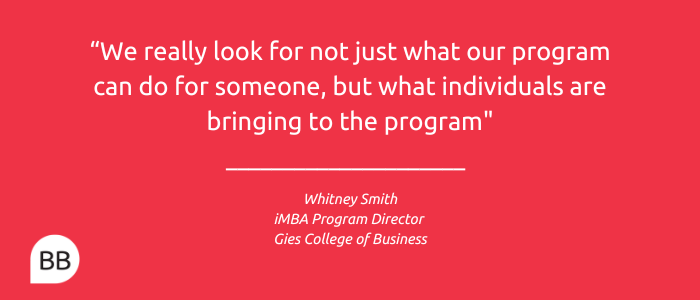 ---
The curriculum consists of four core specializations: Strategic Leadership & Management, Managerial Economics and Business Analysis, Value Chain Management, and Financial Management. Along with these, students have the option of either taking on two additional focus area specializations or one specialization and 12 hours of elective credit.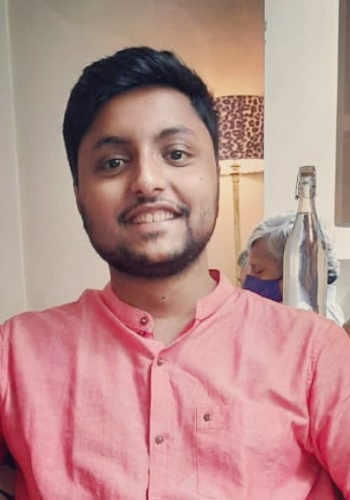 Focus area specializations include Digital Marketing, Entrepreneurship & Strategic Innovation, Global Challenges, Business Analytics, and Mergers and Acquisitions. Elective options include Project Management, Infonomics, and Financial Statement Analysis for MBAs.
"What is great about the program is its flexibility and the way it is constantly meeting students' needs," explains Whitney.
"This MBA program is not about how you finish but how much you can learn. It's really unique," notes Subhodeep (pictured).
Alongside core courses, specialized modules, and electives, students also readily partake in group work throughout the iMBA.
To complete the degree, students take on three Capstone projects, including a program capstone—group-based projects typically focused on case studies—designed to bring together theory and practice.
---
Illinois iMBA: Networking & career outcomes
Students in Gies' online programs use Meta's Workplace, an online collaborative software tool that facilitates online groupwork, instant messaging, and video conferencing. Individuals can introduce themselves, set up meetings with fellow students, and ask questions or post ideas within this community.
"I had a few issues with my resume at the start of the course, so I posted it on Workplace and asked if anyone would review it. Several people called me, set meetings with me, and were willing to help through discussion on how I could improve it," explains Subhodeep.
The Illinois iMBA networking opportunities extend to several optional in-person events across the country, including iConverge, an annual on-campus networking and professional development event. At iConverge, students meet with faculty, attend live lectures, and network in person with their cohort. As of 2021, Gies' alumni network stretches to over 75,000 graduates worldwide.
95% of iMBA graduates say they have applied what was learned during the degree to their work—61% received a promotion, job offer, or accepted a new position while studying the iMBA. Students also see an average pay increase during the program of 22%.
---

Illinois Gies' decision to go "all-in" on its iMBA program was a bold move that has paid off for both the school and the thousands of learners who have enrolled. The program has seen strong growth over the years, aligned with continued student satisfaction, which sits at 96%.
The iMBA's flexibility makes it particularly suitable for working professionals who want to maintain their full-time careers while earning their MBA. Students also benefit from the real-time application of knowledge at work, and more than half of the class are promoted, receive a job offer, or accept a new position while studying for the degree.
The price-point could also be a deciding factor if you're looking for a recognized online MBA at an affordable price. At a total cost of approximately $23K USD, the iMBA is offered at a fraction of the price of many other top MBAs.
By focusing on key areas such as business analytics and value chain management, as well as digital marketing and global business challenges, this is also a program for students who wish to gain global leadership skills and understand the processes that are affecting business management both today and into the future.

Related Content: