The University of St.Gallen's Master in Strategy & International Management (SIM) has been ranked the Financial Times' world's best master's in management for a record-breaking 10 consecutive years.

St.Gallen, in Switzerland, is located at the geographical heart of Europe. The SIM, the University of St.Gallen MiM program, was founded in 2004 and designed for international students, boasting a vibrant alumni network of 900 members across more than 60 countries.

So what makes the program rank number one? Who is the SIM for? What career opportunities might you expect after graduation?

We caught up with the SIM's managing director and strategy professor, Omid Aschari, to find out more about the world's best master's in management, and we break down the key areas you need to know about the SIM.
---
University of St.Gallen SIM | Class Profile
More than just a world-class ranking, St.Gallen's 1.5-year specialized master's program places emphasis on strategic management, attracting students looking to become exceptional global leaders in an ever-changing world.
Students arrive at the SIM after completing an undergraduate degree, with an average age of 23.
The St.Gallen masters is impressively diverse: in 2020, 57 students were represented by 27 nationalities, with 47% female and 53% male students.
---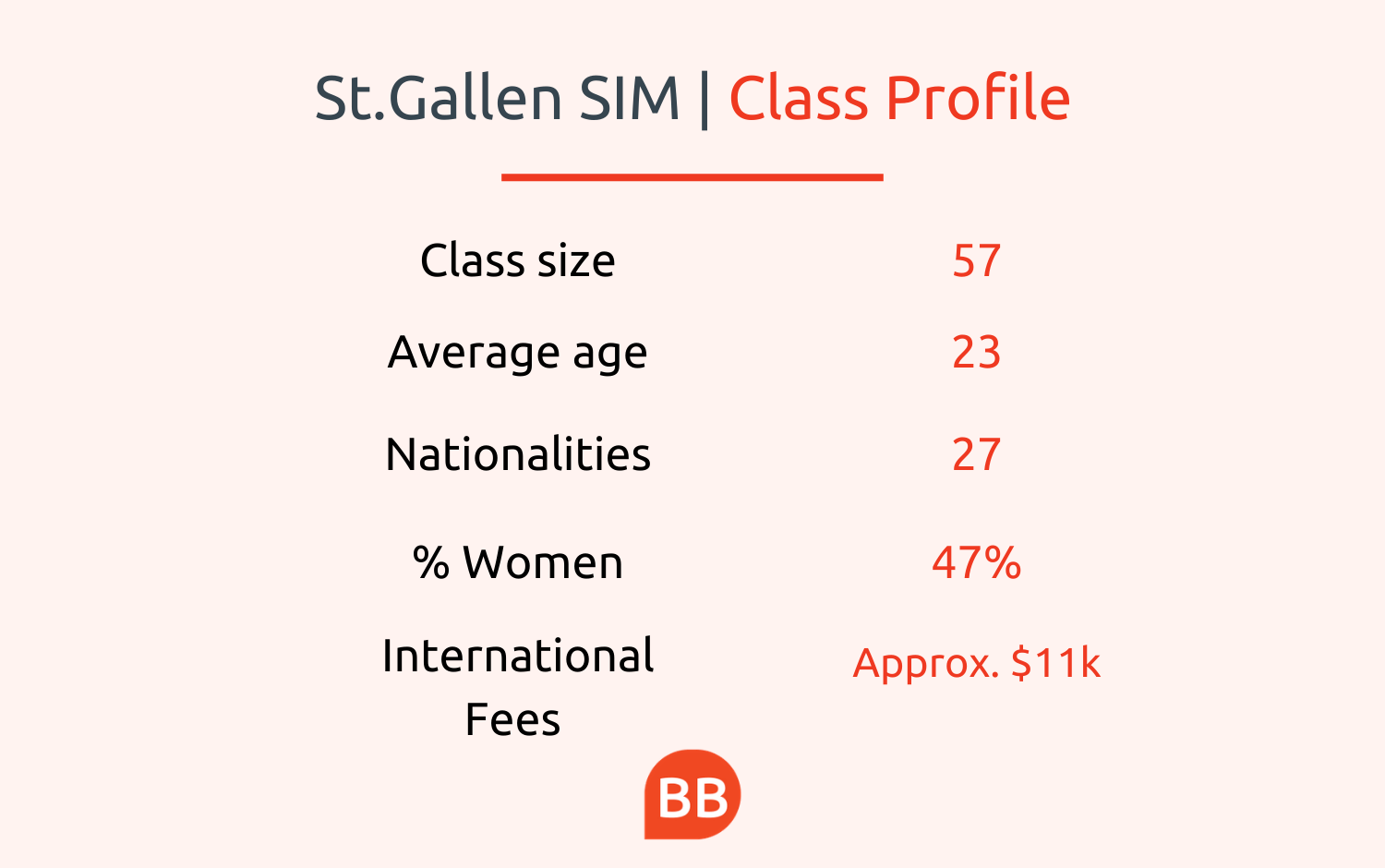 ---
University of St.Gallen SIM | Cost & Admissions
Full-time SIM tuition costs roughly $4770 for Swiss nationals, and for internationals tuition costs approximately $11k, with an application fee of about $280. The SIM is subsidized by Switzerland, allowing all students to study at an attractive student fee rate.
Candidates must have completed a bachelor's degree in business administration or a similar subject. Alternatively, students might arrive at the SIM after completing a master's degree in any other field. Applicants submit a GMAT or GRE score, their undergraduate degree transcript, and a resume showcasing their extracurricular activities.
Candidates do not need to have professional experience either, meaning that St.Gallen's masters is perfect for students who want to dip their toes into the business world for the first time. However, the SIM advises students to bring some experience, such as an internship or voluntary work, to enrich the classroom.
Omid explains what the SIM is looking for in its candidates. "The SIM is for young people who are not satisfied with just getting a first-rate education, but for those who, fundamentally, want change and to do something different," he says.
---
Omid Aschari (pictured right) says the SIM, the St.Gallen MiM program, is ever-changing
---
What can you expect from the SIM curriculum?
Through a combination of experiential and theoretical learning, the rigorous program shapes students into well-rounded leaders ready to take on complex business challenges.
"The program is ever-changing, so the student is a collaborator—they're co-designing their learning paths. We design the curriculum so that you can choose different courses to fit your interests," says Omid.
Across compulsory modules like financial management and strategic management, SIM students enhance their quantitative and strategic skills necessary to thrive in business.
Students can choose from various core electives such as the global leader and managerial effectiveness, exploring sustainability as a strategic opportunity, and digital business transformation—ensuring students remain at the frontier of business trends. A first-rate faculty lead all modules.
Part of what sets the SIM apart from other MiM programs is the SIMagination Challenge, which is a component of the SIM in Practice course. In teams, students partner with a socially impactful venture or NGO, participating in social impact projects worldwide, such as water purification projects in Vietnam or installing clean cooking facilities in Guatemala.
"Students learn to integrate different complex skill sets, which they've honed during their studies, into one initiative. Through teamwork and shared leadership, students really learn from one another in the challenge, and this benefits their future career prospects," notes Omid.
The SIM educates its students to challenge their working attitudes. One grad, Simon Widmer, left his job at McKinsey to tackle plastic pollution. Grads can also apply for the Jacobs Business Fellowship, which funds a social initiative they wish to pursue.
---
University of St.Gallen SIM | Careers
Proud to call itself an international program, the SIM facilitates global internships for SIM students with some of the world's top companies.
SIM International projects have taken students to technology consultancies such as Accenture, Big Three Management consulting firms, BCG, McKinsey, Bain, and tech giants like Amazon and Google.
With the exception of a few, all SIM students find employment within three months of graduating, receiving an average of three offers each. While 81% of the students are offered a permanent position after completing company internships, according to FT data.
"It's important to put yourself into unfamiliar situations in different parts of the world and to understand how to develop a sensitivity for cultures while viewing managerial challenges through other lenses," reflects Omid.
These work experiences prepare students for careers in multinational corporations and beyond.
---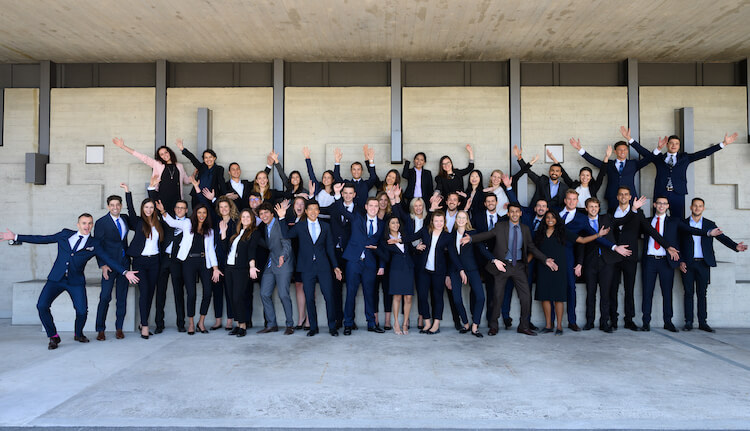 © St Gallen via Facebook
---
The St.Gallen masters also prepares students for their future through intensive career power days, placing students into teams where they collaborate on a company problem, enhancing their communication, analytical, and decision-making skills to develop sound business decisions.
And with SIM students flocking to high-paying fields like consulting, finance, and technology, the SIM readily prepares students for stimulating work environments. SIM students can expect to earn an average salary of around $113k within three years of graduating, according to the FT.
---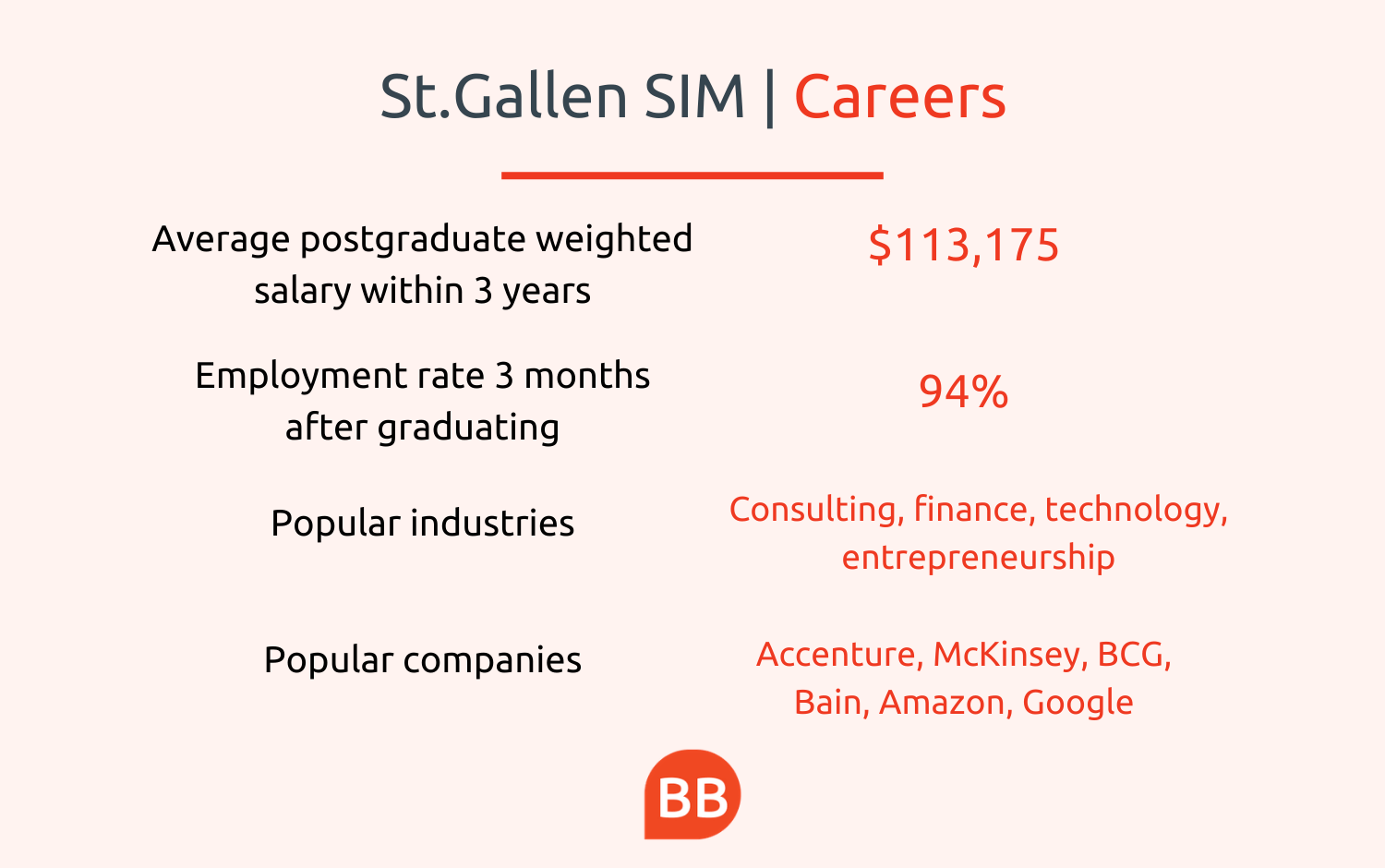 The University of St.Gallen's SIM is ideal for you if you want to experience a rigorous, yet adaptable, curriculum that will help you to enact change in the world and prepare you for a diverse array of managerial careers.
Omid stresses that the SIM will continue to help young people prepare for future challenges in the job market through the program's collaboration with technology-oriented partners and business networks, such as the World Economic Forum. As a result, the SIM program mirrors the rapidly developing global business world.
The SIM's commitment to social impact, reflected by the SIMagination Challenge, demonstrates that the program is about more than just a top-ranking position—and more than a qualification.

Related Content: