Business leaders today can't ignore the rapidly growing importance of data.
Across industries, managers and executives increasingly need a strong balance of management and quantitative skills to leverage this data for business growth.
According to the Graduate Management Admission Council's (GMAC) Corporate Recruiters Survey 2023, employers agreed that the most important skills for new hires—both now and in five years' time—are communication, data analysis, and strategy skills.
To equip future leaders with this essential broad skill set, the New York University (NYU) Stern School of Business Online Master of Science in Quantitative Management (MSQM) combines foundational business courses with business analytics.
We spoke to the program director, Kim Corfman, to find out more about the MSQM curriculum and how it can lead to career success.
---
NYU Stern Master in Quantitative Management | curriculum
If business leaders don't tap into the potential of data, they're at risk of falling behind in a highly competitive business world.
"The amount of data available to decision makers is tremendous and it's loaded with valuable insights, but the ability to leverage it must be learned," says Kim.
Effective data analysis can help businesses make better decisions, increase revenue through improved efficiency, and help with problem-solving.
Over the 20-month MSQM program at NYU Stern, students learn the practical skills of how to program data and read databases but also how data analysis is used for managerial decision-making.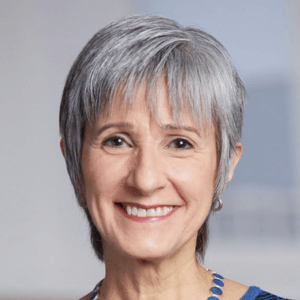 "The program is designed for students from a wide range of backgrounds who want a core business education with emphasis on the ability to make decisions informed by data—a skill that has become essential for success in almost every industry," says Kim.
The program combines foundational management courses, such as Business Strategy, Microeconomics, and Financial Accounting, with an understanding of data in business contexts.
Courses such as Data Science and Predictive Analytics, Data Visualization, and Decision Models and Analytics explore how to approach business problems through the lens of data.
As the MSQM program is delivered primarily online, students can learn from NYU Stern professors from anywhere in the world and apply their learnings to their current role.
Each course is studied over three weeks with two lessons each week, giving students the chance to deep-dive into each topic while benefiting from the flexibility to manage work and personal commitments.
"MSQM students are earning the degree from across the world and even those who live close to NYU appreciate the convenience of studying online when they're travelling," says Kim.
While most classes are delivered asynchronously, students solidify the valuable connections made with their cohort and professors in two residential immersions at NYU Stern's campus.
In each of these immersions, students take advantage of the in-person setting to complete courses such as Communication, Professional Responsibility and Collaboration, and Conflict and Negotiation.
---
Career impact after a master's degree at NYU Stern
Quantitative skills are no longer just essential for data analysts, but across a wide range of career paths in business.
"Today's data-driven business landscape has changed what business students need to be successful," says Kim.
Data-savvy grads who can also demonstrate a strong foundation in business management are in high demand as more companies adopt analytics across all functions.
According to a 2022 survey of leading global and Fortune 1000 companies, 93.9% of organizations shared plans to increase investments in data in response to economic uncertainty.
To varying degrees, data analysis skills will be used whether in entry-level positions, mid-manager, or executive.
"Our students run the gamut from newly minted undergraduates to seasoned executives and what they study is relevant to virtually all industries and functions," says Kim.
Another route MSQM students may take to stand out in today's competitive job market is transferring to NYU Stern's Langone part-time MBA program. As the MSQM program covers fundamental management topics that are the core of an MBA degree, students can transfer credits, if they meet eligibility requirements, and graduate with an MBA degree.
Continuing onto the MBA then gives students the chance to choose a specialization from over 20 areas such as Entrepreneurship and Innovation, Fintech, or Digital Marketing.
For those with their sights set on a particular career path, earning an MBA from NYU Stern could open even more doors, believes Kim.
"The MS is also a path for those who are still considering the MBA. They can start with a shorter program and decide later whether the MBA is right for them. If they decide it is, they're already halfway through!"
Whatever students' career goals or target industry, data-driven leadership skills are only growing in importance across the business landscape.
To stay ahead of the curve, and competition, now is the time for future leaders to arm themselves with this sought-after skill set.
Related Content: