The theme for Earth Day 2023 is 'Invest in Our Planet', which aims to shine the spotlight firmly on the accountability of governments, businesses, and everyone around the world to take action against the climate crisis.
The UN's Sustainable Development Goals (SDGs) means the onus is certainly on the business world as companies must adapt to work towards carbon neutrality, implement responsible strategies, and meet new regulations.
If you want to be at the forefront of change, you'll need to invest in your own development and education to become a sustainable leader.
So, where should you study your master's degree if you want to gear up to make an impact?
---
Master's degree programs for sustainable business leaders
More and more business schools around the world have adapted their curriculums, or even launched new programs designed to prepare the next generation of sustainable leaders.
For example, NEOMA Business School in France has launched a Master's in Sustainability Transformation as a dual degree option with its Master in Management (MiM).
The program teaches students about the complexities of sustainable transition and the key skills to deploy sustainable strategies and decarbonize business models. Core modules cover themes such as the responsible supply chain, energy procurement, green marketing, and responsible finance.
The dual degree program also involves experiential learning such as working on a business case with EY to brainstorm sustainable solutions, internships, and exchange semesters.
Dany Leroux, a current student on the program, chose to complete his exchange at BI Norwegian Business School, another school focused on preparing sustainable leaders with its Master in Sustainable Finance program.
"It was very interesting to hear even more perspectives from new professors on this subject. There is so much to be done for business to become sustainable," says Dany.
Meanwhile, EDHEC Business School offers a Master's in Climate Change and Sustainable Finance. Courses include Climate Change Economics, Designing Feasible Low-Carbon Transitions, and Climate-Aware Investing.
These master's degrees will help provide you with a specialist skill set, and knowledge of the challenges the climate crisis poses to the business world, so you can launch your career with purpose.
---
10 Social Impact Companies To Apply To After Graduation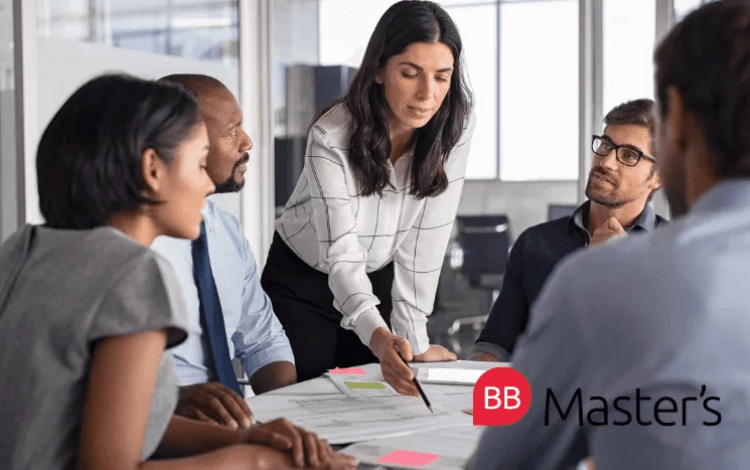 ---
Social impact projects during your master's degree
Having extensive knowledge about sustainability in business is one thing, but as a sustainable business leader, you'll also be applying this knowledge in a high-pressure environment when tackling real challenges.
To help prepare you during your master's degree, there will be opportunities for experiential learning and extracurricular projects.
In 2023, top European business schools—EDHEC Business School, ESMT Berlin, and POLIMI Graduate School of Management—teamed up to launch 'INNOVA Europe', a competition where students pitch innovative, entrepreneurial solutions to key environmental challenges.
Master's degree students from each school can enter to win €5,000 and support from the academic incubators at each school—PoliHub, EDHEC Entrepreneurs, and Vali Berlin.
At ESMT Berlin, students on the Master in Global Management also take part in a compulsory social impact project working with a Corporate Social Responsibility department at a company, for an NGO, or on a social entrepreneurship venture.
Some master's programs may also include an internship where you'll be able to spend weeks gaining first-hand experience of social impact companies, or those making the transition.
During the dual master's degree at NEOMA, Dany is currently participating in an internship with L'Oréal Group, working with the sustainable development team for the dermatological beauty division.
He has been tasked with helping manage various projects and organizing events aimed at minimizing the company's negative environmental impact.
"Seeing how a big company operates has given me a broader vision of the actionable changes that can be made to make a company sustainable, as well as longer-term goals," he says.
While studying the Master in Sustainability Management program at American University's Kogod School of Business, Samantha Kenny undertook an internship with the World Wildlife Fund (WWF). She was able to turn her internship into a full-time role as a senior program manager tackling food waste.
If you're itching to get out into the world and make an impact, projects such as these allow you to proactively contribute to climate action while learning how to lead this action in the future.
---
Business schools with student social impact student clubs
Tackling the climate crisis calls for strength in numbers; leaders who are aligned on their goals and know how to work together effectively.
At business school, you'll be able to get involved in student organizations and meet like-minded people passionate about making an impact.
At UCL School of Management you'll find the Sustainability Lab—a student-led initiative that organizes opportunities to network with industry professionals. It has recently also partnered with conservation charity the Wild Planet Trust for a project targeted at reducing the damaging effects of business on the environment.
The NetPositive Club at HEC Paris is also student-led and organizes an annual case competition where students can pitch to professionals as well as monthly events with industry speakers.
Opportunities like these are a great way to find out more about the careers in sustainability that are available to you when you graduate.
Whether your goal is to lead a company's sustainable transition, work for a non-profit, or start your own social enterprise, studying a master's degree focused on sustainability and corporate social responsibility can help mould your passion into actionable change.