The London Business School (LBS) Master in Management is a 12 to 16-month program designed to help early-career professionals and recent grads kickstart a global career in business.

The program includes a broad curriculum with 60 electives, and focuses on honing students' leadership skills and helping them develop an innovative global perspective.

It also offers various opportunities to gain tangible experience in a real-life business environment, both in London and abroad, through consulting and strategy projects with clients like Deloitte, Google, and BBC Studios.

Grads go onto work in finance, consulting, and tech in companies like Goldman Sachs, Boston Consulting Group, and Amazon, earning an average of $55,000 upon graduation.

Here's what you need to know about the LBS MiM, from the curriculum, to the class profile, to the application process.
---
---
LBS MiM | Curriculum
The top-ranked LBS MiM curriculum covers all aspects of management through 10 mandatory modules, including data analytics, strategy, finance, marketing, and risk analysis. In addition to this core teaching, a selection of 60 electives allows students to develop new skills in specific areas, from AI to negotiation to fintech.
Students also get to apply their theoretical knowledge to a real-world environment through LondonLAB, a 10-week business project where they work in teams to tackle a business challenge. Client organizations have recently included Deloitte, the BBC, UNICEF, EY, and Depop.
"Combining a broad business acumen skill set with practical modules gives students the opportunity to translate key learnings into practice," says Jane Charlton, executive director of degree programmes and student experience at London Business School.
---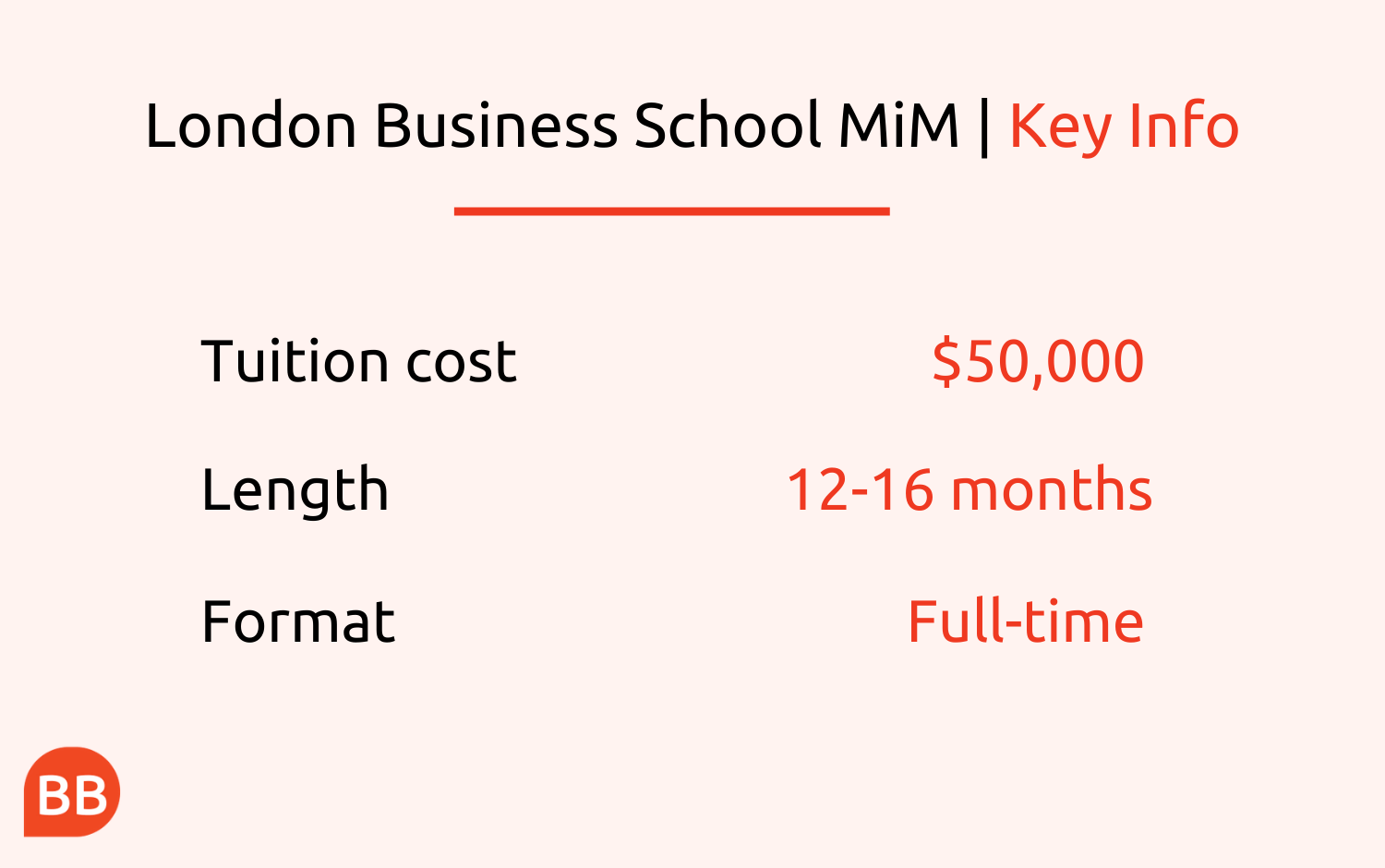 ---
For the 2021-2022 academic year, the London Business School MiM course will be delivered primarily in-person, on the LBS campus based right by Regent's Park in central London, renowned as one of the world's top cities to study in. A virtual synchronous option will be available for those unable to attend.
This return to face-to-face interaction will not only allow for dynamic and collaborative discussions, but also greater opportunities to build connections outside of the classroom.
Networking is an important part of the LBS experience. The school's mentorship program connects MiM students with MiM alumni and MBA students, who can provide guidance about job applications and navigating a particular industry. With over 75 student clubs to join, MiM students also get to bond with their peers.
LBS prides itself on a global business outlook, offering students real-world exposure and hands-on experience in an international business environment.
For example, Global Immersion Field Trips immerse students in a different business culture, where they tackle concrete business challenges. In diverse international locations including Ghana, Nepal, Colombia, China, and South-Africa, students get to work on social enterprise, technological innovation, and strategy projects.
The school's location at the heart of London also provides access to leading companies for summer internships, including McKinsey & Company, Amazon, LinkedIn, Accenture, and HSBC. Students can benefit from these important business links through events like Early Careers Recruitment Evening and Tech and Startup Evening.
---
LBS MiM | Who is it for?
The LBS MiM has a current cohort of 298 students, with over 46 nationalities represented. Half of students are from the UK and Europe, while around 40% are from Asia.
With 43% women—down from 51% for the class of 2020—the program places an emphasis on empowering future female leaders. The Women in Business Club (WiB) is one of the largest on campus, and 67% of senior leadership at LBS is female.
---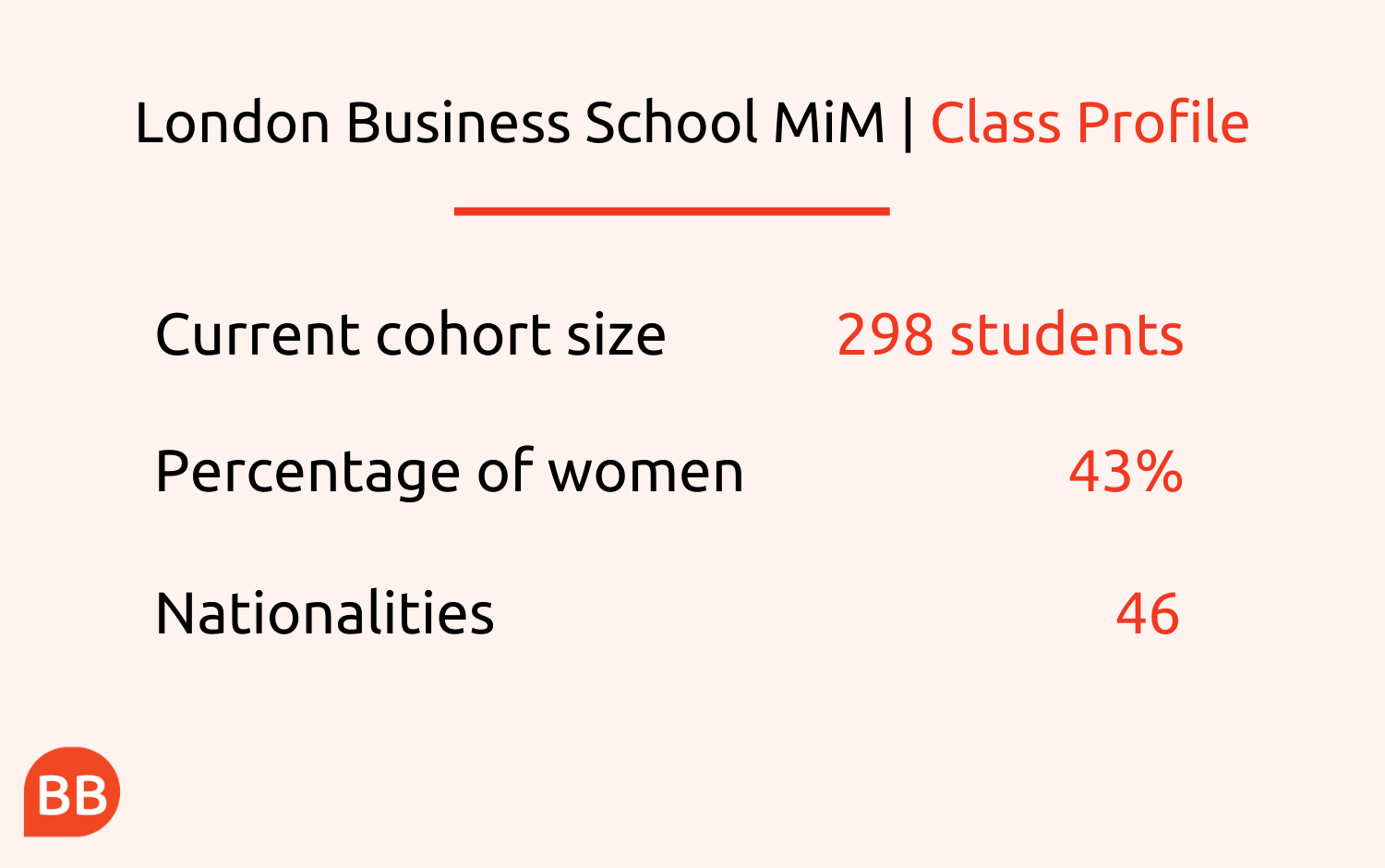 ---
LBS MiM | How can you apply?
The program is targeted at recent graduates with a maximum of two years of postgraduate work experience.
There's no prerequisite in terms of academic or professional background, and the school will consider applicants with non-business-related undergraduate degrees or work experience.
You'll need to have graduated with at least a UK 2:1 (or global equivalent) and be able to demonstrate a track record of leadership potential, ambition, and achievement in your previous professional and academic experience.
There are several application deadlines throughout the year for the August 2022 intake, with the first on September 29th 2021 and the last on May 27th 2022.
While the same selection criteria are applied at every stage, competition gets fiercer in the final months, so you should apply as soon as possible. To be considered for a scholarship, you should apply by the March 30th 2022 deadline.
To apply, you'll need to submit an application form, application essays, your GMAT or GRE score, a one-page résumé, proof of English language ability, a copy of your university transcripts, and a reference from a current or previous employer or an academic referee. You'll also have to pay a $137 application fee.
Successful applications will move on to the interview stage, which will be conducted by an alumnus or a member of the admissions team. Within around a month after your interview, you'll receive the final decision on your application.
---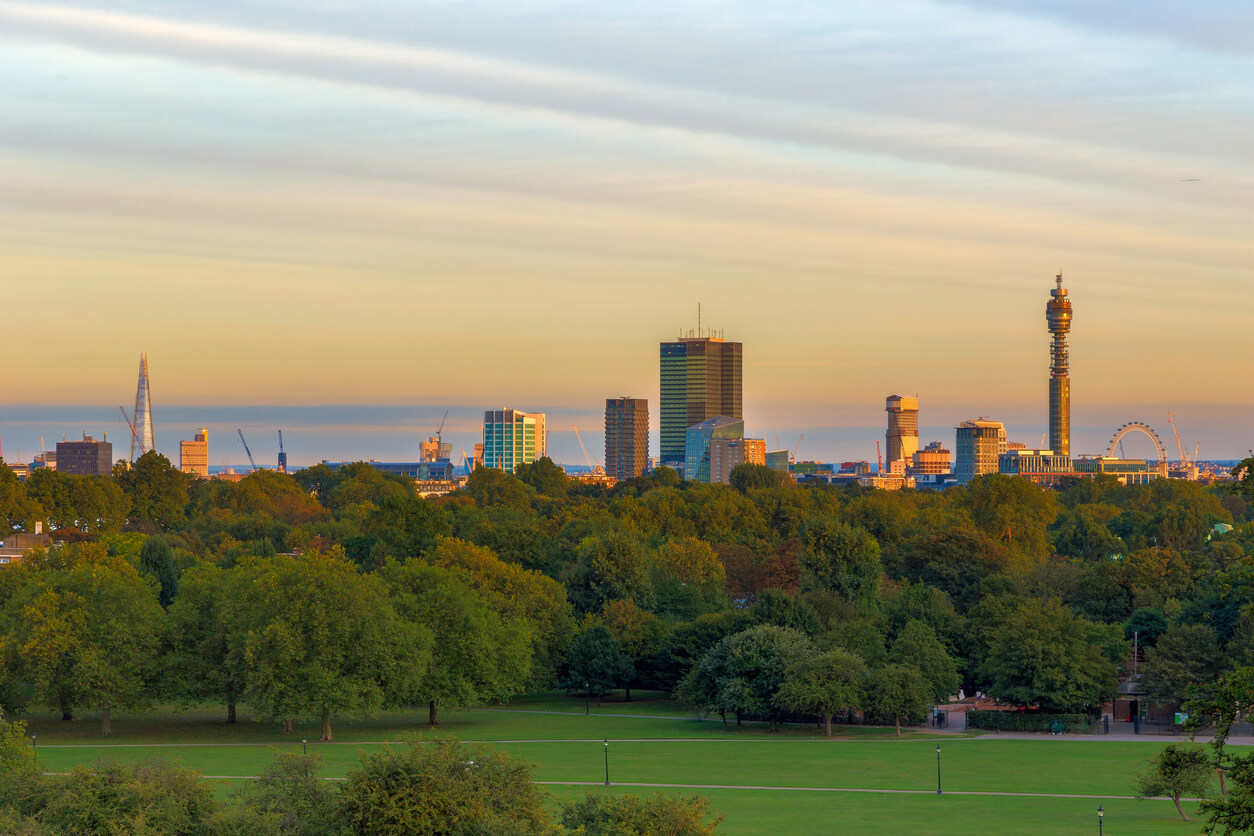 ©VictorHuang/iStock
---
LBS MiM | Hear from a student
Originally from India, Rushil Walia (pictured below) studied economics in Prague and gained two years of work experience in the financial services sector, first as a database engineer at Moody's and then as a risk analyst at Deutsche Boerse.
Wanting to transition to consulting, Rushil decided to enroll in the London Business School MiM program, which she chose for the school's prestigious reputation and its real-life consulting project, LondonLAB.
For LondonLAB, Rushil worked on a market entry strategy for a technology company and acted as the team lead, which confirmed her interest in and knack for consulting.
From January to April, Rushil also joined Cambridge Consulting Network, a non-profit student consulting company, as a deputy engagement manager.
She says that the program has helped her identify career goals and given her the skills and confidence to pursue them.
"The support from the career center and the Consulting Club was tremendous," Rushil says. Through the club, she had sessions with career coaches, sector leads and peer leads on CV and cover letter reviews, as well as case preparation.
"They literally prepare you for every step of the recruiting process and work tirelessly to get companies to advertise more and more jobs on the LBS job board," she adds.
And it works. The 2020 employment report shows that 96% of LBS MiM graduates accepted an offer within three months of graduation, and went on to work in 26 countries around the world.
"This is particularly notable, given the challenges faced by the employment market due to COVID-19," notes Jane Charlton.
The majority of 2020 grads ended up in consulting (44%), financial services (30%), or technology (12%), while 14% branched out in other sectors including retail, energy, and healthcare.
Grads secured entry-level roles and graduate schemes in companies like Goldman Sachs, Boston Consulting Group, and Amazon. The average Master in Management salaries for LBS MiM grads were $55,000.
With such quick career development—and the opportunity to apply your skills in a real-life global business environment throughout the course—the London Business School MiM program is a great option for early career candidates eager to progress in their current industry or switch to another.
---

---
If you're at the early stage of your career looking to build a diverse network and gain real-world business experience, the MiM program at London Business School is a great opportunity.
Through real-world consulting projects and field trips abroad, you'll develop the necessary expertise and confidence to kickstart your career or accelerate your professional growth in industries like finance, tech, and consulting.
The international network you'll build during your program, with 46 nationalities represented in the 2021 cohort, will prove invaluable as you progress into a global business environment.

Next Read:
20 Best Master In Management Programs—Economist MiM Ranking