Nine in 10 MBA and business master's graduates say business school delivered them a strong return on investment, according to a new study by the Graduate Management Admission Council (GMAC).

Overall, 90% of graduates rated the value of their MBA or master's as good, outstanding, or excellent.

85% said that their investment in business school had a positive return, while two-thirds said they advanced at least one job level after obtaining a graduate business degree.

The Value of Graduate Management Education study by GMAC, which gathered data from over 3,600 global participants over the course of 12 years, is the first longitudinal study of its kind, surveying business school graduates who completed their degrees between 2010 and 2021.

"An overwhelming majority of graduates testified that their business degree increased their employability and earnings power, prepared them for leadership positions, and supported their desired lifestyle," comments Sangeet Chowfla, president and CEO of GMAC.
---
MBA ROI | Salary and professional growth
The GMAC study considered ROI from several perspectives, including financial returns, professional development, and personal growth.
Its findings show that 68% of MBA and business master's graduates say going to business school supported their financial goals.
Data from the Financial Times backs up this impressive financial return on investment. Grads from the top 10 MBA programs as ranked by the FT see an average salary bump of 119% three years after graduation. The average base salary for these graduates is around $194k.
And you don't have to attend a top 10 school to see impressive financial returns on your investment. Grads from the University of Florida Warrington MBA, ranked the best MBA for ROI by the FT, receive an average post-MBA salary of $135k. Tuition fees for the Warrington MBA are just $61,260.
These sky-high salaries are tied to the professional development that business school can facilitate. According to GMAC's study, 85% of respondents who occupied entry level roles before business school moved up after graduation, along with over 50% of those in mid level roles, and a third of individuals in senior roles.
A further 25% of graduates advanced from executive roles following business school.
---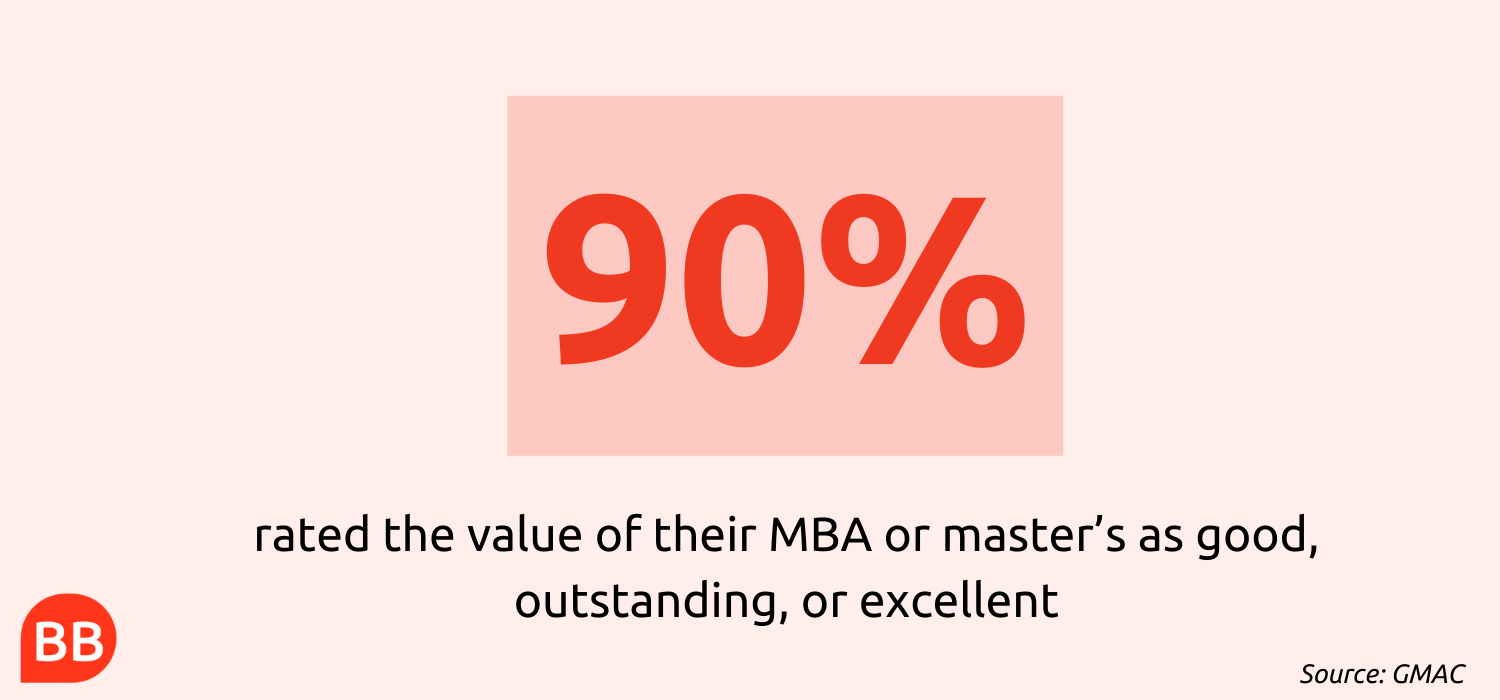 ---
MBA ROI | Making a career switch
Supporting individuals through a career change proved to be another positive outcome for business master's and MBA graduates.
The GMAC study discovered that around half of candidates wanted a career change going into the program—and they got it. 60% of graduates changed function after their degree, and half switched industry.
Consulting was a particularly popular industry for career switchers. Over three quarters of respondents who worked in consulting after graduation had pivoted from a different function, and 70% had moved from a different industry.
Consulting firms offer some of the most generous starting salaries. The Big Three management consulting firms—Bain, BCG, and McKinsey—have increased their starting salaries for MBA hires in 2022.
On the other hand, graduates who worked in the technology industry were least likely to move after their degree. Just a third moved to a different industry when they completed business school. The technology sector is similarly lucrative and experts predict tech companies will drive an MBA jobs boom this year.
---
MBA ROI | Entrepreneurship
The desire to start a business is another driving factor that leads candidates to value a business school education. How likely a candidate was to consider entrepreneurship was significantly impacted by their gender.
41% of men said they wanted to develop their entrepreneurship skills at business school compared with just 28% of women.
"The findings suggest that in today's evolving work environment, women—perhaps more risk-averse and resource-deprived—shy away from starting their own companies," comments Maitre Salazar, GMAC's chief marketing officer.
US candidates from an underrepresented minority (URM) background were also significantly more likely to consider entrepreneurship. 48% of URM candidates, but only 32% of non-URM candidates wanted to own their own business after graduation.
The connections, expert feedback, and broad business knowledge developed at business school has helped many entrepreneurs launch a successful business after graduation.
---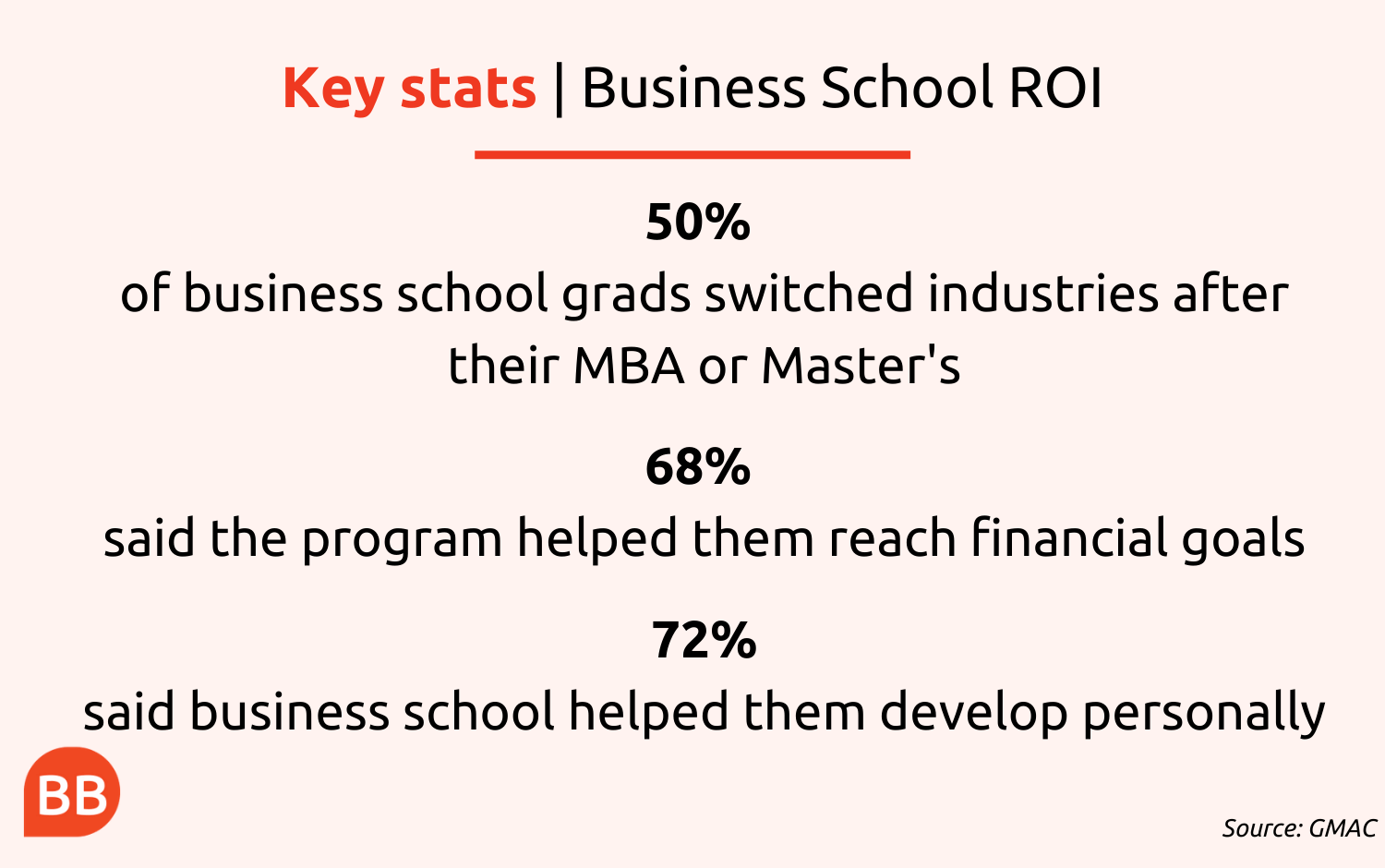 ---
MBA ROI | Personal and community development
As well as developing in their professional lives, 72% of graduates reported that pursuing a business school program helped them develop personally.
Since most programs incorporate leadership development, career support, and broad networking opportunities, the link between professional and personal growth makes sense.
Community development was another motivation for many individuals to attend business school. For URM candidates in the US, this was especially true.
42% of URM candidates said that the desire to support their community was a key factor in the decision to study, compared with 23% of non-URM candidates.
"In the background of today's global health and economic crisis, many career-minded individuals are shifting their perspectives, looking for social impact in their own communities," observes Sabrina White, vice president of school and industry engagement at GMAC.
Despite variations in candidate goals and graduate career outcomes, GMAC's ambitious study shows that the vast majority of business school alumni see a strong return on investment from their MBA or business master's degree.
---
Next read:
Which Companies Pay The Biggest MBA Salaries?