Business school grads are in high demand and MBA salaries are as lucrative as ever—that's according to the 2021 Corporate Recruiters Survey, conducted by the Graduate Management Admission Council (GMAC), released today.

Despite the widespread unpredictability and disruption triggered by coronavirus, the average MBA graduate can expect to earn an impressive base salary of $115k in 2021. That's a full $10,000 higher than MBA graduates who entered the workforce in 2020 achieved, demonstrating the ongoing value that employers place on business school education.

The survey, which GMAC conducts every year, gathered responses from 569 employers around the world, asking how many business school graduates each planned to hire, the salaries they paid, and more.
---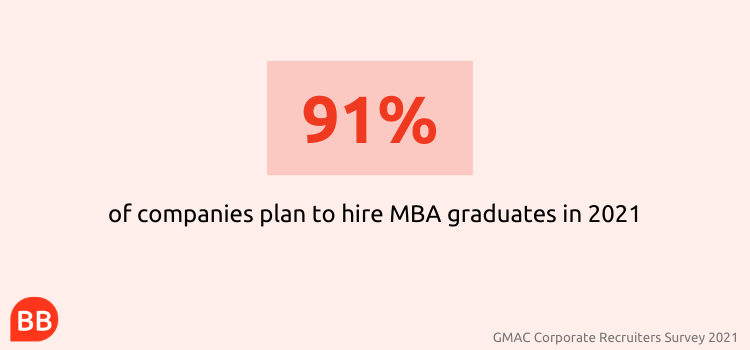 ---
MBA salaries rebound
In 2021, employers continue to place a premium on MBA graduates, paying a median MBA salary of $115k. This is significantly higher than the $75k salary that direct-from-industry hires are offered by the same organizations. It's also a step up from the salary that MBA grads could expect in 2019—$105k.
But among other business school programs, progress has stalled in 2021.
According to GMAC, Master of Management grads can expect to earn a median starting salary of $55k—markedly lower than the $75k employers paid in 2020.
Master of Accounting graduates are also set to earn $55k in 2021, but their Master of Finance counterparts fared better with a median starting salary of $65k.
On the other hand, graduates from Master of Data Analytics programs continue to command notably higher salaries. In 2021, employers plan to pay these grads a median salary of $75k, which is a $10k premium compared to median bachelor's salaries offered by the same companies.
---
---
Majority of companies hire b-school talent
As well as salaries, MBA hiring plans have also rebounded. Before the coronavirus pandemic, 92% of recruiters expected to hire MBA graduates in 2020, but in reality, just 80% did.
In 2021, though, recruitment looks set to bounce back, with 91% of employers (9 in 10) planning to hire MBA graduates over the next year.
"As corporations recover from the pandemic and rebuild their workforces, it is no surprise that business school graduates—with their leadership and managerial skills in high demand—are specially strengthened in their value proposition as an employee and uniquely positioned to meet today's economic challenges," comments Sangeet Chowfla, president and CEO of GMAC.
Despite stalling salaries, business master's grads are also very much in demand.
54% of companies plan on hiring Master of Management graduates in 2021, 48% plan to hire Master of Finance grads, and 62% plan to hire Master of Data Analytics grads.
This represents an increase in hiring plans compared to companies' actual hiring in 2020, as organizations leave the coronavirus crisis behind and seek to grow.
And the uptick in hiring seems to be a long-term trend. Over the next five years, nine in 10 corporate recruiters expect their demand for business school graduates to either grow or remain steady.
Across programs, Europe is set to hire more business school graduates than any other region. 54% of European companies think they'll ramp up hiring in the next five years, compared to 34% of US companies, and 32% of companies in the Asia-Pacific region.
This could trigger an increased demand for European programs, as candidates follow the opportunities.
---
---
Doubt over online programs
Although demand remains high for graduates from all business school programs, some recruiters are doubtful that online business school programs can deliver the same level of training as their in-person counterparts.
Only around a third (34%) of employers reported valuing graduates from online and in-person programs equally.
Business school candidates appear to be equally skeptical. Just 11% of in-person MBA candidates and 43% of Online MBA applicants said that career opportunities were the same online as they are on-campus.
Despite these concern, 84% of Online MBA programs reported a growth in application volume in 2020, according to a GMAC report.
---
Tech jobs boom
Technology companies have the most ambitious plans when it comes to hiring business school grads.
96% of recruiters in the tech sector said they planned to hire MBAs in 2021, compared to 80% in 2019. Tech companies are also planning to hire grads from other programs. 71% expect to hire Master in Management graduates, 54% will hire Master of Finance grads, and 76% will take on Master of Data Analytics grads.
Despite the importance of technical know-how for many of these roles, employers continue to value so-called 'soft' skills like communication, leadership, and decision-making above other abilities.
"Technology companies are placing a high value on leaders who are not just technically skilled, but also have strong strategic, interpersonal, communication and decision-making skills, as well as an understanding of the importance of diversity and inclusion and sustainability in their organizations," says Peter Johnson, assistant dean of UC Berkeley's Haas School of Business.
"These will be critical to driving organizational growth and innovation."
---
Next Read:
Which Companies Will Hire The Most MBAs In 2021?