When Manoj Thapa was considering MBA programs in India, a brand-new offering from Athena School of Management in Mumbai stood out.

Athena's Post Graduate Program in Management (PGPM)—offered as a dual certification with an MBA—is dedicated to experiential learning, with students going through three internships as a minimum requirement over the program's two years.

On the PGPM, students study general management in their first year before specializing in their second, giving them time to work out their career plan.

80% of the teaching is based on interactive debates and discussion sessions; 20% is taught by faculty from all over the world. Athena's professors are all corporate leaders; executive-level professionals with real-world experience.
---
Why Athena MBA?
Manoj, originally from Nepal and with work experience in the UK, joined the PGPM's first ever class in 2013.
"When I did my research into different courses, I saw that the syllabus at Athena was much more relevant to what's going on right now in the market," he explains.
"The PGPM is about grooming yourself rather than textbooks—they are trying to develop you as an individual. And there's lots of exposure to very senior-level professionals. I'm now in regular contact with people who've been on the boards of Fortune 500 companies."
At Athena, Manoj diversified his work experience with three internships: two months working in sales at a finance firm Credit Sudhaar; three months in business development at an HR company; and three months in a marketing and sales role for a company in the food and beverages industry.
He also got three full-time job offers; one from American Express. After graduation, Manoj turned Amex down to accept a management job at QuikWallet, a rapidly-growing digital payments startup in Mumbai. Now, he's working for a fintech company which is part of the Future Group.
---
Amazing MBA Jobs!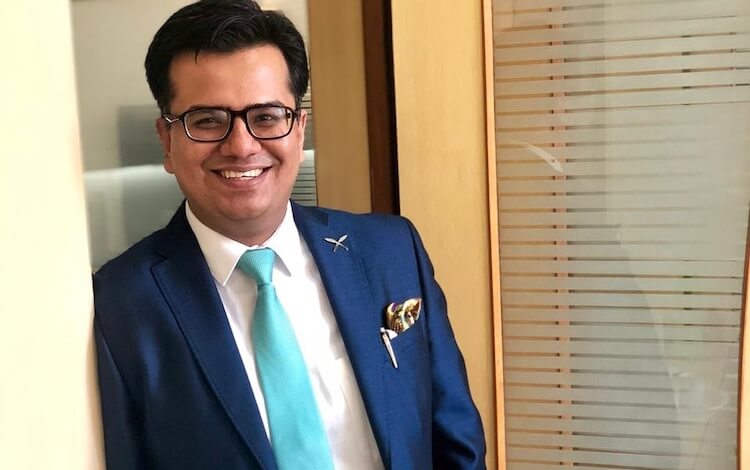 ---
He's not alone. Since the PGPM started—Aditya Singh (pictured), director of Athena School of Management, explains—almost every student has landed a job after graduation.
Typically, half of them get jobs out of an internship. Some students even get full-time job offers off the back of their first internship in their first year. Those that don't go into full-time jobs usually start their own ventures.
Athena's close corporate partners include Edelweiss, ICICI Bank, Tata Group, and Vodafone. PGPM students land jobs all over India—although mostly in Mumbai—and abroad too. Aditya says there are former PGPM students working in Canada, Ireland, and the Middle East.
---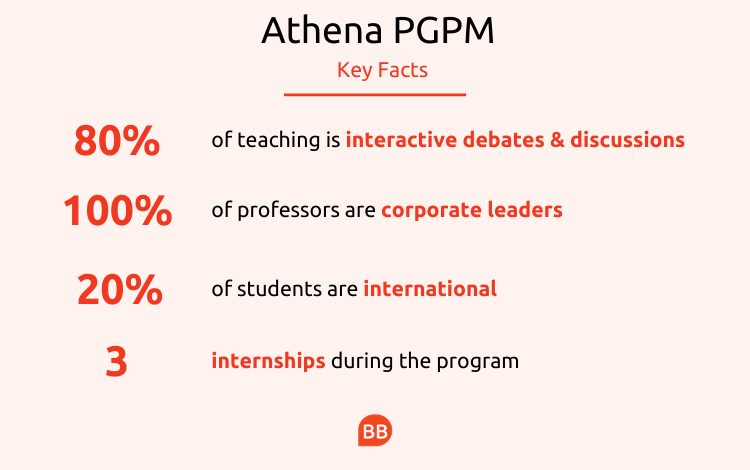 Figures for 2019 PGPM cohort
---
For Aditya, alongside their own initiative, the success of his students is down to Athena's unique positioning in the market.
"In India, a lot of students jump into an MBA just after undergrad," he says. "We see a lot of students coming out into the market as MBAs, but when they go into the corporate sector they have very little corporate experience; they don't know what to expect.
"Employers are sick and tired of interviewing candidates with a theoretical basis and nothing on the practical side. They want people with practical experience—and that's where the PGPM program from Athena comes in."
---
International MBA experience In India
---
Athena's program has a strong international dimension to it too. Athena's international students made up around 20% of the 2019 PGPM class.
They're attracted to India's booming industries—technology and financial services in particular—as well as salaries that compare to those in the West in terms of purchasing power. MBA grads in India, Aditya says, will be in the top one percentile of the population when it comes to their salaries.
PGPM students are also able to take one internship abroad and take part in an international exchange at Mannheim Business School in Germany or Nanyang in Singapore.
PGPM student, Vibhuti Desai—from Gujarat, India (pictured above)—started working as a private banker with the Aditya Birla Group after graduating from Athena. During the program, she intered in a finance role at a hotel company owned by Tata Group.
"I'd studied finance for five years, but the work I did in my [PGPM] internship was completely different," she says. "The internships also helped us understand what we studied on the PGPM more clearly.
"In today's world, you have to do a master's degree," Vibhuti continues. "After my bachelors, I was getting jobs in call centers—no one considers that as work experience in India when you're going for jobs in the corporate world.
"Mumbai is one of a few cities in India which can provide you with practical experience alongside your studies."
---
Athena MBA Application Tips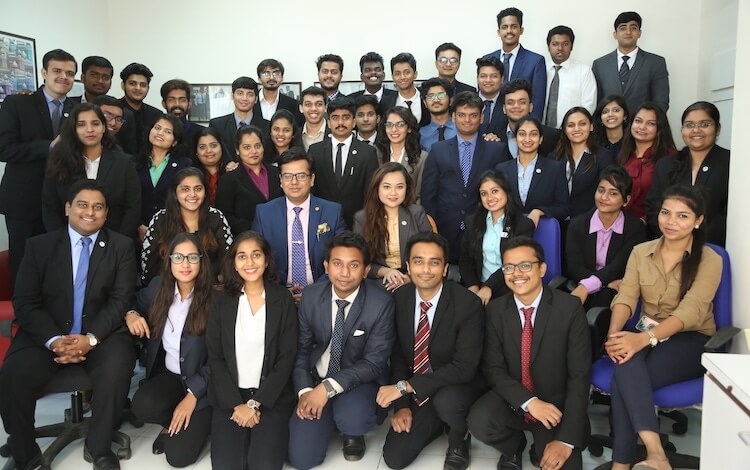 ---
Athena's admissions process is profile-based. The school accepts the CAT, GMAT, NMAT, and offers its own in-house admissions test.
No prior work experience, Aditya says, is not a deal breaker. Athena offers a variety of profile-based scholarships—for women in business and international students—of up to 20% of tuition.
The school also offers a special set of scholarships exclusively for candidates who achieve high NMAT scores.
With Indian companies expanding globally, Aditya says knowledge of Indian business culture is becoming critical for professionals wherever they work.
On campus in Mumbai, he speaks to different students on the program from a variety of different professional and personal backgrounds every day. But there's one thing he says that stays the same.
"I always say: 'We don't care who you are today. We care about what you want to be tomorrow. And do you have the fire, hunger, and passion to get there?"
---
This article was first published in August 2018 and updated in August 2020.
Related Content: