After seven years in the energy industry, Angelica Ly (MBA '20) set out on a business school program to propel her career and landed the ideal job with Chevron.
With a bachelor's degree in mechanical engineering from UC Berkeley, Ly realized being an engineer wasn't quite the right path for her.
Instead, she pursued a career in technical project management, where she could combine her "passion for engineering with her love of people interaction," she says.
After six years at SMA-America, a solar technology company, Ly was looking for a new challenge. "I realized that, though I enjoyed my job, I wanted to have more impact on business strategy.
"I knew I wanted to stay in the energy industry, but wanted to refine my skills in finance, so I targeted schools that excelled at both energy and finance."
In the end, the MBA energy concentration at the University of North Carolina Kenan-Flagler Business School was the ideal fit.
"The School's curriculum allowed me to build my financial knowledge from the ground up," Ly says. "Also, at UNC Kenan-Flagler, they are growing the energy concentration, so I had options to take an entire spectrum of classes."
---
An in-depth look at energy
The energy concentration at UNC Kenan-Flagler focuses on all aspects of the industry, "from oil and gas to renewables and utilities," Ly says.
Taught over two years, students have a wide range of courses to choose from, including Industrial Finance, Decision Making in the Energy Industry, and Energy Taxation and Policy. Courses focus on case-study learning, offering students the chance to dive deep into the workings of the industry.
"Most classes are taught by energy professionals," she says. "We have CEOs or treasurers of major companies teach us fundamentals and then tie them back to what they're doing."
Ly's most memorable course was taught by the senior vice president and CCO of a company in the natural gas space. "I loved the way he broke it down – how they make money, what's important to them, and what problems they are facing today," she says.
Students have additional opportunities to immerse themselves in energy at the Energy Center, which focuses on internship assistance, career events and research, and the student-founded Energy Club.
"The club provides students with knowledge and skills to understand the industry. More importantly, it connects students with industry professionals, from business leaders to professors at other schools," says Ly.
---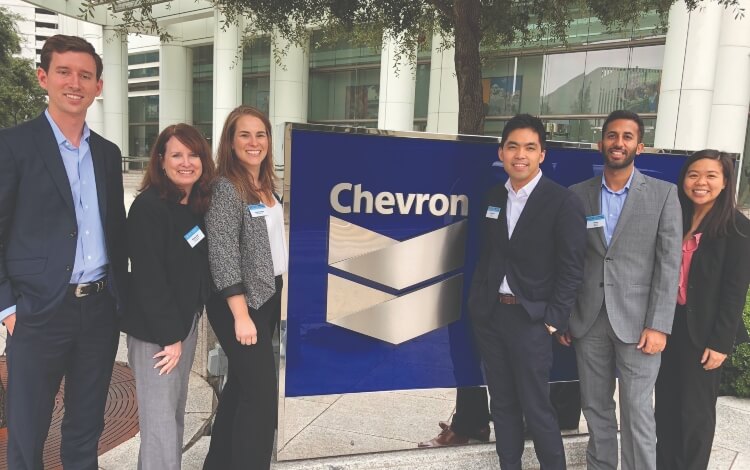 ---
A career in energy
For a school so focused on energy, it makes sense that UNC Kenan-Flagler has strong links with the best in the industry — that was exactly how Ly scored an internship with giant ExxonMobil in Thailand.
"I would not have gotten the opportunity at ExxonMobil, without the help from UNC Kenan-Flagler faculty, administrators and alumni," she says. But had another career-altering realization during this time.
"I absolutely loved the company and my project," Ly says, "but after interning in the finance department, I realized that pure finance wasn't quite the career that I wanted for the long term."
Instead, she looked to other sources for her post-MBA job, and, with help from a school alumnus, secured a position at Chevron, in an exciting commercial and business rotation.
Coming from renewable energy and moving into oil and gas was "not what I expected coming into school," Ly says. "That's what business school did – opened doors I didn't know existed. There are so many different facets in the energy industry."
"I thought I knew exactly what I wanted to do after business school, but my goals continue to adapt and change. Thus, Chevron is perfect for me because I can continue to rotate throughout my career, while I keep growing and learning about myself. Also, it allows me to work on my engineering, finance and people skills."
For Ly, there's no industry more exciting than energy, and nowhere better to study it than at UNC Kenan-Flagler.
"The industry is redefining itself—there are more questions and unknowns and thus more new ideas and innovation," she says.
"The size of UNC Kenan-Flagler's energy concentration is growing with the industry, which makes for a great opportunity to explore the rapidly changing energy sector."
Related Content: