As a managing director at Deloitte, strategy, decision-making, and team management often falls to Paula 'PJ' Davis.

After five years serving as a sergeant in the US Marine Corps, this sort of leadership comes naturally to PJ. But the leap into consulting wasn't a simple one, and required the combination of business knowledge and soft leadership skills needed to thrive at an industry leader like Deloitte.

For this, she credits her MBA from the Terry College of Business at the University of Georgia, a pivotal point in her unconventional career switch.
---
Going from Marine to MBA
PJ's bachelor's degree took a five-year hiatus as she went to serve as a sergeant in the Marines. When she eventually returned to Terry to finish her undergrad, she had some big decisions to make on where to move next. "It was a good time for me to reflect on where I wanted to go next in my career," PJ says.
Believing herself to have solid leadership qualities, and with a bachelor's that included foundation modules in data modeling and coding, an MBA looked like a good path to hone those skills.
"I knew that if one day I wanted to move into senior leadership, I'd need an MBA," PJ says.
Believing that consulting could be a career fit, PJ viewed the MBA at Terry as a good platform: at Terry, 24% of the most recent cohort moved into consulting careers.
Consulting firms allow MBA graduates to expose themselves to varied challenges in the business world, while offering good compensation and promotion opportunities.
---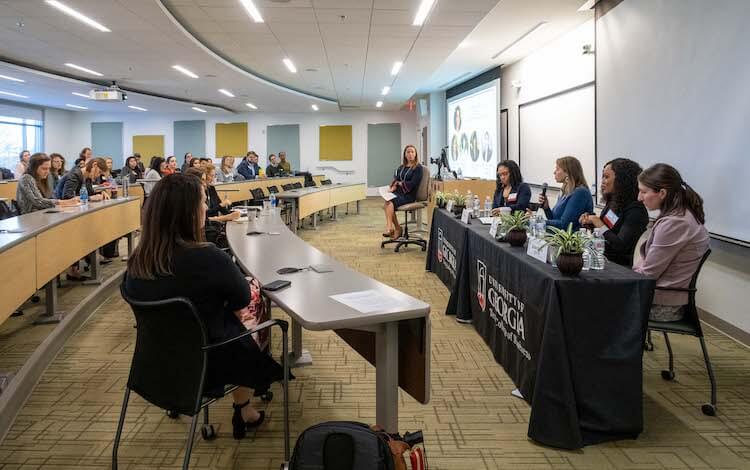 PJ speaking at the school's annual Graduate Women's Business Association Summit 2020 ©Scott Duvall, jawavifilms

---
An MBA at the Terry College of Business
PJ is certainly no stranger to a challenge, and once enrolled in the MBA, she was presented with a flexible path that allowed her to push herself forwards.
"I wanted to stretch differently on the MBA," PJ says. "While I could hone my core business skills on the course, I was also able to take classes right across the spectrum."
Taking part in, for example, an international affairs PhD class meant PJ could continue to expand her learning and stay on her toes. "At Deloitte, we say you own your career. At Terry, it was exactly the same. I could tailor the experience around my own ambition," she says.
Classes in leadership would also prove helpful down the line. "It really helps shape your mindset towards leadership, which came into play in a big way at Deloitte," she says.
Through an assistantship at Terry, PJ had the chance to work with faculty to help cover the cost of the MBA and make worthwhile connections.
One of those professors was connected with Deloitte and gave a glowing recommendation of PJ's abilities. In fact, PJ had multiple offers before finishing her MBA, but Deloitte stood out.
"The professors were critical for me," PJ says. "It's why I picked Deloitte over Accenture and others. The existing relationships between some of my professors and the leaders at Deloitte led to me taking the job."
The networking didn't end there. The woman who'd helped to hire PJ, a contact from Terry, was also involved in an analytics initiative at Deloitte, which was to become PJ's niche.
---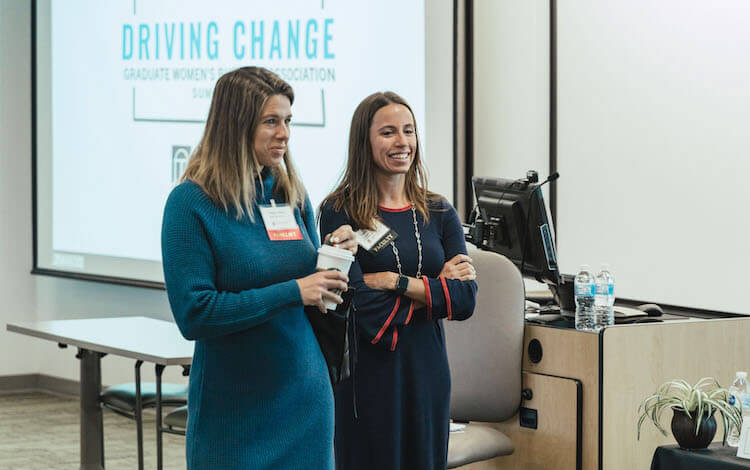 ©Scott Duvall, jawavifilms

---
Deloitte and mentorship on the MBA
After working as a consultant for a couple of years, PJ got the chance to start up Deloitte's Analytics Innovation Center. It's now an integral part of the firm with a 300-strong team, and has launched in countries around the world.
"It was all possible because of the combination of my undergrad and MBA," PJ says. "The undergrad had the coding and data modeling, which gave me a decent technical background, and then the MBA honed in on my leadership and management skills. It's allowed me to lead technical teams very well."
These days, PJ is a managing director based in the DC area. She's shifted her focus towards the public sector and helping local and state governments deal with the economic effects of coronavirus.
Now, as part of the mentorship program at Terry, PJ is keen to give back to students and help mentor the next generation of leaders.
"One thing I'll never forget is my own mentor who I was connected with at Terry," PJ recalls. "He also served in the military and spent tons of time helping to edit my resume. We're still in touch now. Having that help meant a lot to me!"
Related Content: