As the world's second largest economy, China offers exciting job opportunities for Western professionals. Industries like fintech, e-commerce, and green energy are growing fast, creating fresh demand for employees with strong business acumen and cross-cultural awareness.
Without roots in China, tapping into these opportunities is tricky, but studying your MBA at a Chinese business school can help you. A well-respected business school in China will not only equip you with locally relevant business insights, but also help you build a strong local network.
BusinessBecause caught up with Snow Wu, head of the Career Management Center at Beijing's Cheung Kong Graduate School of Business (CKGSB), to find out more about the top jobs for foreigners in China and four ways an MBA can help you get hired.
---
1. You'll gain the cross-cultural skills employers want
"Many of our international graduates land jobs with multinational companies that operate in China, such as Nike, KPMG, and Microsoft," explains Snow, who supports MBA students at CKGSB as they plan their post-MBA career.
"These corporations are looking for people with intricate knowledge and business acumen to operate their business, and take on management positions in China and Greater Asia," she continues.
Increasingly, Chinese companies are interested in hiring international graduates, whose cross-cultural knowledge can help them expand overseas.
"Companies such as social media firm Bytedance and tech giant Huawei are competitively recruiting international talent—offering very good benefits and packages," Snow comments.
"Going to a school like CKGSB gives you access to one of Asia's most influential groups of business leaders, who can help you make an impact whatever you choose to do."
---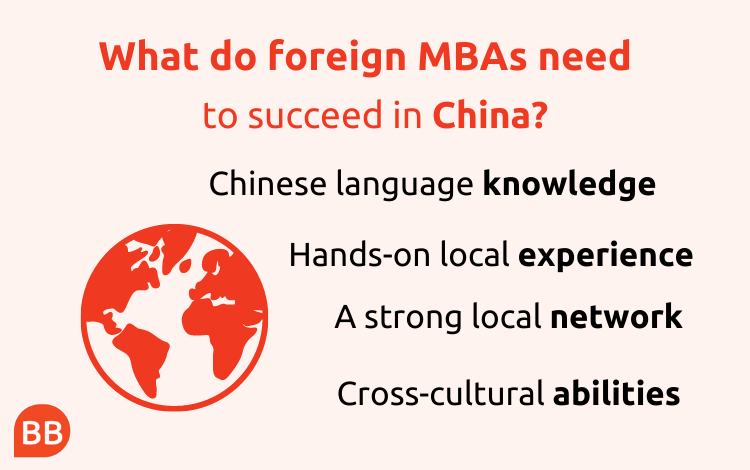 ---
2. You will learn about Chinese language and culture
For foreigners entering China's jobs market, one of the main challenges is learning a new language and culture.
"Luckily, CKGSB's global MBA program helps candidates tackle these challenges," says Snow. "At CKGSB, we provide Chinese language training to all international students to help support their goals."
These linguistic skills will allow you to access opportunities with local Chinese companies as well as multinational corporations.
---
3. You will learn from experienced, local professionals
As well as understanding of the local language and culture, Western professionals must glean a nuanced understanding of business in China, and how this fits into a global context, if they want to launch a successful career in the country.
Unlike many European countries and the US, the largest enterprises in China tend to be state owned, which can make a real difference to how they operate, for instance.
Pursuing an MBA in China can help you build this understanding, by giving you access to professors with expertise in the country. At CKGSB, Snow notes, professors who teach on the MBA program have extensive knowledge of China's business landscape, built during years of real-world experience.
"The professors teaching CKGSB's global MBA have an intricate understanding of China," Snow explains. "They sit on boards, advise policy, and are at the forefront of China's development."
International MBA students at CKGSB also have the chance to study the two-week China Module—a course that explores how the world of business is changing from a Chinese perspective.
Later on in the program, students put these insights to good use during the Diversified Consulting Project (DCP). This involved working in groups to solve a real-world problem for a Chinese business. Undertaking the project is a great opportunity for international MBAs to seek out expertise in the industry they want to work in when they graduate.
"International students looking for success in Asia must have a nuanced view of recent trends that affect their industry," Snow explains.
---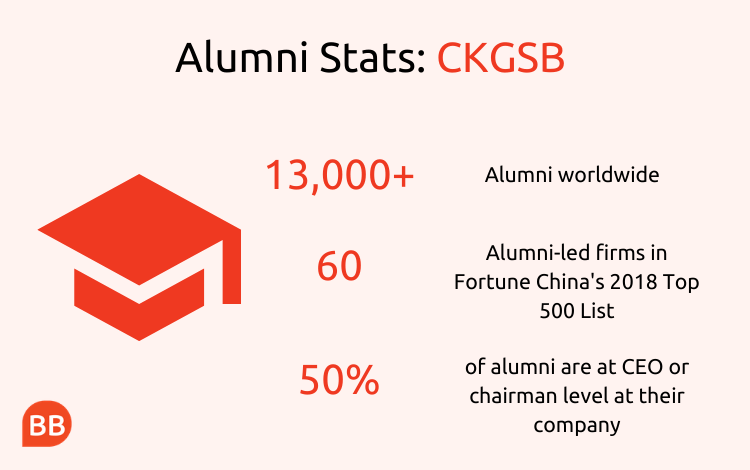 ---
4. You can build a strong network in China
Building a strong local network is equally important when it comes to building your career in China. Chinese business schools like CKGSB are well-placed to connect you with like-minded individuals who are further along their career journey, and can help you take your next step.
"Professional connections are extremely important no matter what market you're in, but in China it could give you a leg up on landing your dream career," says Snow.
At CKGSB, she explains, every MBA student has the chance to connect with a mentor in their industry of choice. "The program has been extremely effective for your professionals to learn from seasoned executives," Snow comments.
The school also organizes frequent company visits, giving students the chance to forge connections with key players in the organization, while learning more about its day-to-day operations, and the challenges it faces.
For professionals hoping to grasp these opportunities, Snow's final advice is simple: there is no substitute for hands-on experience in China.
"If you want to engage with China, you have to be here, on the ground—gaining local knowledge, meeting with people, and doing your homework," she says.
Related Content: