To successfully carry out the MBA 'triple jump'—changing industry, function, and location after graduation—is no easy feat. Yet at HEC Paris, more than one-in-three MBA students do it.
Abhisekh Shah had the MBA triple jump in his sights from the very moment he picked up an HEC Paris brochure at an admissions event.
He starts his new role as a venture capital investment and analytics professional with Blue Future Partners—a private equity firm investing in real estate and technology—in January 2021, and will be making the move from Paris to Munich.
Before landing his new job, Abhisekh was based in India and worked in Corporate Social Responsibility and Sustainability management, but had always dreamed of making the leap into venture capital. An MBA, he realized, was the ideal way to make the career change.
---
Why HEC Paris?
Before starting his MBA with HEC Paris, Abhisekh carried out detailed research into which school best fit his ambitions.
HEC Paris soon stood out as a launch pad for changing careers. In 2019, 82% of HEC MBA grads changed sectors, 70% changed function, and 64% changed their location.
Even more impressive, Abhisekh says, is that the bulk of grads, 80%, changed two of the three elements, while 39% made the full triple jump.
"HEC Paris was my first choice as it was extremely international and diverse, with a close-knit group of students. It offered me a striking point to jump from."
---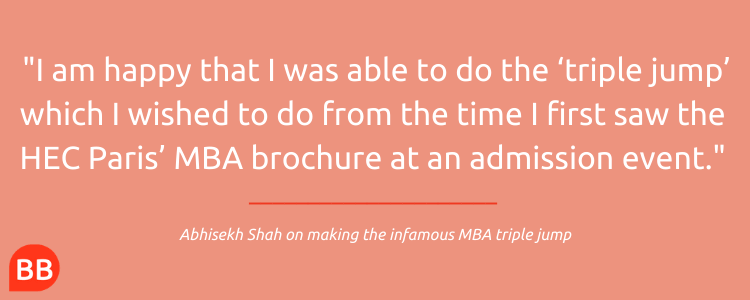 ---
Prepping for the MBA Triple Jump
From the get-go, Abhisekh worked on building his network. One of the many reasons for choosing HEC Paris was the school's collaborative culture; Abhisekh wanted to study in an environment where he could get to know his classmates and build tight bonds.
An opportunity to cement these connections was through extracurricular activities. "From day one, I immersed myself in activities relevant to private equity," he says. He became an active member of the MBA's Entrepreneurship and Private Equity/Venture Capital clubs, attending events and networking with the clubs' speakers, as well as with like-minded peers inside and outside of HEC Paris.
He was later elected president of the HEC Paris MBA Entrepreneurship Club. The club organized pitching competitions and networked with entrepreneurs and business innovators. Through the club's activities, Abhisekh established a strong connection with Station F, the world's largest startup incubator. There was also a plan for a career trek to Berlin, but the company visits had to pivot to online-only events due to COVID.
Another aspect of HEC Paris that helped him realize his goal, he says, was the flexibility of the curriculum. He chose electives heavy on finance to prepare him for the jump.
Although COVID-19 has impacted face-to-face networking opportunities, Abhisekh was able to use his online connections to find two internships.
Just five months into his MBA, he secured his first internship with Creator Fund, a UK-based venture capital firm. Student by day, intern by night, Abhisekh was able to leverage his connections at Station F to source several startups from the French ecosystem for his UK employer.
During summer break —the more traditional time for MBA internships —Abhisekh began working with Blue Future Partners at their Munich headquarters. That internship led to a job offer, and a permanent role with the company.
"The internship gave me a good overview of the practical application of my education," he says.
As a full-time employee at Blue Future Partners, he will be joining the global deal team responsible for making investments. Additionally, he will work to supplement the company's decision-making processes by implementing an intelligent data-based solution.
---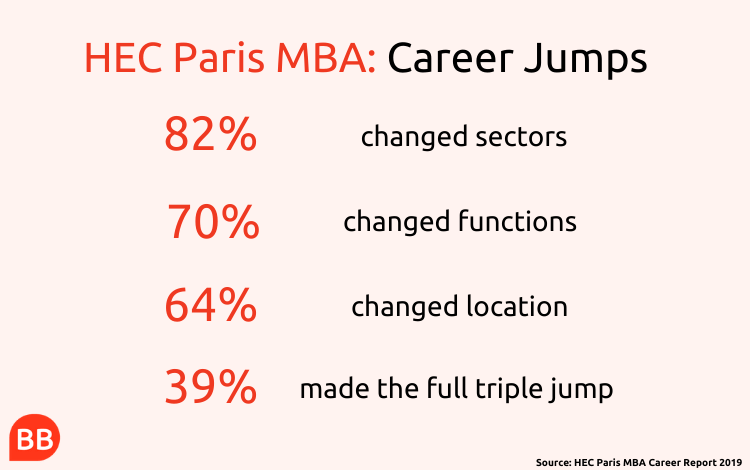 ---
Changing Careers
MBA students at HEC Paris get personalized career support, with access to one-on-one career coaching sessions as well as recruitment events and career treks.
300 companies attend the annual career fairs and meetups organized on campus and 50% of grads find jobs through the careers service. In 2019, 92% of MBA grads were employed three months after graduation.
"If you want to change your industry, you will need to do a lot of preparation. You need to do the work to show you're motivated," Abhisekh notes.
At HEC Paris, Abhisekh learned to navigate the European startup ecosystem. He saw what a rollercoaster life entrepreneurs have and that he could work with them through investments. He knows the skills he developed during his MBA—teamwork, strategy, analysis and others—will help him adapt to his new role.
"My MBA opened those doors to me," he says.
Related Content: