72% of companies say that customer success is their top priority, according to a report from market research firm, Forrester.

The customer success function has its roots in the software as a service (SaaS) sector that first emerged in Silicon Valley. As firms switched from one-off purchase to subscription models, new roles were created to help customers make the most out of the software and promote renewal.

To be effective, customer success managers need a holistic understanding of how a SaaS company operates—exactly the kind of business acumen developed through an MBA.

"Customer success roles offer a tremendous opportunity to tap into a lot of your MBA skills, while also helping you build the insight and wisdom that will advance your career," explains Vijay Mehrota, professor of business analytics at the University of San Francisco School of Management (USF SOM).

Vijay also heads up the customer success management career accelerator—the first ever academic program with this focus.

BusinessBecause caught up with Vijay to find out what customer success has to offer as an MBA job, and what skills graduates need to make an impact in this fast-growing field.
---
A holistic career launchpad
Working in customer success offers new MBAs broad exposure to their companies—a major benefit, notes Vijay.
"Customer success managers are part business consultant, part technical expert, and part organizational therapist," he explains.
Working in the field, MBAs get to know the product and company they are working with deeply, as well as seeing first hand how different teams interact. This makes for a fulfilling and intellectually demanding role, which can itself act as a launch pad to other areas of the business.
"After working in customer success, your opportunities in SaaS expand massively," Vijay adds. "You have the opportunity to move into so many different roles—such as product management or marketing—after a year or two. Several of our former students have also been promoted into Customer Success leadership and executive roles."
---
Getting familiar with the tech industry
For professionals who want to break into the competitive world of tech, customer success is also a useful point of entry.
According to research from the Graduate Management Admission Council (GMAC), almost 20% of business school candidates want to pursue a career in tech when they graduate.
Customer success roles can be especially helpful for those without a background in STEM who want to pivot into tech.
"It's a nice doorway into tech for people who aren't engineers or developers, but aren't necessarily looking to be front and centre as sales people," says Vijay. In the past, he has seen students from many different backgrounds, including several former teachers, thrive in customer success, he adds.
Increasingly, these roles are available in tech startups as well as larger organizations, and opportunities are emerging all the time.
---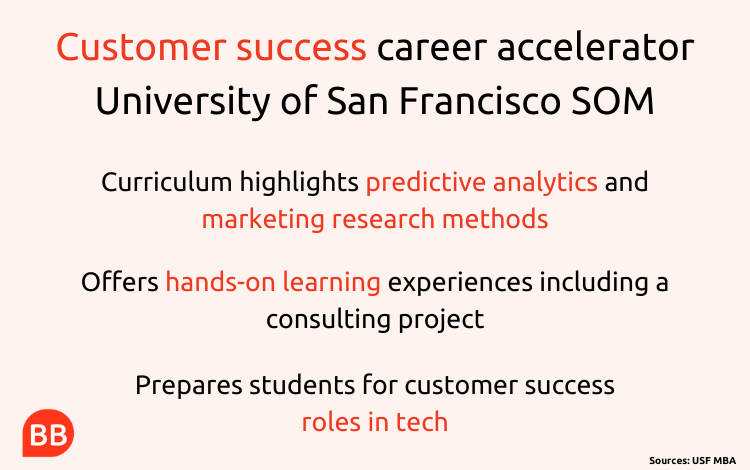 ---
Landing jobs in customer success
So, what does it take to make it in customer success? The profession requires a broad skillset, with a mixture of 'hard' and 'soft' skills.
The ability to analyze data is one of the most crucial tools for customer success managers, Vijay notes. In SaaS companies, they must be comfortable interpreting customer data, and using it to identify potential issues and opportunities.
A firm grounding in data analytics is incorporated into the customer success career accelerator at USF SOM. MBA students in this track study a module in predictive analysis, with a particular focus on how to understand customers through looking at data.
"In SaaS companies, analytics is an important part of the puzzle because it allows you to be proactive. You can see how customers are using the software and build a picture of customer health," says Vijay.
Alongside these abilities, customer success managers need to be strong communicators, with plenty of emotional intelligence. Because they typically work across teams—and companies—understanding different needs and perspectives is important.
"Essentially, you're conducting two orchestras at once," Vijay comments. "One is your customer's organization and the other is your own company."
At USF SOM, students can practice this working philosophy through the company practicum project, which involves working on a real-world customer success consulting project with a local organization. In the past, giants like Sage and McKesson have offered projects, as well as early-stage startups.
Vijay also invites prominent guest speakers to keep students up to date with the customer success landscape.
Customer success looks set to continue growing as a profession, and Vijay is confident it offers an exciting alternative career path for ambitious MBAs.
"It's a great example of work that requires 'left brain' and 'right brain' thinking to be integrated," he concludes.
Related Content: