After completing his MBA Entrepreneurship & Innovation at WU Executive Academy, Mihai Gabriel Albert used the skills he'd gained to kick-off a new career as a finance business partner at Amazon.

WU Executive Academy's MBA Entrepreneurship & Innovation is targeted at entrepreneurs and professionals within companies wanting to explore innovation. Students have an average of 12 years work experience, with over 50% of the class made up of international students.

Mihai worked for Amazon as a finance manager before business school, but eager to progress in his career he decided to move to Vienna to pursue an MBA.

During his MBA studies, he gained experience working for a different company, before returning to apply for a more senior role at Amazon, taking himself through the firm's famously challenging recruitment process once again.

With an MBA under his belt, he says he was more than up for the challenge.
---
Why an MBA in Entrepreneurship?
Based in Vienna, WU Executive Academy offers a host of executive-style, part-time programs including an Executive MBA, Professional MBA, and Professional Masters in Accounting, Sustainability, and Innovation.
Although he came from a corporate environment, Mihai was especially interested in the MBA Entrepreneurship & Innovation program.
"Even in the corporate world, entrepreneurship is also something exciting because in international companies you're required to think like an entrepreneur," he says.
As well as general management core courses, the 18-month part-time MBA program includes courses covering topics like entrepreneurial leadership and the marketing, strategy, and financing of innovation.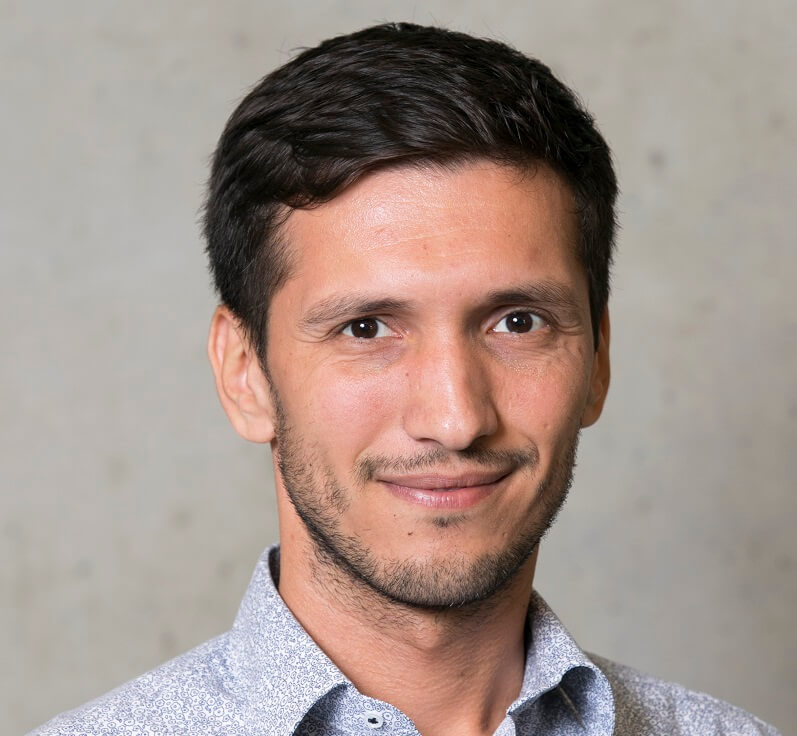 Mihai (pictured right) worked for Austrian energy firm OMV in a digital finance transformation role alongside his MBA. At work and in the MBA classroom, he found soon himself surrounded by new people working across a variety of industries with experiences that he could learn from.
"The best thing about the MBA is the connections and being able to engage with different people," he says.
"It's not just books, it's more about how you apply the knowledge. We had colleagues from Asia, Europe, and the US and we had different views, different approaches. We would work on complicated projects with them and be more equipped with the knowledge of how to engage in different situations."
He was also able to apply the knowledge he was acquiring on the MBA to his role at OMV. The company tasked him with creating a roadmap to refine and optimize its finance operations.
"It didn't come with any other instruction, so I really had to use my entrepreneurial mindset of, 'I want to be the best in the world and the best in the industry'. I had to envision what that would mean in five years and start backwards from the goal."
---
Innovative Thinking
Mihai says he was surrounded by students looking to enact change and create innovative products and solutions during his MBA. A quarter of students on the MBA in Entrepreneurship program come from a research and development background.
Mihai's eyes were opened by the program's focus on creative innovation and its value. He says the MBA has changed his perspective on business. While he used to focus on day-to-day tasks at work, his MBA helped him see the bigger picture.
"We had to ask: What is important for your audience to capture their attention? What are the most important things for my stakeholders?
"What are the things that are going to bring that value to them? And not only that, how are they going to bring value to the company?" he recalls.
---
A new job at Amazon
Amazon values innovative thinkers. Testing things out, thinking big, being curious, taking action, learning and inventing are at the core of Amazon's leadership principles. And any MBA grad applying for jobs at Amazon needs to understand and embody those principles.
Mihai's MBA set him up for further career success at Amazon and he landed a new role combining finance and management. As a finance business partner, Mihai is faced with real-world workplace situations where he applies the knowledge his MBA has given him on a daily basis.
Now based in Munich, his mandate is to make Amazon's finance operations an industry leader. Following his MBA, Mihai is well-placed to do so. He has a broader view of business, he says, and better understands his key stakeholders and how to offer them value.
"Now, thanks to the Entrepreneurship MBA, I think more from the customer point of view, not from an internal point of view," he says.
Related Content: