After nine years in a plethora of different roles—in tech, software sales, business development and real estate—Max Frank recognized he could use his skills and experience for more sustainable outcomes.

He decided to enroll in Warwick Business School's (WBS) Full-time MBA program to sharpen his managerial and leadership skills before rebooting his career.

"I knew that I was ready to make the big pivot and shift my career and doing an MBA was the answer to doing that," says Max.

It paid off. After his MBA he secured a role as senior manager at Capgemini Invent, the company's consulting, digital innovation, and transformation unit providing expertise in strategy, technology, data science, and creative design.
---
Career path to an MBA
Five years prior to undertaking an MBA, Max had a burgeoning interest in sustainability and felt he had a part to play in the new green economy.
"I started to have this idea that I wanted to contribute my energy to doing a little better," Max says, "I wanted to do a role where I could build a career into something of my own, make good money, and be able to contribute."
Sustainability focused MBAs are more widespread in the EU and UK than in the US, so Max decided to relocate from Texas to the UK.
After researching potential b-schools, WBS was on his radar as a top-ranked university—ranked best MBA program in the UK according to the Economist—with progressive sustainability modules across the curriculum. Additionally, it boasted a strong international cohort, with 93% of the 2022 MBA intake coming from outside the UK.
Max's final decision was clear once he spoke to member of staff and alumni students.
"From my initial interview forward everyone I spoke with at Warwick just felt good, it sounds silly, but I felt really good vibes," he says.
---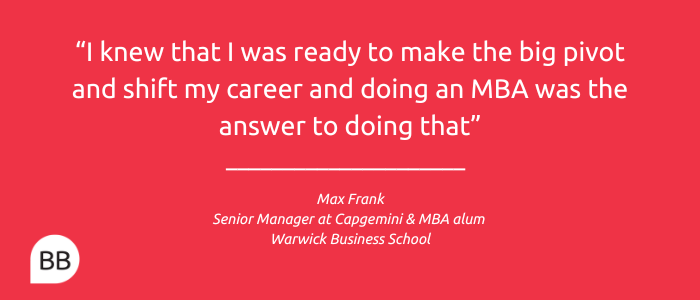 ---
The WBS MBA
At Warwick MBA students begin with core modules designed to provide a solid foundation in management, business and leadership. These include Financial Management, Innovation and Strategic Entrepreneurship, LeadershipPlus—includes a series of experiential workshops, lectures, seminars and case studies – Corporate Reporting and Decision Making, Marketing, Operations Management, Organizational Behavior, and Strategic Thinking.
Max says that the MBA directly helped him to succeed in this current role, especially in understanding how to navigate internal politics in larger organizations such as Capgemini which has 290k employees.
"I've always had a decent instinct about dealing with people but there have been so many moments that I think back to the LeadershipPlus course and an elective I took in leadership in the art of judgement, which have definitely helped me in many situations," Max explains.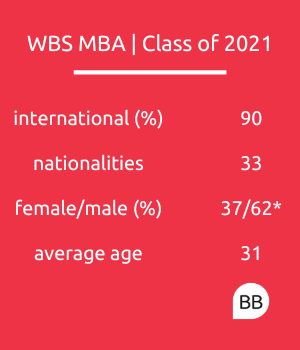 Students choose four electives out of several options such as Digital Transformation, International Business, Entrepreneurship and New Venture Creation, Negotiation Theory and Practice and many more.
"I loved the elective period when we could choose a ton of sustainability related modules, that in tandem with doing courses at the Shard with my cohort and being able to enjoy socializing with everyone," Max comments.
WBS recently integrated the teaching of Environmental, Social, and Governance (ESG) across the core modules. Doing so underlines that sustainability is no longer a 'choice' in business and allows students to address sustainability as a complex subject.
At the end of the one-year MBA program, WBS students have the option to undertake either a strategic consulting project or a dissertation.
---
Career insight support from WBS
As Max wanted to kickstart a career in sustainability, he consulted WBS' career department for help with tailoring his CV and cover letters, for interview prep, and to secure a role post-graduation.
"They helped me showcase all the various roles I've had in life, provided great ideas on how to condense and format my CV differently."
For further advice, Max reached out to Warwick's alumni network—which stretches to more than 53,000 graduates worldwide—and was surprised by their reciprocity and kindness.
"The alumni network was probably the most valuable in getting in touch with any organization because we had a lot of alumni in almost every global large organization," he adds, "I found that those people were always so receptive, not a single person ignored me."
---
Senior manager at Capgemini Invent
Upon graduation, 63% of MBAs at WBS change sector, and 93% are employed within three months. It came to no surprise then that after he graduated, Max secured a new role as a senior manager on the sustainability solutions team at Capgemini Invent.
Max says he has been able to merge his prior experience in tech with his newfound passion for sustainability. His responsibilities are vast and include managing teams to strategize how tech firms can become greener.
"We work across the entire Capgemini Invent organization to weave sustainability into projects with retail, automotive, or energy and utilities clients," says Max.
Beyond his education and role, Max says his MBA has supported his personal development, his understanding of how different cultures interact in a working environment and the need for holistic global sustainable goals.
Related Content: