Studying an MBA means learning new skills, meeting new people, and expanding your business acumen. MBAs also offer the opportunity to gain real-world, practical experience via an internship.

An MBA internship offers an insight into the inner workings of a company. You gain key industry knowledge, helping you decide what career path to take post-graduation.

Impress during your internship and you could find you land a full-time job offer. Erik Catton, MBA student at Copenhagen Business School (CBS), landed a full-time role with Fortune 500 logistics and supply chain firm, Maersk, after a successful marketing internship.
---
From Ford Motor Company to Copenhagen Business School
Born on the East coast of the US, Erik attended university in Ohio and began his career at a construction startup before landing a role with Ford Motor Company.
He worked at Ford for eight years across various departments including business development and sales. But he was interested in pursuing a career with more global opportunities.
"I was always really interested in working globally, that was my goal in life—to live abroad and work with people from around the world," he explains. "I always find it fascinating from a cultural perspective to see how people do things differently, and I didn't think I was getting that chance at Ford."
Working within the automotive industry for several years, Erik felt it was time for a new challenge. He decided an MBA in Europe would allow him to change both his industry and location, and chose CBS as his destination.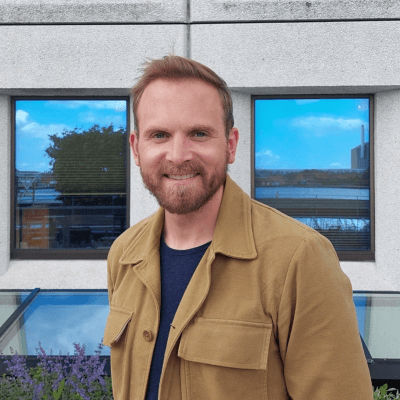 "I'd been to Copenhagen before many times with friends," he says. "Denmark is a very small but well-off country, Danish is the main language but everyone speaks English very fluently, and CBS was a good program because it was small but had a global footprint."
Copenhagen is also one of the most sustainable cities in the world, something CBS promotes within the program. "As someone who works in branding and defining a company's purpose, you really are purpose driven and I think the sustainability angle was also very interesting to me," he adds.
Landing an MBA internship during the Copenhagen Business School MBA
Erik had a range of opportunities to develop his skills during the MBA. CBS students take part in a leadership program called the Leadership Discovery Process, which involves tailored mentorship, workshops, and a multi-day leadership simulator.
The program was the highlight of the MBA for David, tying together various skills he picked up in classes covering a range of business disciplines. Erik also spent time networking with his fellow cohort, which included students from the Americas, Africa, Europe, and Asia.
"The school does an amazing job of getting people from all over the world and different backgrounds — all very talented and smart. Since you're in a small group, you really get to know them," he says.
Arguably the opportunity that has had the greatest impact on his career: Erik landed his internship with Maersk after a job posting was shared internally by the CBS careers team.
While he initially applied for a role in the sales department, after a rigorous interview process Maersk decided Erik was more suited to a marketing role.
"I wanted to change my sector because I didn't really want to be in automotive anymore, but I wanted to stay in marketing and branding. They offered me this marketing role and I felt really happy because I really wanted to work in Denmark," he explains.
"Maersk is a very renowned company here, it's a very old, historic company. In Denmark they're very proud of Maersk," he adds.
Turning an MBA internship into a full-time job
Erik approached his internship with a clear strategy in mind: network with as many people within the company as possible to build his reputation internally.
He found a mentor in the person who initially hired him to the company. With their help, Erik setup one-on-one meetings with members of the various Maersk teams including branding, product, and marketing.
He also kept a keen eye on any job opportunities that opened within the company. When a post became available within two months of beginning his internship, he wasted no time in applying.
"I applied internally for this job [before it was listed externally], which was a huge benefit," he explains. "Then all of these people that I had met with during my one-on-one meetings could vouch for me.
After another rigorous process, midway through his internship Maersk offered Erik the full-time role working in strategy within the company's corporate branding division. He began working before graduating from the MBA.
He feels having a plan was the key to his success: "It's honestly the only way within a big organization: to have people know who you are is the only way that you can successfully get a job.
"Don't be intimidated, work to make connections within the company and then if you find a job or they offer you a job at the end of your internship then people will know who you are."
Today Erik works to help define Maersk's brand image and regularly interacts with different members of the Maersk teams including sales, marketing, and investment. He has also remained in Copenhagen where he enjoys the diverse culture of the city.
"The MBA worked out to be a fantastic decision and I accomplished everything that I set out to do," he says. "It's a really nice feeling when you have goals and you're able to achieve them."
Student Reviews
Copenhagen Business School (CBS)
Related Content: