Across the business landscape, words like purpose, responsible, and conscious grow more popular by the day.
Today's consumers are more ethically aware than ever before—a recent PwC survey found 77% of people are influenced by a company's environmental record when making a purchase.
Paired with increasing regulatory changes, bringing business practices into alignment with global sustainable development goals (SDGs), companies today have no choice but to prioritize more purpose-driven business models.
"Sustainability topics, such as climate change or human rights, affect what kinds of risks firms are exposed to and the market opportunities they can exploit," explains Andreas Rasche, professor of business in society at Copenhagen Business School (CBS) and associate dean of the CBS Full-time MBA.
As companies look for sustainable solutions and transition opportunities, this ongoing shift is creating a new demand area for highly skilled professionals.
So how can you launch a career in sustainability?
---
Develop a holistic perspective of sustainable issues
Spend some time job hunting and you'll quickly find opportunities for sustainability-driven careers across a whole host of different industries and functions. "The market for sustainability professionals has exploded in recent years, especially in Europe," says Andreas (pictured).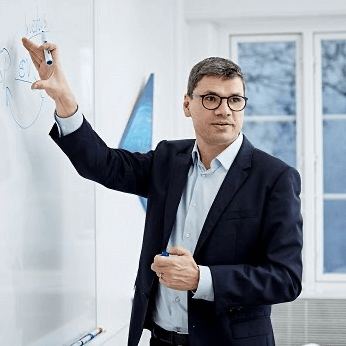 "Consulting and auditing firms are hiring lots of people with strong sustainability profiles," he adds. "We also see more demand for sustainability skills that supplement job skills in more traditional job profiles."
Gaining a holistic perspective of key sustainable issues that combines technical, scientific knowledge with business expertise can have a large impact on your job prospects.
That was the motivation for Magda Michaliková to enroll in the CBS MBA.
With a passion for sustainability, a background in circular economy strategy, and a Master's degree in environmental management, Magda felt a holistic MBA education could increase her ability to make an impact.
"I was particularly looking at schools that have a different approach and have sustainability more integrated in the course than your usual business school would have. So that was why I chose CBS," she explains.
Alongside incorporating sustainable learnings within various core modules, the CBS MBA curriculum offers a course on sustainable management that operates throughout the year, teaching elements such as sustainable reporting, lifecycle assessments, and sustainable business models. Students also have the opportunity to specialize in a Governance and Sustainability Concentration.
"For anybody working in sustainability, it's really important to understand this business perspective because it's a holistic issue. To achieve change on a big scale, it's important to find the connection between science and business," Magda explains.
---
Gain career support tailored towards high impact jobs
A holistic understanding of sustainable issues can prepare you for success once you launch your post-MBA career, however securing a job in the rapidly developing sector can be challenging.
To give students the best chance of success, the careers team at CBS offers a range of careers support including CV workshops, mock interview sessions, and one-to-one career coaching.
During networking sessions, students also get the chance to connect with alumni from the program. The CBS MBA alumni network comprises more than 1900 people working in over 60 countries. Many of them hold sustainability-related roles.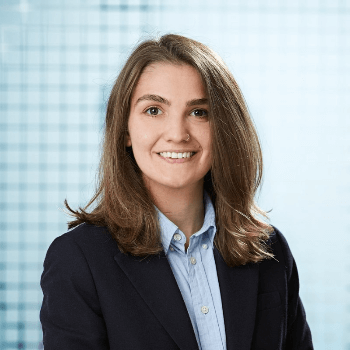 Beginning at the very start of the MBA, this tailored careers program helped Magda define her purpose and guided her towards her future career path.
"It kind of makes you think: 'Why am I doing this degree? What do I want to get out of it? And what kind of role would I like to have after I leave?'," she explains.
Magda (pictured) decided that securing a sustainability-driven role was her priority, more important in her decision making than studying in any one particular location or industry.
After coming to this realization, she used LinkedIn and various job posting sites that were focused on sustainability careers to network with companies she felt were a good fit, both in Denmark and beyond.
"Companies that were in line with my values and that I thought were interesting and would be fun to work with," she explains. "I was looking for maybe something a little bit more diverse than just working on one project in one company."
---
Launch a career in sustainability
Today, Magda works as a policy expert at Interreg Europe, an administrative body that works to share innovative sustainability solutions among regional and local governments across Europe.
The role combines providing consulting and advisory services to cities on the topic of environment and circular economy, while also producing various informative content on the subject including peer reviews, webinars, and policy briefs.
"The job is about peer learning and facilitating connections across Europe—making sure that all of these good solutions are shared and people are inspiring each other," she says.
Heavily utilizing the business and sustainability expertise she learned on the course—as well as her pre-MBA experience—Madga feels the program had a large impact in preparing her to launch a career in sustainability.
"Good management is needed everywhere. And sustainable management is also needed everywhere," she explains. "The skills and things you learn are really applicable in a lot of roles.
"An MBA is a really great way to broaden your horizons and expand your knowledge."
Student Reviews
Copenhagen Business School (CBS)
Related Content: