Tackling the COVID-19 pandemic requires a range of managerial skills—and business schools are well-placed to impart them to future health care leaders.
As organizations race to develop vaccines and therapeutics in response to the COVID-19 pandemic, a range of medical and managerial challenges has emerged.
The spread of false information about COVID-19 and its treatment has put efforts to stop the spread at risk. The myth that ingesting disinfectants such as bleach can kill the virus, for example, carries significant health risks.
Meanwhile, the unprecedented race for a vaccine has led to a pipeline of more than 145 potential candidates, raising the challenge of global collaboration.
This race has sparked a partnership between GlaxoSmithKline and Sanofi, the two largest vaccine producers.
For two senior lecturers at Johns Hopkins Carey Business School, Supriya Munshaw and Bonnie Robeson, these challenges have highlighted some important skills that future health care leaders will need in order to tackle crises such as this one.
Below are four of the most crucial skills:
---
1. Decision-making
One of the major skills leaders require when dealing with a health crisis is making fast, ethical, and evidence-based decisions, with long-term benefits.
For example, at each stage of vaccine and therapeutic development, there are new business decisions to be made, explains Supriya.
Managing large clinical trials, setting an appropriate price, manufacturing, and wide-scale distribution all exercise a leader's decision-making abilities.
"There's scientific data you have to look at, but you also have to look at potential return on investment and market access," she says.
Analyzing return on investment can be complex. Vaccines, for instance, are generally less profitable than therapeutics, but they can help a company build public goodwill that can boost value in the long run.
At Carey, Supriya helps students prepare for this complex environment by focusing her teaching on real-world health care decision making.
In one recent class, a group of her students (Mariia Salova, Sonia Toporcer, and Aastha Vashist) worked on a pricing strategy for remdesivir, a drug that prevents the coronavirus from replicating in the body.
Bonnie, too, encourages her students to hone their decision-making techniques. One effective method is learning from past failures, she says.
"You can ask what mistakes were made, and what failed to be seen."
Her previous work with the National Cancer Institute gave her first-hand experience working out which treatments to continue developing, and which to drop.
---
2. Collaboration
The coronavirus pandemic has highlighted just how crucial collaboration can be.
To control the virus, multiple groups like governments, public health experts, and business experts, have worked together to inform policy, educate the public, and develop treatments and vaccines.
Business school can help students develop the teamwork and communication skills that will enable them to lead such collaborations—both within their own companies and between organizations.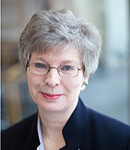 In the health care sector, government collaboration is especially important. The industry is heavily regulated, and much funding flows directly from government bodies. To help future health care leaders navigate this landscape, Bonnie (right) teaches students about joint ventures, partnerships, and collaborations in one of her courses.
Cross-functional collaboration within a company is equally valuable, she adds.
"Professionals have to have a business understanding of all the functions, and how they interrelate and communicate with each other," she notes.
---
3. Adaptability
The health care landscape changes fast. New technologies are emerging all the time, and in order to make the most prescient decisions, health care leaders need to keep up.
The outbreak of the coronavirus has demonstrated just how quickly treatments can develop. The virus was genetically sequenced as early as January, and new drug trials are taking place all the time.
"In therapeutics and vaccines, we always have new technology emerging, so you really have to keep abreast of how new technologies advance, and how they can be applied," says Bonnie.
Proximity to the research going on at Johns Hopkins School of Medicine means that Carey students have easy access to many health care breakthroughs. Business students often collaborate with students and faculty from the school of medicine and the National Institutes of Health on evaluating new ventures.
---
4. Critical thinking
The far-reaching impact of coronavirus has also highlighted the need for health care leaders with nuanced critical thinking skills.
Without the ability to analyze views and data presented to you, it can be easy to inadvertently spread misinformation—an issue that has hindered progress in the fight against COVID-19.
In the health, technology, and innovation MBA track at Carey, students practice their own critical thinking skills through experiences such as the Design Lab and Commercializing Discovery experiential learning courses.
"Students come up with their own ideas on health technology developments and get a chance to prototype, develop a product, and figure out how to take it to market," says Supriya. The process requires students to practice thinking critically about new ideas in the medical ecosystem, and how they can best be leveraged.
Bonnie and Supriya believe that courses such as this, and business schools overall, are well placed to train effective leaders who can help tackle complex challenges such as today's pandemic.
"Business schools have a role to play in developing leaders—to develop well-rounded individuals that can lead health care organizations, including biotech and pharmaceutical companies," says Bonnie.
Related Content: