When artificial intelligence (AI) entrepreneur, Davide Tuzi, launched his first startup, things didn't quite go to plan.
"It was a disaster!" he admits. "I had no knowledge of business, no resources—human or financial—and no contacts. I lacked experience, and that's why I decided to try again, but properly."
It was his move to the Netherlands, and an EMBA at Maastricht School of Management (MSM), that showed him what he was missing and helped him fill in the gaps. Davide was introduced to the world of AI, a technology that has been the underpinning theme in his business ventures ever since.
Davide launched LT Energy Group with two fellow Italian co-founders at around the same time as he started his EMBA. The company uses AI technology to establish a network of communication between streetlights. Data gathered includes tracked weather patterns, air quality, and passing traffic; this can be used to regulate the usage of individual streetlights, ensuring they are only in operation when needed.
---
Going green
Using his EMBA experience, Davide is developing LT Energy Group and working towards becoming internationally-recognized in green technology. The first big step, as he learned from a business plan development course on the EMBA, is making sure there's a domestic market for your idea.
"You can have the best idea, but if you're in the wrong environment, you won't be able to follow through," he explains.
The Netherlands isn't a bad place to start. The country has pledged 100% emissions-free buses by 2025 and for gas and diesel vehicles to be off the road by 2030––all to reduce its carbon footprint. This pledge is pushing environmental innovation, and Davide wanted to be a part of it.
---
Benefits of an EMBA for an entrepreneur
Juggling full-time employment at logistics firm Vanderlande, his AI startup, and studying, Davide has learned a huge amount about time management during his EMBA, he says. This, and the necessary leadership skills, he's taken whole-heartedly into his everyday working life.
But the program at MSM also taught him a great deal about values, and how these would guide his future endeavors.
"Corporate social responsibility, in particular, impressed me so much that I couldn't wait to share it with my shareholders, and to have it implemented into our business model," he adds. "Some of the previous mistakes I committed, [even with my current business], I now understand why they were mistakes."
---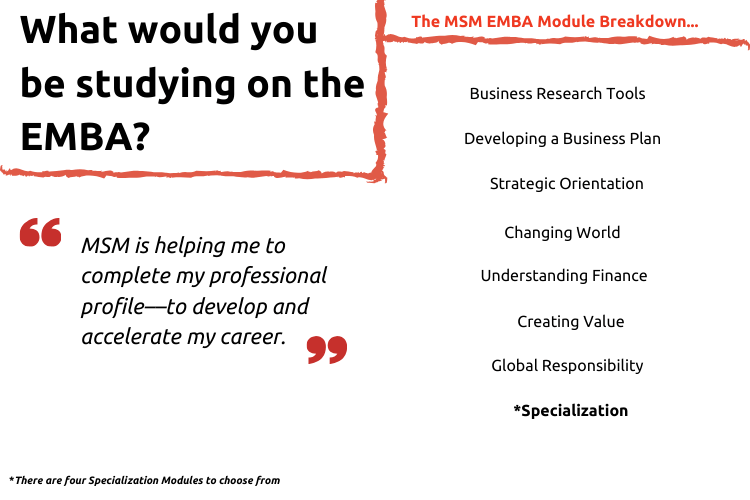 ---
He adds that his new perspective and increased confidence has allowed him to feel more competent as an entrepreneur. The structure offered by the EMBA is effectively a step-by-step process designed to help students rebuild themselves into effective leaders, business owners, and entrepreneurs.
"MSM is helping me to complete my professional profile––to develop and accelerate my career," he says.
It's also been an opportunity to meet and study alongside like-minded people, as well as widen his network with high profile contacts. MSM's EMBA brings together a group of individuals from diverse professional backgrounds. Even now, Davide says he continues to reach out to other alumni and is constantly motivated by them.
Inspired by the variety of cultures he has interacted with on the EMBA, Davide wants a workforce that, as well as caring about the environment, demonstrates gender, social, and cultural diversity.
---
Horizon 2020
Over a year after the launch of LT Energy Group, the company has won over investors. The business was officially registered in the Italian Chamber of Commerce in May 2019.
Davide has now turned his attention to a new challenge, building a business based around social mobility. He and his co-founders will be pitching their next idea for Horizon 2020 funding.
With €80 billion ($88 billion) in funding up for grabs, H2020 is the EU's biggest research and innovation program and has been providing funding for just over seven years. It's coming to an end next year, so it's a race against the deadline for companies like Davide's looking for an injection of cash.
So far, his time at MSM has encouraged him to continue working in the sustainability space. "We want to work more consciously," he says.
Davide says his ideas have always been inspired by his ethical and moral values. It was combining this drive and the values from his EMBA that ultimately propelled the business to where it is today.
"I have so many ideas for things I want to improve in my own way," Davide says. "I want to test myself, and then let's see what the future brings."
Related Content: