Daniela Jimenez, newly minted associate partner with IBM, grew up in rural Mexico with such tight clean water restrictions that there wasn't always enough for a shower. The nearest road was over a kilometer away.

Her father, a local policeman, was tragically shot and killed when Daniela was 21. Daniela decided to move to France to start a new life. With no one to help her, she took out a loan to finance her undergraduate studies.

From humble beginnings, she embarked on a 13-year business career in Europe, spanning startups, a Big Four accounting firm, and the Executive MBA program at HEC Paris, before landing a role with one of the world's 50 largest companies.
---
Why an Executive MBA?
Daniela forged a successful career by becoming an expert in customer relationship management (CRM), a function she immediately began after leaving undergraduate business and administration school.
"Because I took out a loan to pay for my studies, I needed to have a job to pay it back very quickly," she explains. Finding a job became Daniela's top priority after graduating; she soon accepted a role with a technology startup, working in CRM and specializing in Salesforce software.
"I didn't choose CRM as a passion, it was more that I needed a job," she explains.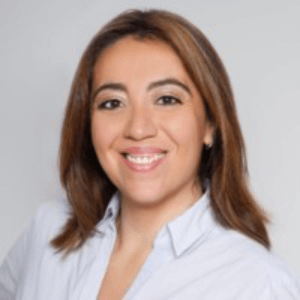 But Daniela grew to enjoy her role, which required a focus on customer success, and working closely with marketing and sales teams. "You feel like you're really doing something," she says.
Over a number of years, she took on several CRM roles with a range of companies including the Big Four accounting firm Deloitte. There, she decided to expand her knowledge beyond her technical expertise, as she felt at risk of becoming outdated.
"When you work in technology there is always a risk because new technologies come in, so you always need to be learning and catching up. At some point I said, 'OK I need to do something that stays forever'."
Adding a more fundamental understanding of business to her technical expertise would also give Daniela the credentials to have a shot at landing an executive position.
"It was at that point I started to think about an EMBA," she says.
---
The HEC Paris EMBA
Daniela was inspired to choose the HEC Paris EMBA by her mentor at Deloitte, the company's CMO. Also, as a mother with small children and a demanding job, she was attracted by the program's flexibility.
Classes for the March track of the HEC Paris EMBA occur twice a month, on Fridays and Saturdays. It's taught from the school's campus in Paris' Latin Quarter.
"I lived very near to the HEC Paris campus so having it in Paris and only at weekends was perfect," Daniela says. "What HEC did is brilliant because they adapt to students like me."
The HEC Paris EMBA is ranked number one in the world by the Financial Times and takes place over 15-18 months. It features core modules on business fundamentals like Corporate Finance and Marketing Strategy, along with leadership and career development courses.
Students can customize their experience during specialization periods. Of the eight specializations available, Daniela chose to focus on digital transformation where she believed she already had expertise.
The course gave a broad overview of the different elements of digital transformation, helping Daniela expand her knowledge beyond Salesforce and CRM. "I thought I knew everything about digital transformation but I found out that wasn't true," she says.
Soft skill sessions also helped Daniela improve her communication, adaptability, and leadership skills. By the end of the program, she felt she'd developed a well-rounded business understanding that could help her make the jump to an executive career.
"Within the program, going from one subject to another—accounting, finance and so on—means you can take the important things from each and put them all together."
---
Associate partner at IBM
Towards the end of her time at HEC Paris, Daniela was invited to interview with IBM for an associate partner role. It required an understanding of Salesforce, along with the expertise to deal with stakeholders and the implications of wider business objectives.
The interview process allowed Daniela to demonstrate the business skills and expertise she'd picked up during the EMBA. "They hired me one week later, so I definitely think it [the EMBA] helped me," she says.
"At IBM, most people who are associate partners or partners and above have MBAs or Executive MBAs," she adds.
The role sees her managing sales and delivery, validating risk and pricing, and overseeing the growth of accounts. In short, it's an almost entirely business-focused position.
"Before the EMBA, if you had talked to me about this [work I'm doing], I couldn't even imagine what it was," she says.
"Now, I couldn't survive without the EMBA."
Related Content: