Francisco Palao began his entrepreneurial journey during his undergraduate degree at University of Granada in Spain, when he launched a dating website named BuscarAmigos (Find Friends).

The experience taught Francisco the power of technology. Though living and studying in Granada, his venture influenced people across the globe—he even spoke with a married couple in Mexico who met through the site.

Francisco sold BuscarAmigos after three years. In the 20 years since, he's launched several other tech-led ventures, gained a PhD in artificial intelligence (AI) and enrolled in an Executive MBA (EMBA) program at IE Business School.

Today, he is the author of three books and is leading an impact consultancy aiming to solve the world's most pressing challenges.
---
Why enroll in an EMBA?
Francisco studied computer science during his bachelor's degree. After selling BuscarAmigos, he decided to continue his education with a PhD in AI.
The experience gave Francisco a wealth of highly technical expertise. Graduating in 2010, he quickly launched IActive, an AI-based project management tool helping organizations make key decisions.
Despite success, Francisco again decided to go back to school: "My background was quite technical, I was learning by myself about business, so I felt that I needed to learn more to take my business knowledge to the next level."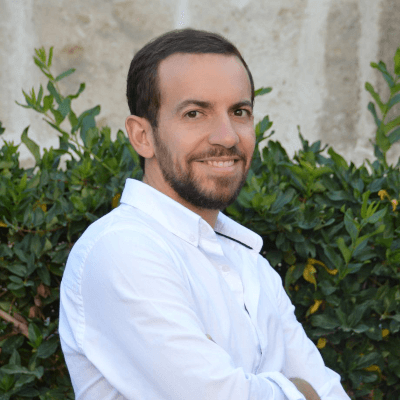 Seeking a business degree that would allow him to continue running his 60-person strong company, Francisco looked for a part-time program at a school close to his company headquarters in Granada.
Despite being an executive program aimed at mid-career professionals, his early entrepreneurial experience helped him secure a place on the Executive MBA program at IE Business School in Madrid.
Alongside being a practical fit, Francisco felt the school offered a unique environment to continue his journey. "I decided to study at IE because they have this entrepreneurial spirit, they focus a lot on entrepreneurs and startups," he explains.
---
Studying at IE Business School
At IE, Francisco studied a range of key concepts that helped develop his business acumen. The curriculum covered a broad spectrum of business industries and functions, with modules ranging from marketing to management.
Some key modules for Francisco were in subjects like finance, strategy, and organizational behaviour. He was able to channel what he learned in real-time in his role as CEO of IActive.
"I learned a lot about my startup," he explains. "We were also working with other companies so I could better understand my clients. I started to understand everything in terms of how they work, their finances, and so on."
Placed in an ecosystem of entrepreneurs and executives, along with a range of expert professors, Francisco also developed a strong network during the EMBA, many of whom he is still connected with today.
Also key to his later success, the EMBA helped Francisco identify use cases for the AI technology which he'd focused on throughout his academic career.
"What I learned was that it's not only about technology, it's about how to use the technology and how to innovate," he says. "The key knowledge that I took was understanding what our business is and exploring it in many different industries."
---
Becoming a serial entrepreneur while making an impact
Graduating from the EMBA with a firm grounding in business gave Francisco the confidence to take his company to a new level.
He moved IActive to Silicon Valley—the mecca of the startup world—and set about expanding his business into the US and Latin American markets. At the same time, he began exploring other projects.
In the following years he was involved in founding a range of projects. They include: a resource teaching fellow entrepreneurs 'lean startup' principles; an AI-assisted travel company helping tourists organize trips; and a consulting and professional services firm.
He served as a mentor in the IE Venture Lab, where students learn how to launch their own startups. He has also written three books—the third of which will launch this month—offering guidance on how to be a transformative and impactful entrepreneur.
"Basically, [after my EMBA] I have continued as an entrepreneur, but with much more knowledge and a more international approach," he says.
When the Covid-19 pandemic hit, Francisco embarked on a new path. In March 2020, barely a week after lockdowns began sweeping across the globe, he set up 'The Covid Challenge', a remote innovation training platform focused on finding innovative solutions.
After initial success he launched a series of online 'challenges' which were attended by a broad spectrum of people from around the world. He named the community that emerged the 'Purpose Alliance'.
"I became aware that I can make a positive impact in the world, so that was the point when I decided to launch the community," he says. "We're focused on empowering extraordinary people across organizations to create a better world."
With a key focus on solving problems through innovation, Francisco says he is channelling much of the knowledge he picked up during his career and on the EMBA.
"We are basing everything on a new innovation and impact framework that I created which is called Purpose Launchpad, which I actually started working on when I was in the EMBA," he explains.
Now, Purpose Alliance is helping to tackle climate issues in the energy industry, improving the quality of healthcare worldwide, and working to create better education systems.
"We run these challenges to help organizations make a positive impact on the world and on their business."
Related Content: