As the world ground to a halt due to coronavirus lockdowns earlier this year, Jayne Lawson and Claire Blumenthal were just getting started.
With their final MBA term at London Business School (LBS) disrupted, they quickly turned their attention to supplying reliable, certified, and cost-effective personal protective equipment (PPE) to care homes and corporates in need.
"In the first week we were starting the business, I had this advanced corporate finance exam on the Friday. I was in the US and Jayne was in London" explains Claire.
With the help of an expert team, not to mention a commercial plane-turned-PPE-freighter, Jayne and Claire's company ShieldWear has gone from a bright idea to a successful business venture in just three short months. Currently, the number of masks they've sold increases 50% month over month.
They've already helped carers and residents stay safe during coronavirus. Now, with several million high quality masks and respirators in stock, Claire and Jayne are scaling up the operation to help businesses get their employees back to work safely.
The pair credit their success to the lessons learned and connections made during their MBA.
---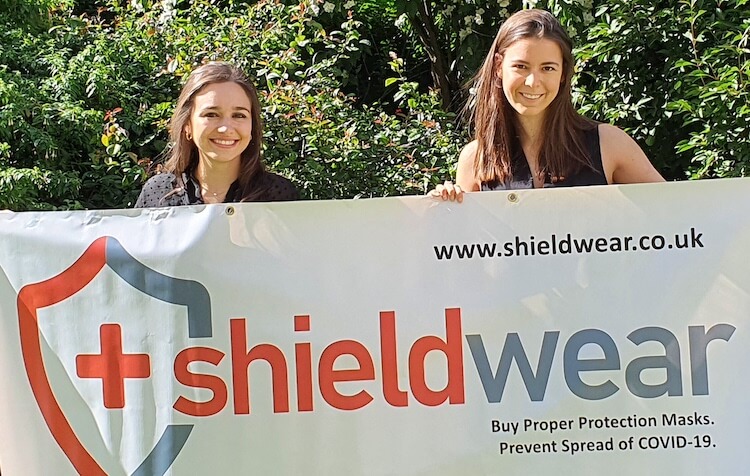 ---
Learning the ropes at London Business School
Before business school, Claire had experience as a consultant in the e-commerce and retail sector, but was keen to gain more entrepreneurship experience.
Jayne has a background in finance, but had already begun to pivot her work towards startups before her MBA. "My passion has always been growing businesses," she says.
Alongside their professional experience, they both credit their MBAs for helping get their company off the ground. "ShieldWear is a global business," explains Claire. "So it's been really helpful to have done case studies of worldwide businesses at LBS, as well as to have collaborated with international peers, who all have different backgrounds and working styles."
The pair first discovered they'd make great partners when they met in a class which challenged them to start their own company from scratch.
"The courses at LBS were great hands-on experience, teaching us different frameworks that we could use to shape our business model, as well as how to build and grow a team," says Claire.
When launching ShieldWear, they were also able to lean on the LBS alumni network in order to gain vital insights about the industry they were going into.
They also used their personal networks to get in touch with importers who had decades of experience in procurement from China, as well as legal experts with knowledge regarding due diligence processes for assessing the quality and safety of the products they bought.
---
---
Turning a business idea into reality
The pair put the speed of their success down to three key elements, which they strongly recommend to any other aspiring entrepreneurs in the current climate.
Firstly, they tried to identify what the future may look like, and how they could help.
"At the beginning of COVID-19, people were a bit stumped," says Jayne. "When the world changes, industry changes, but I think in those sorts of environments there's actually a lot of opportunity."
Secondly, they thought innovatively. The pair evolved their business goals as the demand for PPE expanded; they took risks. It was this attitude that helped them problem-solve, even in a global crisis, leading to creative ideas like adapting a commercial plane into a freighter when normal procurement processes were disrupted.
Finally, they built a strong team. "You've got to hire the right people, leverage their expertise, and give them an opportunity to make a real impact," Jayne explains.
---
---
What's next for ShieldWear?
As much as we may wish the opposite, Jayne and Claire say COVID-19 isn't going anywhere for the foreseeable future. Even if it does, the post-pandemic world will be more hygiene-conscious and PPE is a new market businesspeople will have to familiarize themselves with.
"As soon-to-be business school graduates, we're keen to help companies get their employees back to work safely," says Jayne. ShieldWear is now expanding to corporate clients as well as launching an online store for small businesses to buy direct.
"We've also refined our procurement and due diligence work," she adds, noting that it's not just PPE that businesses need, but access to trusted guidance on what kinds of PPE products are most suitable for the workplace.
A key part of their business plan is in going this extra mile to advise, not just supply their clients, and it's this factor that's leading the rapid growth of their company, with an expanding list of customers and repeat orders.
What else lies ahead for the pair? Ideally an MBA graduation ceremony, though it may be mortarboard plus mask this year.
---
Read more stories of MBAs who've started their own businesses