Now that the Online GMAT Exam is here to stay, test-takers have the option to use a physical GMAT whiteboard, in addition to the online whiteboard.

Having two options gives you the flexibility to make quick notes and calculations without having to use the slightly awkward functionality of the GMAT's online whiteboard. Using both options allows you to customize your test day experience to suit your needs.
---
Getting your GMAT whiteboard
The one downside of the GMAT physical whiteboard option: you have to provide it yourself.
This means that you have to acquire a whiteboard that meets the exact specifications laid out by GMAC. The list of whiteboard specifications is long, and it's really just the beginning.
In addition to GMAC's official rules, students have come up with their own ideas of what makes for a great whiteboard, namely that it's close to the maximum permitted size (12 ins x 20 ins) while comfortably fitting on your desk, has a thin border, and is magnetic.
Plus, you have to provide up to two dry erase markers and a dry erase whiteboard eraser.
---
Our 5 favorite dry erase whiteboards for the GMAT
We'd prefer that you spend your GMAT prep time studying, rather than scouring the internet for 'best gmat whiteboard Amazon,' so we created a list of five whiteboards that meet all of GMAC's criteria. These options are all available on Amazon. Prices are listed in US dollars, and are subject to change.
Is there a perfect whiteboard for the GMAT? Maybe, but it'll vary from person to person. Prioritize which 'nice to have' features are most important to you, measure your desk space (subtracting room needed for your computer, keyboard, and mouse), and know that you can't go wrong with a whiteboard from this list.
Without further ado, here are our favorite options:
---
1. Reddit's Favorite: U Brands Contempo Magnetic 11" x 14" Dry Erase Board, White Frame, Magnet and Marker Included
Small, magnetic whiteboard plus basic marker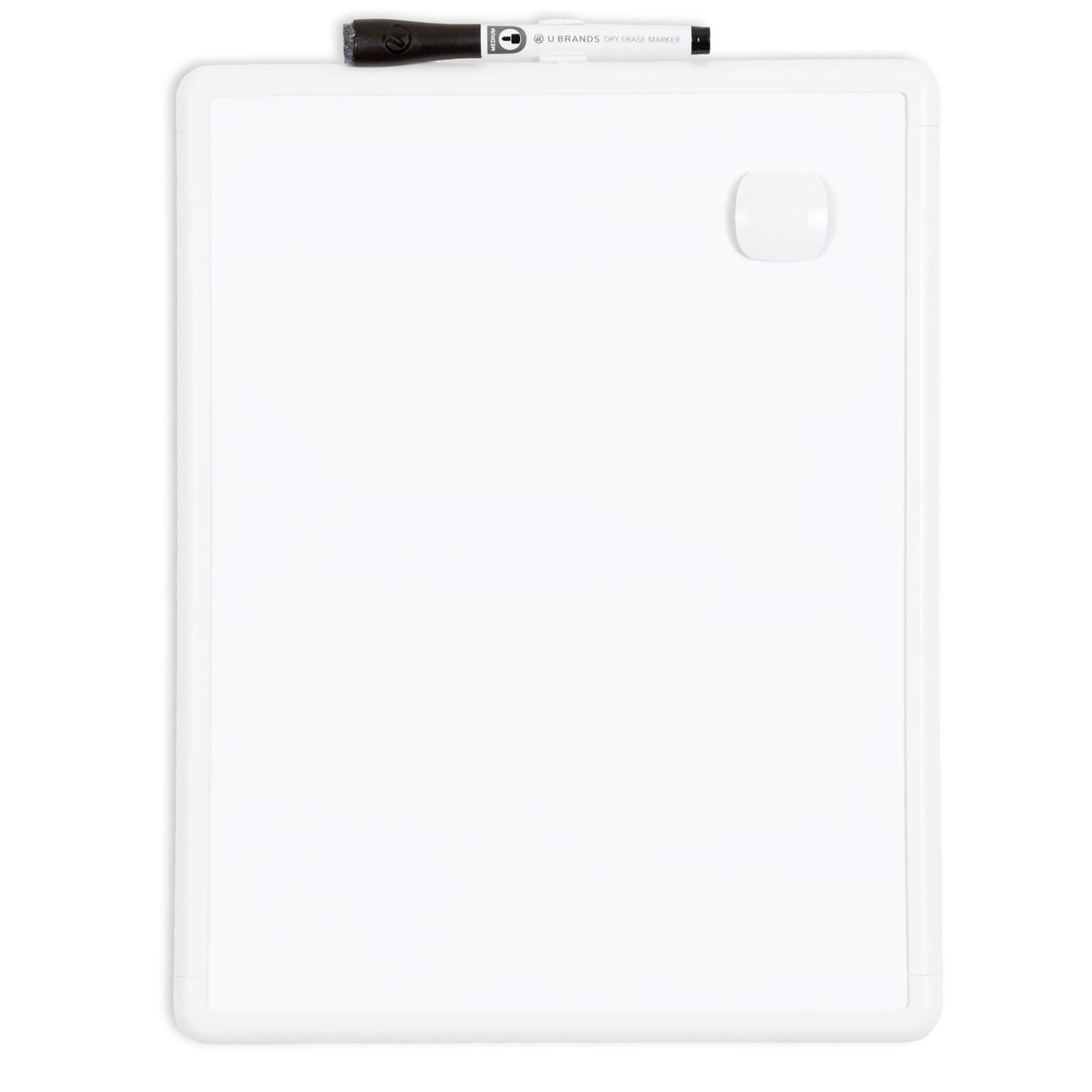 Your fellow test-takers know what they're talking about, which is why we are starting with the basic whiteboard recommended in this Reddit thread.
While it's smaller than the maximum allowable size, it's large enough for quick calculations and very manageable for small desks. It comes with a magnet, which you won't use during the test, as well as a dry erase marker.
Test-takers noted that the dry erase marker doesn't last long, and the marker's eraser isn't ideal. We'd recommend buying different markers and a large, magnetic eraser to accompany this whiteboard on test day. Price-wise, this whiteboard is a particularly good deal!
---
2. GMAT Club's Favorite: School Smart 633746 Dry Erase Boards with Black Frame - 11 x 17 -White
Medium-sized whiteboard with long, rectangular orientation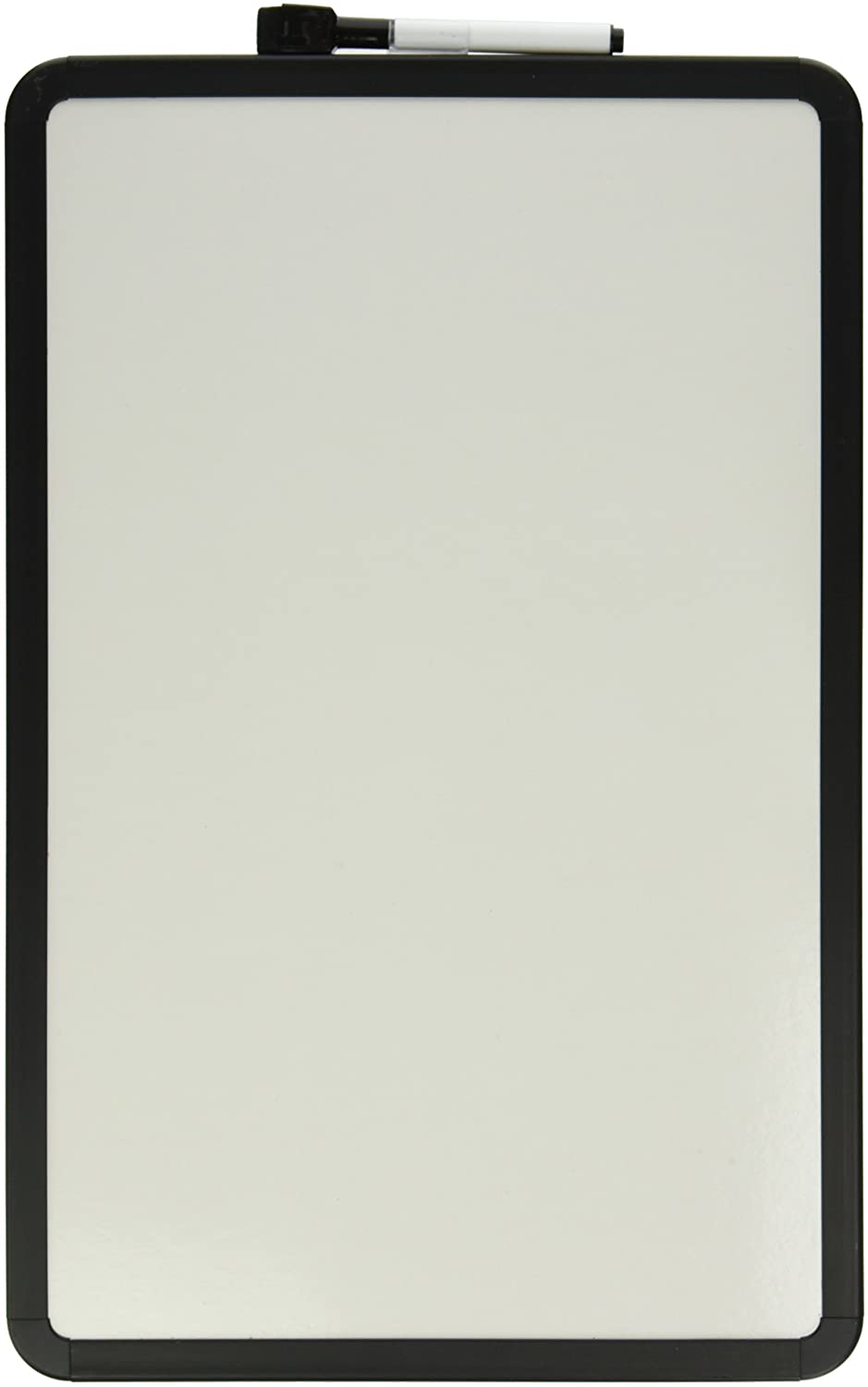 GMAT Club founder, 'bb,' recommends this large whiteboard because it's the size of two 8.5 in x 11 in pieces of paper stacked on top of one another. In other words, it's very large while still meeting all of GMAC's size requirements.
The size would allow you to make multiple notes and calculations on the whiteboard without erasing from one question to the next.
However, if you have a small desk, it may be too large to comfortably manage in addition to your computer. It's also not magnetic, which may not be a deal breaker but isn't ideal if you have magnetic accessories.
---
3. Best Frameless, Square Whiteboard: U Brands Magnetic Square Dry Erase Board, 14 x 14 Inches, Frameless (460U00-04)
Square, frameless whiteboard plus basic marker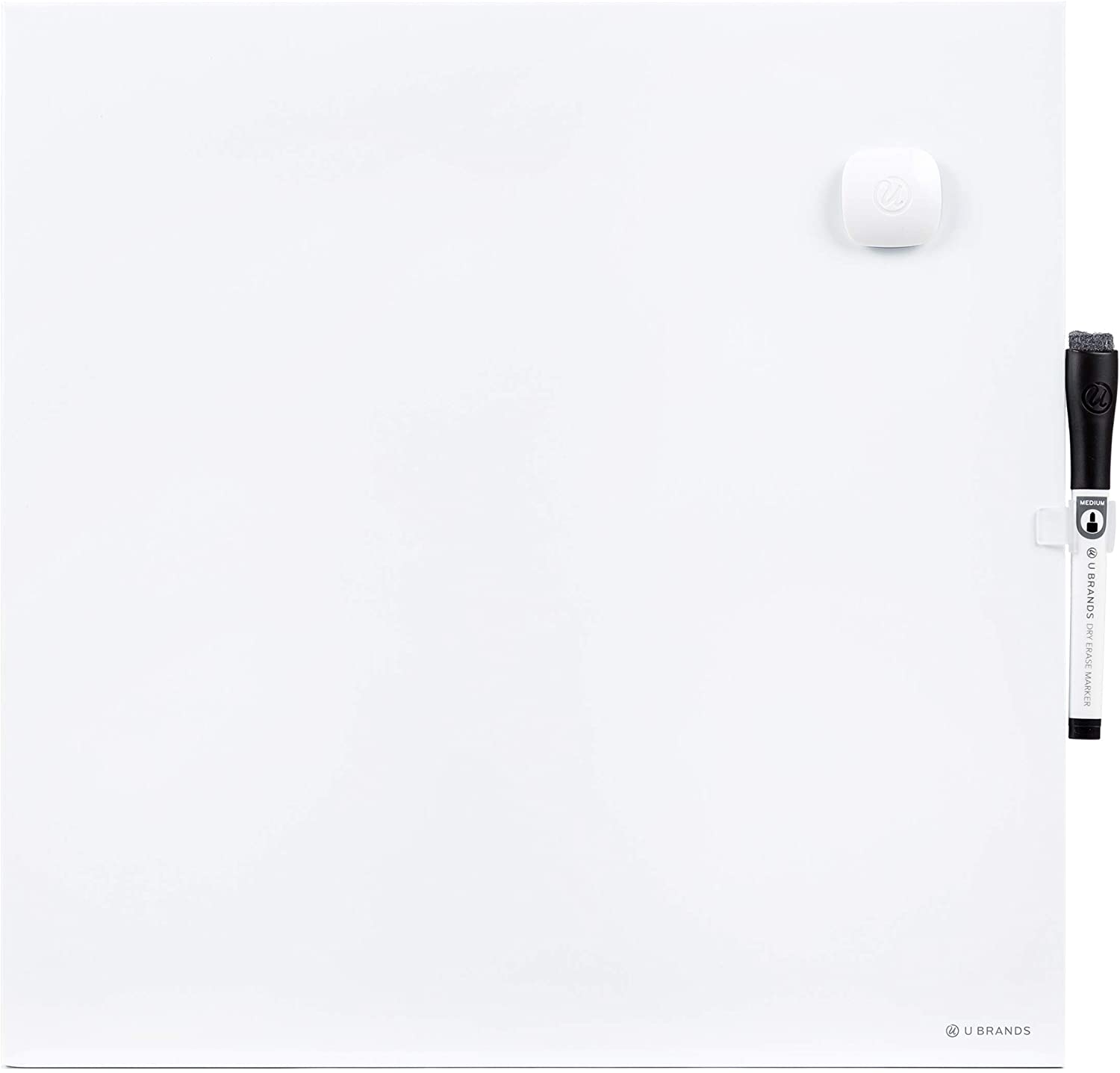 This option is frameless, which means you won't be losing any writing space taken up by a border.
Like the other option from U Brands, it's very affordable. Though it comes with a dry erase marker and eraser, we recommend saving this for personal use at a later date, and purchasing a higher quality eraser and pens for test day.
The square shape and medium size of this whiteboard will fit well on most desks.
---
4. Best Frameless, Rectangle Whiteboard: Charles Leonard Dry Erase Lapboard, 9 x 12 Inches, Masonite, One Sided, Plain White, 1 Each (35100)
Affordable, frameless whiteboard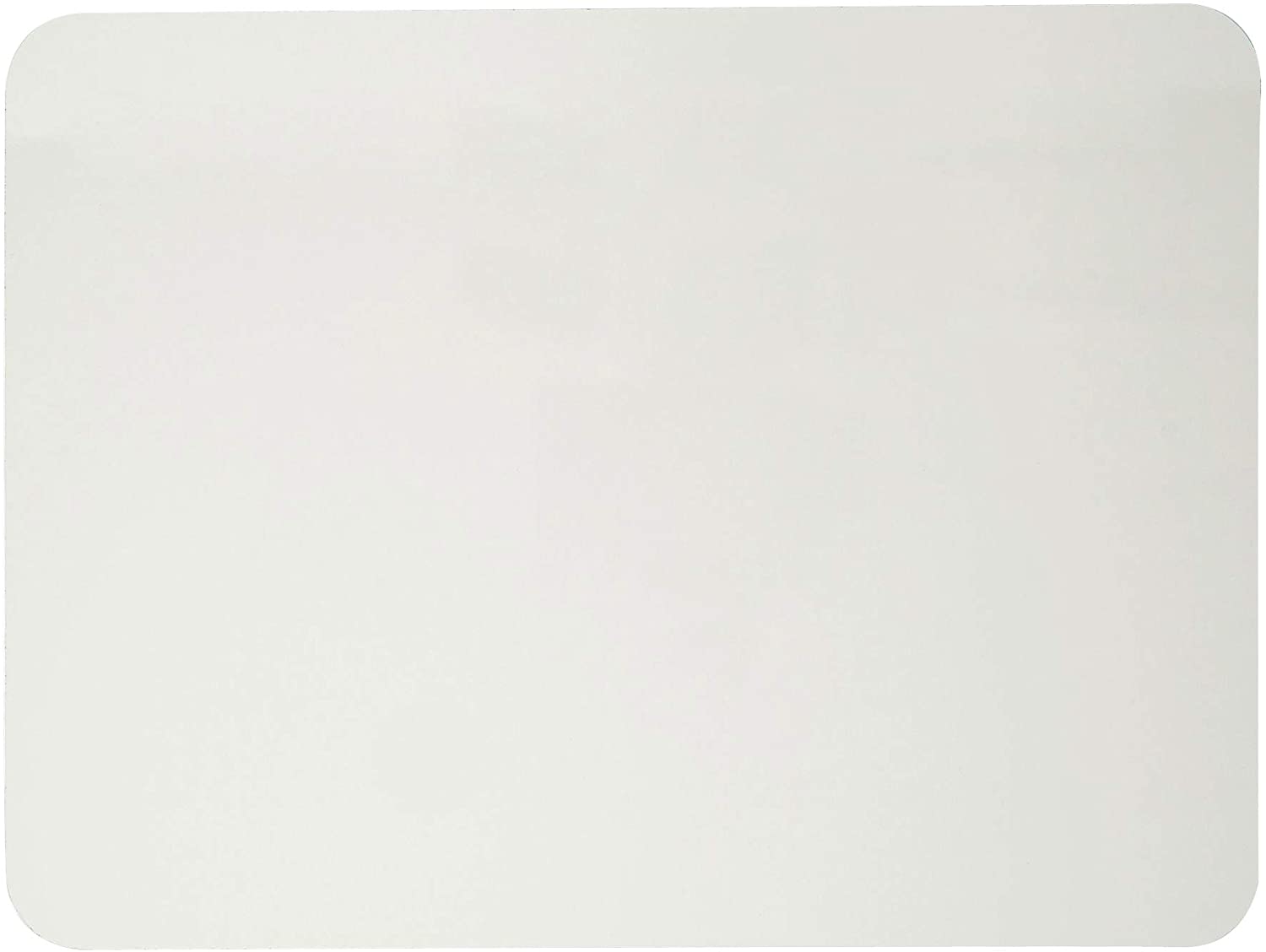 At under $5, this whiteboard is a steal. It's also frameless and small enough to fit on the tiniest desk, which could be a real benefit if your computer takes up a lot of space.
Reviewers say that the melamine finish doesn't smudge or stain, which will make erasing fast and easy on test day.
---
5. Best All-Inclusive Option: Welmors Office Magnetic White Board, Small Dry Erase Board 12'' x 16'', Aluminium Frame White Board with 4 Magnets, 1 Eraser, 2 Pens. (12x16 inch)
Large whiteboard plus two markers and large eraser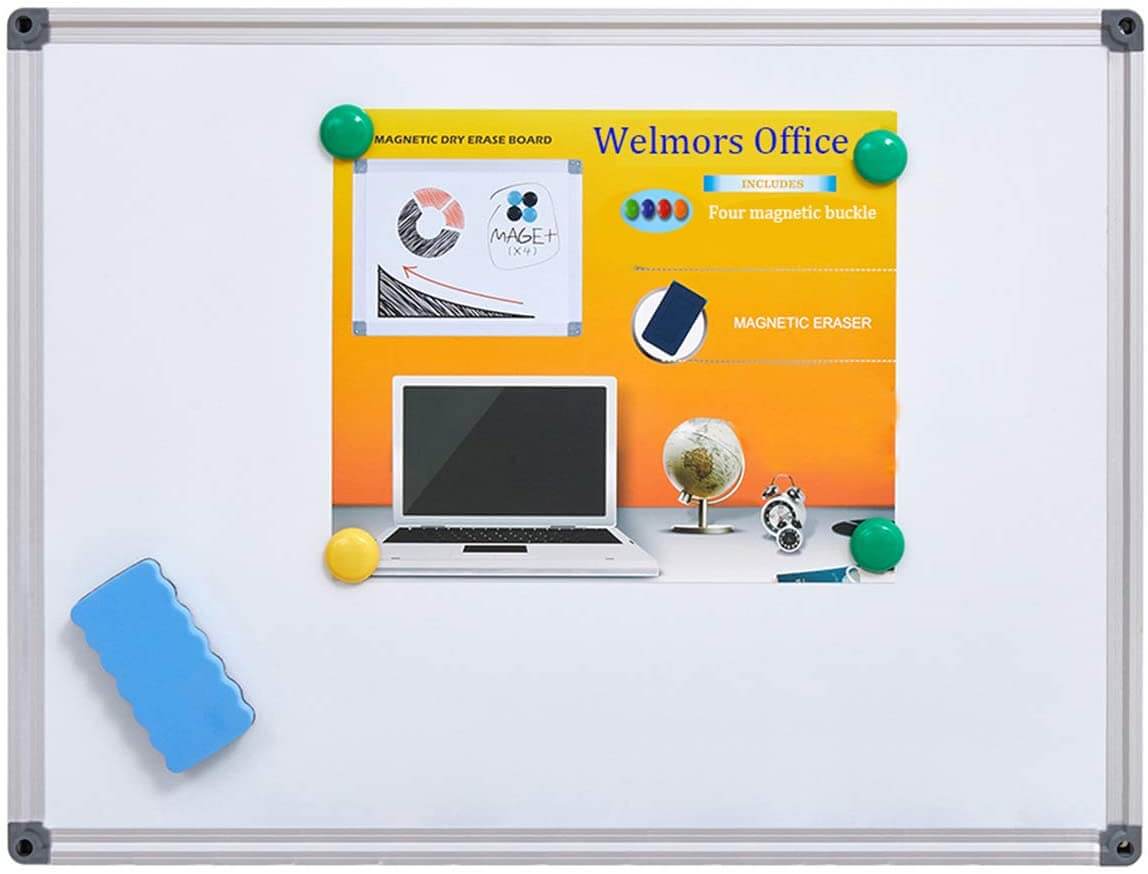 The most expensive option on the list comes in at under $15. At 16 in x 20 in, this is also the largest whiteboard listed here. If you have a very large desk and plan to hand write most of your notes, this is a great option.
The best part is that this purchase also includes a large, magnetic eraser and two dry erase markers—it's basically the complete GMAT set. Reviews note that it's lightweight and erases well. After the GMAT, you can hang it on your wall.
---
Our favorite whiteboard accessories
To make sure you're test-day ready, it's a good idea to have plenty of spare markers and erasers on hand. Here are a few of our favourites.
---
Best Dry Erase Markers: EXPO 1884309 Low-Odor Dry Erase Markers, Ultra Fine Tip, Assorted Colors, 8-Count
These ultra fine tip markers will allow you to write multiple questions on your whiteboard before running out of space.
They erase easily, come in a lot of colors (so you can find which ones you like best), and the pack of eight will provide you with enough markers for practice and test day.
The tip will flatten over time, and the ink will dry out, but two of these pens will definitely get you through the GMAT.
---
Best Whiteboard Eraser: [3 Pack] Dry Erase Erasers, Browill Washable Smudge Free Magnetic Whiteboard Eraser Kits for Kids Students, Home Office School for Cleaning Dry Erase Markers on Glassboard Refrigerator
Real talk: This particular brand is just an example of what you're looking for, and is likely no better or worse than other options.
Essentially, what you're looking for is a dry eraser that's magnetic (so you won't lose it if you have a magnetic whiteboard), large (so you can erase the entire whiteboard quickly), and durable. The three pack is nice, because you can use a fresh one on test day to avoid smudges.
---
A final word on the physical GMAT whiteboard
Remember to order your whiteboard and accessories ASAP.
There's no point in delaying—any of the above options will work on test day, and it's important to have your materials in hand as you practice.
---
Next read:
GMAT Online Vs GMAT In A Test Center: Which Should You Choose?