Our exit path out of the Covid pandemic has been plotted. Vaccine rollout programs are underway, the return to the office has begun, and people are travelling again.

But when we eventually get back to 'normal', there'll be pandemic-induced changes to global business that are here to stay.

Here are five ways Covid has changed global business.
---
1. Companies need to invest in their hybrid infrastructure
As some workers return to the office and others continue to work remotely, Lalit Peddakota, a graduate from the Cambridge MBA who now works as a strategy director for a global pharmaceutical firm, believes companies need to invest more in their hybrid infrastructure.
"One issue I've seen is that only some of the infrastructure in the meeting rooms is set up for really good hybrid working when the team is split between home and the office, and more work needs to be done there to make that become a pleasurable experience," he explains.
He thinks that as companies begin to financially recover from the pandemic, any cash they save from reduced business travel or office capacity could be reinvested in employees' hybrid working setup.
"I think infrastructure to ensure hybrid working can be as frictionless as possible should be a natural area of investment for business travel savings. Also helping people set up at home to perform even better."
---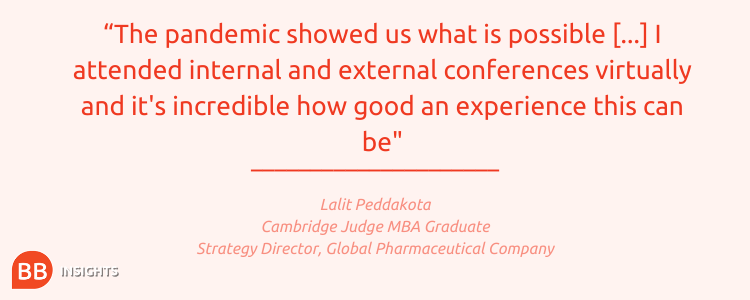 ---
2. There's increased demand for emotional intelligence
How do you adapt your leadership ability to manage a hybrid team?
"If I were to put it to one key thing, I would say you really need to amp up your emotional intelligence," asserts Lalit.
"It's always been a good thing for a leader to have […] but I found it to be absolutely vital when I was leading a new team during the pandemic and trying to get to know them."
He adds that the more time he spent understanding the individual needs of his team, the better he was able to manage. Moving forward in a hybrid world, communication and a commitment to finding time with your team members on an individual basis will be vital.
The Cambridge MBA was key to Lalit managing through the Covid crisis. The MBA puts a lot of emphasis on self-awareness, knowing how you perform in a team, how to get high performance from your peers, and working together in teams on consulting and strategy projects.
"We worked with a client based in Japan and did a lot of our thinking remotely, so we couldn't have known back then but it certainly helped us get through a stressful project and come up with proposals working with a remote team," he recalls.
There was also a module on management practice, which even today Lalit says he refers to on a daily basis.
"It's all about the role self-awareness and your own emotional intelligence play in the impact you have at work and on other people around you. That was a huge element in coping with the situations the pandemic presented," he says.
---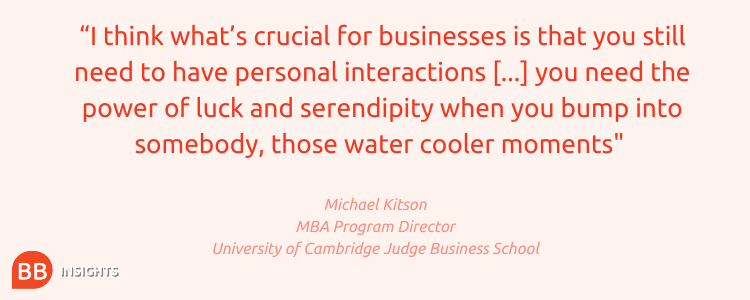 ---
3. Vaccine nationalism could limit globalization
As Covid vaccines were being developed, rich nations prioritized their own needs and secured billions of doses in advance, while developing nations struggled and continue to struggle to access supplies. This is known as vaccine nationalism.
Lalit believes vaccine nationalism showed us the limits of a boundaryless, globalized world.
"It also brought up some very prevalent truths, like if you're richer you have more opportunity and you get a lot more privilege. And in this case the privilege materialized in terms of people getting vaccines earlier and therefore better reassurance of their health."
During the current phase of the global vaccine rollout, Lalit doesn't think vaccine nationalism will impact business too heavily, as most global companies make most of their money from rich countries that have high levels of vaccination.
Where he potentially sees an issue is in the development and delivery of vital healthcare products.
"What this should not really affect, but I can see it happening, is the launch of products essential to people's health, like medicines," he says.
"If that's impacted as a result of varying vaccination rates then that's a real shame, because poorer countries are then being delivered a double [blow] where they're not only not getting vaccinations on time but are also now being subjected to other treatments not being delivered."
---
4. We're going to be working from home a lot more
The increase in the number of people working from home during the pandemic is here to stay, for those who can continue to do so. McKinsey found that the finance, management, professional services, and information sectors have the highest potential for remote work.
Michael Kitson (right), the director of the MBA program at Judge Business School, thinks a long-term shift has begun towards more people working from home more of the time.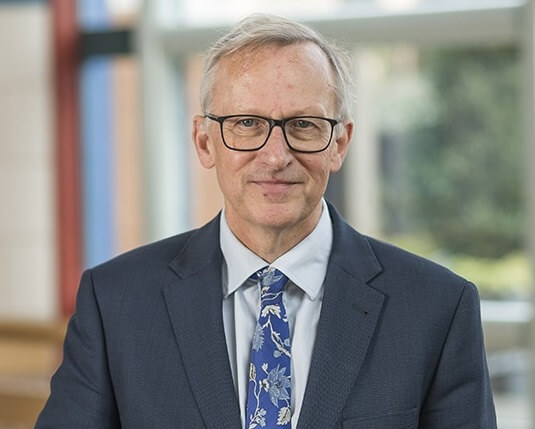 "That'll be important not only in terms of the impact on businesses and on the economy but also the impact on the quality of life," he says. "We know travelling to and from work is one of the least pleasant things people find in their day-to-day lives."
Michael explains that he's seen this in action at Cambridge Judge Business School. Through Zoom and Microsoft Teams you're able to drive wider engagement with colleagues and clients all around the world.
There's a caveat though.
One of the lessons from the pandemic is that we need to learn to replicate face to face meetings online, as there's a risk that working from home could damage innovation.
"I think what's crucial for businesses is that you still need to have personal interactions," says Michael. "You need the power of luck and serendipity when you bump into somebody, those water cooler moments.
"Those are very important in terms of work and opening up the exchange of tacit knowledge. I think the challenge for many businesses is you can change the way people work, which means people can work at home more often, but you need to create those areas where people can still bump into [each other]."
---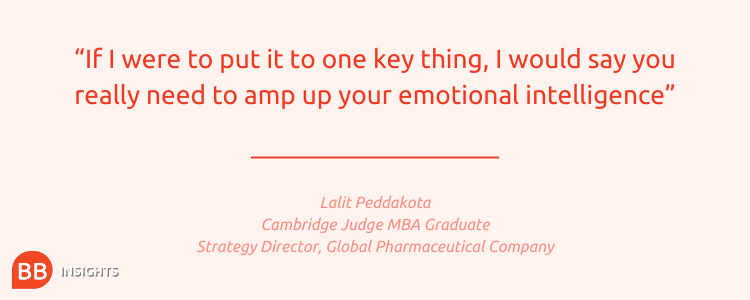 ---
5. International business travel will be reduced
Although air travel is recovering, Michael thinks that international business travel will be reduced, but not eradicated.
"You're still going to need those occasional meetings where you do have much more social interaction, as well as a purely transactional business interaction," he says.
"Those sorts of social interactions are important for long term relationship building," he adds. "It's about balance, you can't have everybody working from home all the time because then you'll just lose the benefit of building relationships."
Lalit (right) believes that certain trips will remain, but companies will be more strategic about business travel. You might travel to meet new clients, or occasionally keep the relationship with existing clients warm.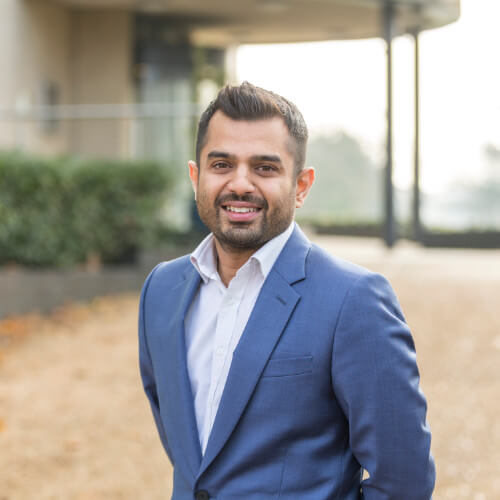 But the likes of conferences and internal meetings can be seamlessly transitioned to the virtual space.
"The pandemic showed us what is possible," Lalit says. "I attended internal and external conferences virtually and it's incredible how good an experience this can be.
"The other thing is companies have realized how much money they were spending on these trips, and how much that takes off the bottom line, so I think there's probably going to be a force from that side as well to reduce the number of trips."
---
BB Insights explores the latest research and trends from the business school classroom, drawing on the expertise of world-leading professors to inspire and inform current and future leaders
Related Content: