When large waves of us were forced to work from home in early 2020, nobody knew what to expect. When would we see our colleagues again? How would we adapt to the new world of work? Would our mental health suffer?
These are all questions that have largely been answered, as working from home became the norm through 2021. Now, as vaccine rollouts offer a viable route back to the office, we can reflect on the lessons learned from living and breathing remote work.
Hybrid work is expected to continue, and as we move forward through the next decade, managers will be tasked with navigating the challenges inherent to hybrid teams and a workforce split between the office and home. BusinessBecause spoke to business school professors in the US, UK, Germany, France, Denmark, Norway, and India to find out the lessons learned from a year of remote work.
---
1. US: Weakened relationships can hinder career development
Remote work was on the rise in the US even before coronavirus hit. Between 2005 and 2019, the number of remote workers in the country grew by 159%.
Considering the value that US work culture places on independence, this rise makes sense.
"A distinctive aspect of the work culture in the US is its vestiges of the Protestant work ethic, where people define themselves by their work," explains Batia Wiesenfeld (right), professor of management at NYU Stern Business School.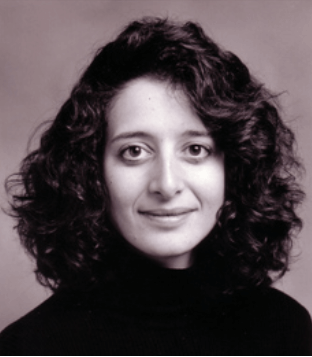 "In this culture, individual merit and independence are valued, and this focus on independence makes it easier to work remotely."
When the pandemic forced millions more employees into virtual work, overall productivity improved, she adds. Without a structured work day and the opportunity to socialize, many Americans filled their time with extra work.
"The reason appears to be that when Americans are able to work any time, they tend to work all the time," comments Batia.
Despite the short term productivity gains, however, these extended hours and output could lead to burnout, which harms employee focus and job satisfaction. The networking and relationship-building opportunities that can lead to career growth are also limited by the squeeze on social interaction.
"The fact that professionalism in the US means suppressing emotion and paying less attention to relationships is a liability in a remote context," says Batia. "When it is easier to maintain established relationships than to create new ones, career development suffers."
---
2. UK: We need to learn to replicate face to face conversations virtually
In the UK, too, the transition to remote work has made maintaining relationships more difficult.
"With face to face working, there were more opportunities for spontaneous chats here and there, which helped with information sharing and getting to know your colleagues better," says Argyro Avgoustaki (right), associate professor of management at ESCP's London campus.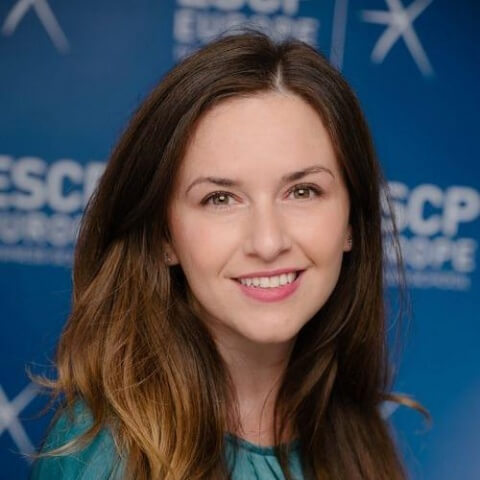 "With remote working these interactions are lost, and they're difficult to replicate—you're unlikely to randomly call a colleague to catch up during the work day."
Without these face to face interactions, Argyro adds, UK workers feel pressured to be perceived as active workers in other ways—answering emails late in the evening, being constantly active in work WhatsApp chats, or attending non-compulsory meetings they might have otherwise passed over.
This intense approach to work can cause fatigue, and herald a drop in work quality over time.
Another reason why work quality might be impacted by the transition to remote work is an issue acutely related to working from home. According to one study, England has the smallest average home size in Europe.
"The struggle here is space—if your work, family, and pets are all in the same place it can be intense and distracting," says Argyro.
---
3. Germany: Work is becoming decentralized
Meanwhile, managing colleagues who are essentially invisible may spark an attitude change in Germany—a work culture often characterized by highly structured workflows and centralized decision-making.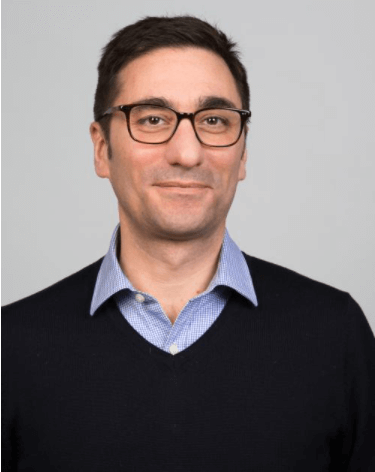 "Professional life in Germany tends to operate around very clear rules and routines when it comes to work time, division of labor, and division of authority," comments Gianluca Carnabuci (above), professor of organizational behavior at ESMT Berlin.
The transition to remote work is triggering a shift toward decentralization, to prevent bottlenecks caused by cumbersome approval processes.
"People in home offices need the ability to make certain decisions on their own unless we want to slow work processes," says Gianluca.
"The shift to remote work forces organizations and people to think and act in a more decentralized fashion, where decisions need to be made not only at the center but also the periphery."
This emerging flexibility is likely to extend to working hours, Gianluca adds, to allow for the different schedules people keep at home.
---

---
4. Norway – a culture of efficiency risks burnout
Norwegian work culture is built on efficiency, says Ide Katrine Birkeland (right), an associate professor in the Department for Communication and Culture at BI Norwegian Business School. Workers focus on getting a lot done in a short amount of time and make the most of the work-life balance that provides.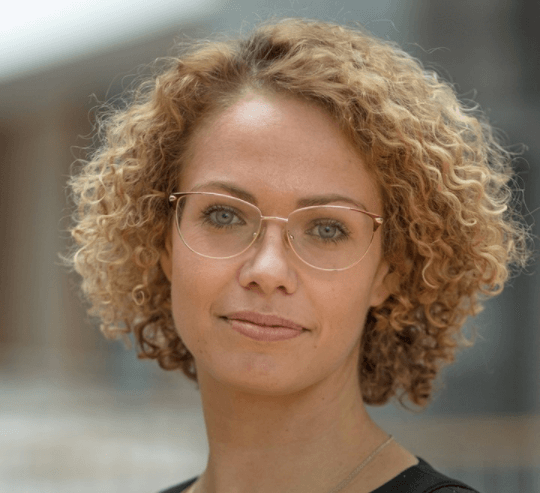 "We don't really work the longer hours that you see in other countries," Katrine explains.
That all changed in 2020 though, with COVID-19-induced lockdowns forcing an overwhelming number of employees to work from home. Katrine says that the shift to remote work meant people became even more efficient, but to the detriment of their health.
"Since you're at home it makes it easy to log on, check a few emails before breakfast, and before you know it you've forgotten to have breakfast. The structure that a lot of people used to have has gone."
It's not just those working from home who have been impacted by the increasing demand of work. One of Katrine's roles at BI is as the academic director for the school's educational leadership team. Part of the team's remit is training the next generation of educational Kindergarten leaders. She says that teachers in the country have been placed under increasing strain during COVID-19.
"Work became more hectic, they had to run a school or kindergarten, as well as infection control, and then get substitute teachers for everyone who's quarantined. It's been a completely ridiculous year for people working in education," she says.
You can only sustain that level of efficiency and work effort for so long. Work performance also drops significantly when workers aren't in constant physical contact with their colleagues. When 50% of a person's colleagues are working from home at least once a week, the person's performance drops 38%, compared to a situation where no colleagues are working from home, according to research published in New Technology, Work and Employment, by Tanya van der Lippe and Zoltán Lippényi.
For those working longer hours at home and those in a more stressful environment at work there could be a particularly acute consequence.
"I don't have the numbers for this but I'm expecting there to be an increase in the number of people who are too sick to work, burned out, or have another physical or psychological condition related to the fact that they've not been able to maintain the structure they've been used to at work," Katrine says.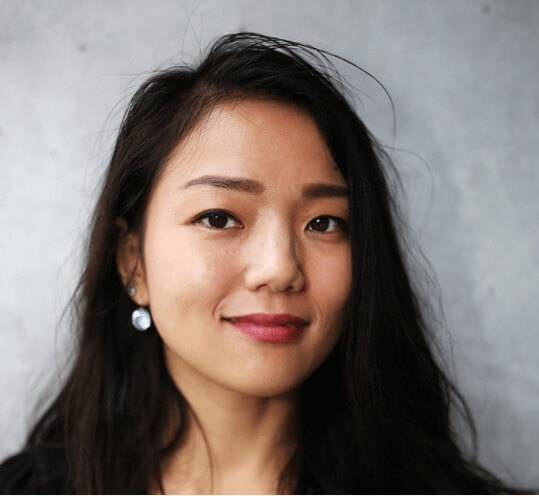 Sut I Wong (right), the head of BI's Department of Communication and Culture whose teaching covers leading in the digitized workplace, digital change management, and leadership communication, thinks there needs to be strong emphasis on the importance of work-life balance amid the pandemic.
The efficiency Norway's work culture revolves around in normal times meant more time for life after work. That's changed.
"I think the work-life balance is particularly crucial now when the sudden changes of pandemic measures can have great impact not only on working parents, but also individuals at all ages and life stages, who may face different challenges during this pandemic," she says.
---
5. Denmark: Communication is the key to consistency
In the Danish workplace there is a strong emphasis on cooperation rather than confrontation, finding consensus rather than a single decision-maker, and a flat organizational structure. "It's egalitarian", explains Dana Minbaeva (right), professor of Strategic and Global Human Resource Management at Copenhagen Business School.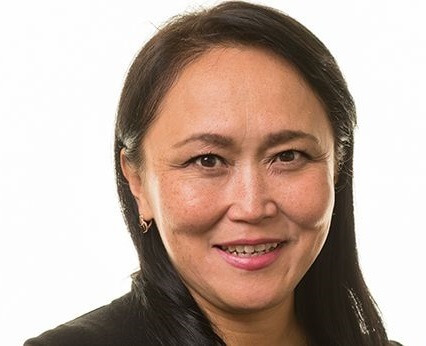 To maintain that while working from home requires communication in abundance.
At the beginning of the COVID-19 crisis in Spring 2020 the companies Dana interviewed told her that they were operating at between 85% and 90% productivity. This was put down to the euphoria at the start of the pandemic, the feeling that everybody was in the same boat and so banded together to work towards a common goal.
Dana's research showed workers then hit the 'corona-wall', which saw them move below the average level of organizational energy, and into a state of higher stress and absenteeism as we moved from lockdown one, into lockdowns two and three. Mental health was suffering.
---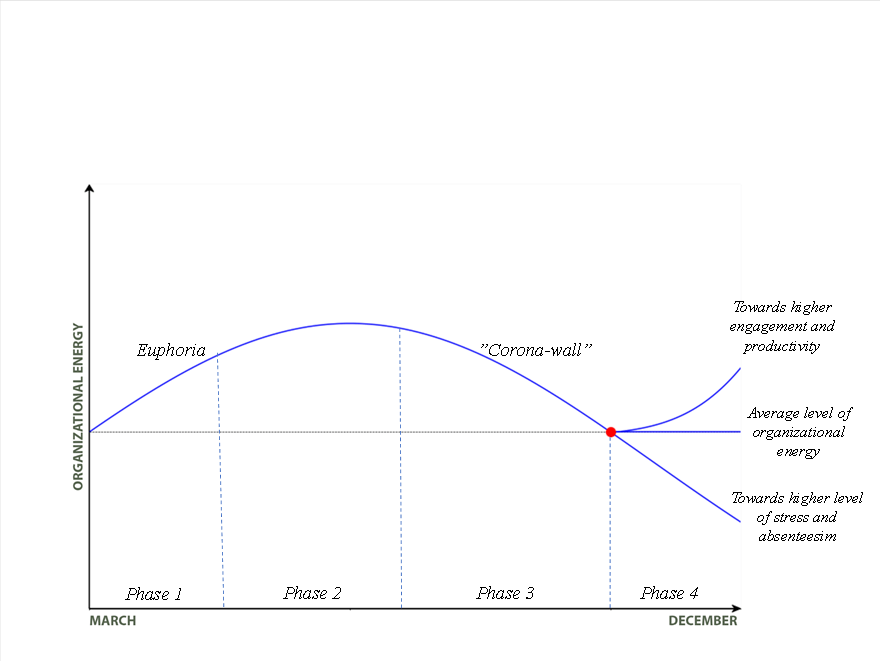 Source: Copenhagen Business School
---
Managers need to identify within their organization or culture the ways of working that help absorb this exogenous shock and bounce back. Dana explains that the COVID-19 crisis is not the last crisis organizations will have to overcome, so answering this is vital.
Dana points to a company that had to send half of its workforce home on a furlough scheme, and keep others coming into the office who couldn't work at home or who were in roles that required them to be present—think manufacturing. Those sent home weren't allowed any access work communication tools like email.
To help workers at home and on-site communicate, the company decided to adapt a social media tool previously used to communicate with suppliers, rather than stick with traditional channels like email. This helped communications run more smoothly.
"Communication saved this company from any fragmentation between those working and those who were sent home," Dana explains. Going forward, "companies need to figure out how to communicate with all their employees," adds, to ensure consistency and the feeling of camaraderie that resulted in strong team performance at the start of the pandemic.
---