In early March, the Covid pandemic meant working from home became the new normal for many of us. By the start of April, nearly 35% of workers in the US had swapped the office for their homes. But the new normal isn't temporary. Long after coronavirus, working from home will remain a big part of our lives.
---
Technology adoption
During the transition to remote working in March 2020, about 25% of executives and small-business owners purchased new digital tools to help employees working from home. A large majority expect that tool usage to be permanent.
These will be the companies whose workers will remain working from home in some function post-pandemic, as we move towards a more integrated system of in-person and virtual work.
Companies that have invested in their digital workforce during the pandemic will see reverting to the old normal as a step backwards.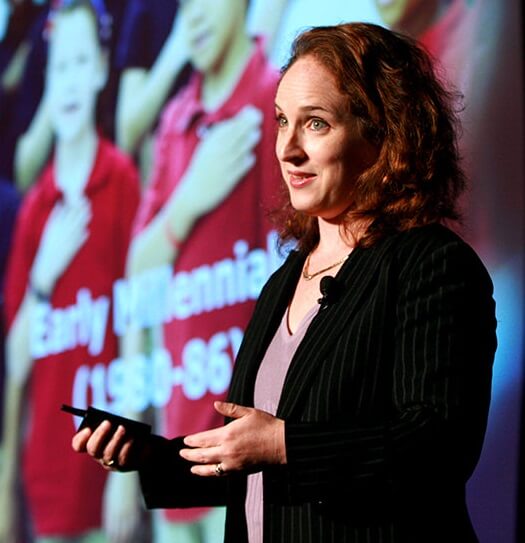 It won't be ubiquitous though. Workplace expert and futurist, Alexandra Levit, says the reaction to Covid and working from home has split businesses into two camps.
There are the companies that will keep in place remote work, and those are the ones that were already somewhat distributed to begin with, and then there are the companies that have an entrenched office culture and haven't yet changed their minds.
The new reality of working from home is one we'd have faced in the next decade or so anyway, says Alexandra (pictured right). The pandemic has simply accelerated the process and the businesses that haven't yet changed their mind around remote work will have to adapt to a new way of thinking about and structuring their workforce.
---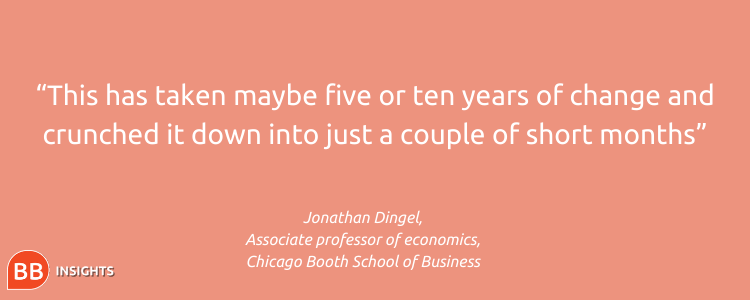 ---
A long-term shift to hybrid working
It isn't feasible to say everyone who has an internet connection, Zoom, or a Microsoft Teams account is good to go with remote work. Jonathan Dingel—associate professor of economics at Chicago Booth School of Business and a faculty research fellow at the National Bureau of Economic Research—explains that the transition raises big questions for organizations about how they structure their workforces, and how they cause personnel to work with one another.
"That's not going to be the default for firms that were organized with the assumption of co-located people working face to face," he says.
Michael Segalla, professor of management at HEC Paris who also has a PhD in organizational studies and labor relations, adds that workers don't want to live fully atomized lives disconnected from human contact.
In the immediate future, splitting work between the office and home will be unavoidable as companies restructure their workplaces for coronavirus. A rota system will be temporarily required as different teams alternate between office and home to adhere to social distancing requirements.
But beyond that, hybrid work will remain.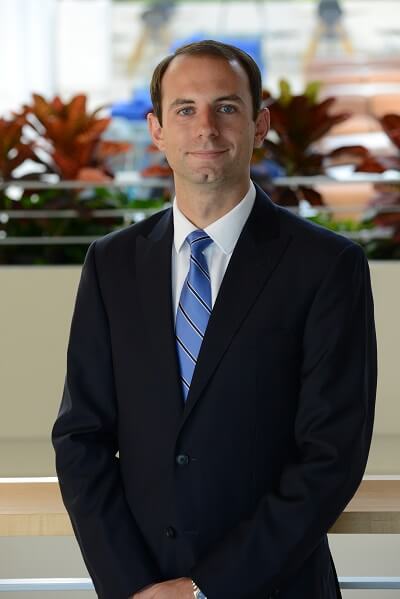 The shift to remote work could be particularly resounding in the US. A National Bureau of Economic Research paper found that more than 35% of firms think that 40% or more of the current switch to remote working will be permanent.
Twitter has told its employees they can continue to work from home permanently. Other big tech firms like Google and Facebook have said they will operate at around 30% of office capacity, with most workers allowed to work from home through 2020.
Before the pandemic, Jonathan (pictured right), together with Brent Neiman—the Edward Eagle Brown professor of economics at Chicago Booth—predicted that around 37% of US jobs could be plausibly done at home. The pandemic has accelerated the transition.
"This has taken maybe five or ten years of change and crunched it down into just a couple of short months," explains Jonathan, who teaches a course on managing the firm in a global economy at Booth. "The pandemic has potentially changed the future of work in the sense that lot of these changes might not have happened absence [it].
"I think it will force people to adopt new technologies and potentially change their beliefs and lead businesses to reconsider their office and personnel arrangements in a variety of different ways."
---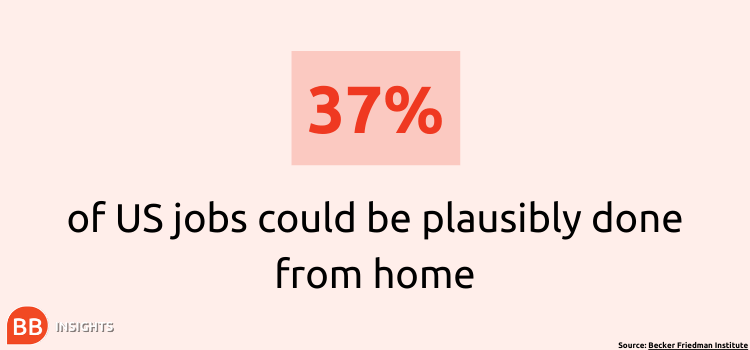 ---