Uber, Carrefour, Macy's, Google, they've all tried to crack China. Yet, when it comes to western companies that have amassed huge digital ecosystems, multibillion- or trillion-dollar market caps, and wide customer bases, the country remains a conundrum.

Doing business in China means doing business in the world's largest market. A population of just over 1.4 billion, split into multiple provinces each with its own microculture. With its own ecosystem of successful local competitors, different business models, and consumer demands, breaking into China can be tough.

So, how do companies make it work?
---
Doing business in China: Successes
According to Cheng-Hua Tzeng, associate professor of strategic management at Fudan University's School of Management, doing business in China means being close to the customer and localizing operations.
He points to Apple and Starbucks, companies that successfully tapped into the consumer trends of Chinese customers.
The Greater China region—which includes mainland China, Hong Kong, Macau, and Taiwan—is one of Apple's largest revenue markets. The firm also has a wealth of local relationships with suppliers on mainland China, according to Apple's 2020 supplier list.
---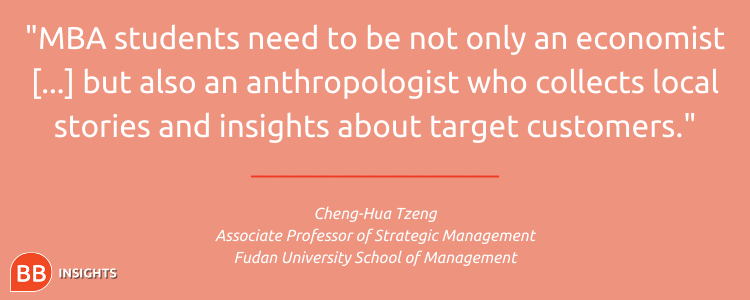 ---
Starbucks built important government relationships, with former CEO Howard Schultz welcoming president Xi Jinping in Seattle in 2015. The company also tapped into China's consumer base through local platforms like WeChat, launching a social gifting feature 'Say it with Starbucks' on the platform.
"If multinational corporations find it difficult to enter the Chinese market, they may like to find a local partner, privately-owned or state-owned, which could provide local consumer insights and access to distribution channels," notes Tzeng, adding that there are typically two ways a western firm can find success in the country.
The first requires localizing products or services for Chinese markets, and the second requires having strong brand recognition and sophisticated technologies which are not easily replicated by Chinese companies.
---
Doing business in China: Failures
After nearly 25 years in China, in 2019 French multinational retail corporation, Carrefour, sold a controlling stake in its business to Chinese group Suning.com. It's part of a wider trend of western retail firms struggling to maintain operations in the country—Marks and Spencer and Macy's have also recently left.
But why?
"Those companies probably did not put emphasis on the Chinese market," Tzeng proposes. "Secondly, Chinese consumers' tastes change very fast, and local retailers are willing and able to make faster decisions than their western rivals to accommodate changing needs in the market.
"On top of that, there is an emerging trend called 'New Retail' in China's retail industry, which is a combination of the online and offline shopping experience."
To respond to that trend, Tzeng explains that western retail firms need to redesign their business models in China, something that might not fit into their existing global operations.
He recommends that companies that need to be close to the Chinese consumer design a customer-centric operation, rather than transferring their existing business model from headquarters to China.
Uber and Google faced similar challenges when they tried doing business in China. They were also up against strong local competitors in ride-hailing firm, Didi Chuxing, and Baidu, the dominant search engine in China.
Research published in the Harvard Business Review (HBR) told a similar story to the retail industry. Pain points highlighted a lack of deep understanding of the Chinese market; ill-fated attempts to impose global business models unsuited to the Chinese market; and a failure to cope with extremely fierce competition in China. Ultimately both companies exited the Chinese market.
Tzeng says that the companies that have failed to succeed in China have several things in common. It comes down to a drought of local partnerships, poor market research, a misunderstanding of local customs and culture, and a failure to adapt products to local preferences.
---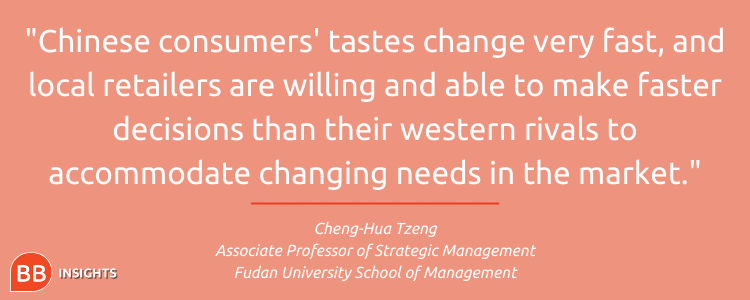 ---
How an MBA can teach you about doing business in China
The Fudan International MBA (IMBA) is offered in collaboration with MIT Sloan School of Management in the US. So, students develop a strong understanding of how business differs between east and west.
By looking at the successes and failures of western companies in China, Tzeng says there are three key takeaways for MBA students:
→Don't take existing business models for granted when entering Chinese markets
→Don't make strategic decisions from afar
→Try to understand the local customers, talk to them, and listen to them
"In other words, MBA students need to be not only an economist, who only reads statistical mega-data, but also an anthropologist, who collects local stories and insights about target customers," he says.
The Fudan IMBA drops students into real life business scenarios through the iLab consulting projects, part of the integration of action learning into the program that teaches students about doing business in China.
Students have so far completed 261 iLab projects with 210 partner companies including IBM, Intel, Huawei, ExxonMobil, Michelin China, McDonald's China, and Pfizer. Projects are both global and local in scale.
Tzeng explains the most common projects focus on how foreign companies can enter and further penetrate the Chinese market, or how Chinese companies can enter foreign markets.
"MBA students combine theory and business practices by continuously interacting with executives and managers of multinational corporations and Chinese firms," he says.
They learn how to diagnose a company; how to prioritize different issues emerging from their diagnoses; how to collect information inside and outside a company; how to derive insights and implications from the collected data; and how to design recommendations, which are implementable, bases on their analyses.
"Though client companies involved in the iLab projects need to improve their performance in certain areas, they usually are quite successful in their industries," Tzeng notes. "MBA students can observe and learn about the best practices and professionalism of these companies."
---
BB Insights explores the latest research and trends from the business school classroom, drawing on the expertise of world-leading professors to inspire and inform current and future leaders
Related Content: