Cannabis has grown up. Once the realm of music videos and 'stoner' movies, it's now a rapidly growing commercial industry in the USA.

A total of 18 US states have now legalized the drug for adult, recreational use. More than 145 million US citizens have legal access through cannabis dispensaries now able to operate legally at a state level.

While still illegal under federal law, the US House of Representatives recently passed two acts which would effectively decriminalize marijuana and legitimize funding for the cannabis industry. They now await senate approval.

The rising tide is bringing waves of new jobs. There are currently more than 321,000 full-time jobs available in the legal US cannabis industry—that's more than the number of available positions for dentists or electrical engineers.

"It wouldn't surprise me if this doubles within the next five years because of increasing legalization," says Steven Mintz, professor emeritus at California Polytechnic University and the Orfalea College of Business.

Many of these roles fit the profile of a business school graduate. Here are some of the cannabis industry jobs you could land after your business degree.
---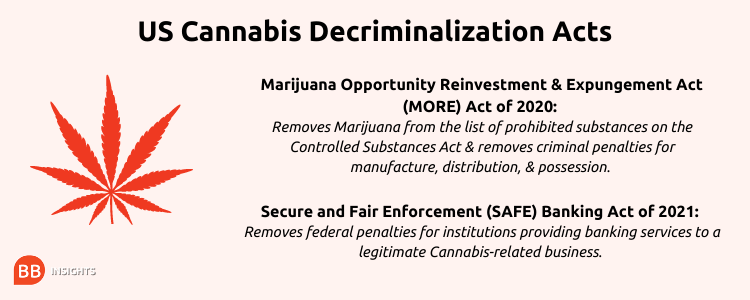 ---
1. Financial analyst/Accountant
All industries require financial expertise: from securing funding, to filing taxes, to managing a company's assets.
Emerging industries often have tricky regulatory systems, and the bridge between investors and companies seeking funding can be less clear than in more established industries.
The federal legal situation in the US makes matters even more complex. Without federal approval, it's difficult for businesses in the cannabis industry to open bank accounts, and they're unable to list publicly on US stock exchanges.
"You need sophisticated finance and accounting teams to go out and raise capital, and the tax system in the US in particular is incredibly complex for cannabis," explains Michael Miller, consultant to the cannabis industry who co-authored a 2018 marijuana case study with University of Cambridge Judge Business School.
It could be the perfect fit for a business school graduate with specialist financial expertise, who'd prefer to dive into an emerging industry rather than take the more well-trodden path into consulting or banking.
---
2. Marketing manager
At Green Thumb Industries, a Chicago-based cannabis producer listed on the Canadian Stock Exchange, there are currently job listings in retail marketing, brand management, and marketing management.
It's one of many companies looking for ways to stand out and drive new business in an industry which is heavily restricted.
"One of the biggest challenges for marketing in cannabis is there are so many constrictive laws around how you can advertise," Michael (pictured) explains.
In the US, laws vary between states. In Alaska, all cannabis products must be sold in opaque, child-resistant containers, with an eight sentence disclaimer highlighting the various health risks, and the immediate short-term effects.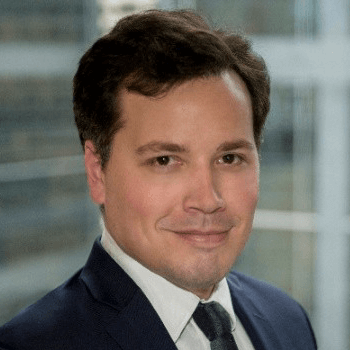 In Colorado—the first state to legalize medicinal cannabis in 1996—companies are only required to display the universal THC symbol, along with a short, three sentence disclaimer.
The restrictions, and the variation, create a need for innovative marketing expertise, particularly within multi state operators (MSOs) who must adhere to a variety of different laws.
"A lot of these guys have to engage in more creative marketing techniques in order to appeal to customers without stepping on the toes of the state or federal government," Michael adds.
For business school graduates with marketing expertise, the cannabis industry offers the opportunity to test your skills and knowledge against the challenge of an entirely unique regulatory system.
---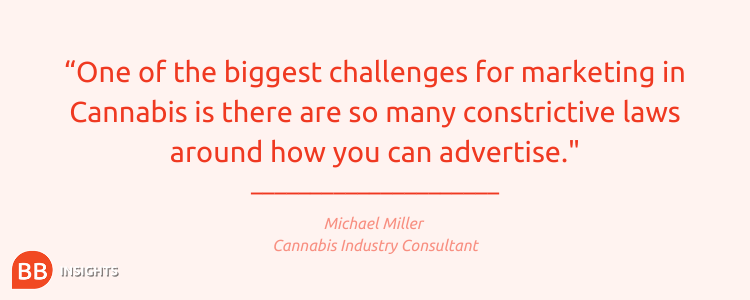 ---
3. Logistics/Supply chain manager
Mass producing a plant to fulfil the demands of a $17 billion market requires substantial knowledge of business fundamentals, including packaging, distribution, and supply networks.
The dynamics of running a cannabis organization are similar to other consumer-packaged goods industries which typically employ business school grads, such as food, beverages, and tobacco.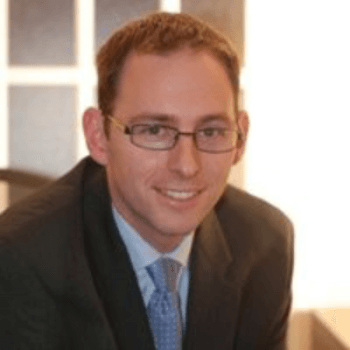 "There's a lot of need for people who understand business who can then bring those skills to the cannabis industry," says Paul Seaborn (pictured), a professor at University of Virginia Mcintire School of Commerce, who piloted the first ever accredited 'Business of Marijuana' course.
As suppliers grow and become MSOs, so does the need for knowledgeable logistics managers capable of running a large-scale operation.
"It's a very hard challenge to run an increasingly complicated business in the industry if you don't have the business fundamentals," Paul adds.
It's a good opportunity then for business graduates with logistics expertise, or for those working in similar consumer-packaged goods industries who are looking for an opportunity to join a sector with high growth-potential.
---
4. Human resources manager
Since legalization began sweeping US states, companies operating within the cannabis industry have seen rapid growth.
Established in 2010, medical and wellness MSO, Curaleaf, quickly expanded beyond its headquarters in Wakefield, Massachusetts. It now operates in 23 states, employs 4,800 people, and is one of many cannabis providers publicly listed in Canada.
"We are still seeing, even without federal legalization, a steady growth in the size and sophistication of the industry," Paul says.
The Society for Human Resource Management recommends taking on HR staff to help run an organization when it reaches 15 to 25 employees. For Curaleaf and many other MSOs, there's high demand for large in-house HR departments.
Trends suggest this need will only grow in future, Paul thinks. "The indicators—public support across every demographic, political support, and states legalizing it—all point towards the federal government coming on board at some point," he explains.
If that happens, regulation across states would soften and companies could list on the US stock exchange, allowing more large-scale operations to appear, and creating even more opportunities across human resources.
---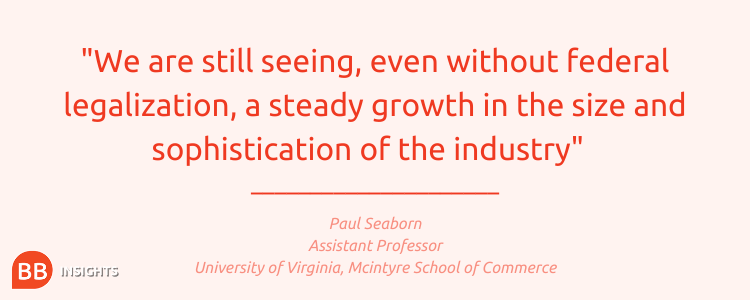 ---
5. Entrepreneur
The market for the US cannabis industry is projected to reach $30 billion per year by 2025. Other countries are also taking steps to legalize the drug and establish their own domestic industries. Uruguay and Canada lead the way with full countrywide decriminalization.
It's estimated the worldwide cannabis market could expand to be worth more than $90 billion by 2026. For budding entrepreneurs, that's a huge potential market to tap into.
"There's a lot of opportunity for innovation," Paul says. That includes within the growing and packaging of the plant, security services to maintain large-scale facilities, IT systems, payment services, and countless other areas.
Any new company that offered a quality product with a use case within the industry could see huge growth. There's also the opportunity to become a key player across the globe as the industry expands.
"If you have an idea that is proving itself, you can take that and drop it into markets all over the world very quickly," Paul adds.
For business school graduates keen on launching their own business, there are few industries offering a more untapped market with greater potential for growth than cannabis.
It's come a long way from 'stoner' movies, but cannabis is now one of the world's fastest growing and exciting industries. No matter your expertise, skills, or interests, there are a range of opportunities for business school grads available in the cannabis industry.
---
Next Read:
Dude, Where's My Driverless Car?
---
BB Insights draws on the expertise of world leading business school professors to cover the most important business topics of today.