Former YouTuber, Mikey Pearce, launched Clean Kitchen Club in Brighton after moving home during the first Covid lockdown in 2020. The idea for the plant-based food chain was born out of a desire to spread the message around the benefits of incorporating more vegan food into your diet.

After launching, he later teamed up with Made in Chelsea's Verity Bowditch to bring the eco-friendly menu to Chelsea. The chain now operates across fives sites in London. It's the first plant-based food brand to carbon label its entire menu.

Plant-based meat is rapidly gaining popularity across the globe, and, as Mikey and Verity discuss, there are a range of benefits to following a plant-based diet. Here, they explain the inspiration behind Clean Kitchen Club and address common anxieties surrounding plant-based meat.
---
What was the inspiration behind Clean Kitchen Club?
Mikey: I was a YouTuber before I started Clean Kitchen Club. I did these terrible videos with my mates—there was no real purpose there. During the first lockdown, I went down to Brighton, and my YouTube views were crashing. I knew I needed to do something different.
I stumbled on the idea during my weight loss journey. I got into fitness, and I really thought about what I ate. My mum started making me vegan bacon sandwiches and Quorn Bolognese. I started to think, if I was able to enjoy this food (as someone who used to be a wagyu-scoffer at 18 stone!), then I could create something that everyone would be able to enjoy and bring plant-based food into the mainstream.
---
Verity, when did you decide that this was something you wanted to be a part of?
Verity: For me, the opportunity came around during lockdown. Mikey was doing an amazing job in Brighton—I think he was selling more burgers than Five Guys—and he decided to take the business to Chelsea. He wanted someone to back the brand from a different perspective.
I was always really interested in sustainability. My background in medical science specializes in Epigenetics, which focuses on how your diet and surroundings affect your genome characteristics. I specialized in nutrition, and I'm really passionate about living a healthy, environmentally conscious lifestyle.
---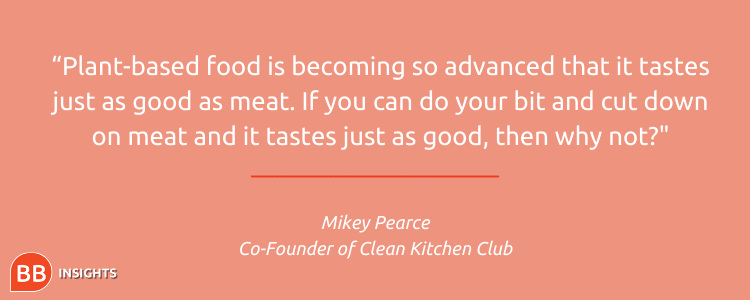 ---
Why is plant-based meat rising in popularity?
Verity: It's a lot healthier. Our burger patties have 0.3g of saturated fat, whereas our competitors' products have 6g. It's crazy.
Secondly, adapting to a plant-based diet is the biggest way to lower your carbon footprint. That doesn't mean you have to go completely vegan, it means cutting down on your meat intake, to maybe once or twice a week.
I actually went to the COP26 summit, and they didn't give plant-based eating as much time as they did with all the other things that are contributing to global warming, which was a little annoying. It's such a massive factor, especially factory-farmed cattle, which are one of the biggest carbon emitters in the world.
Mikey: More and more people are reading and educating themselves on the benefits of a plant-based diet. Plant-based food is becoming so advanced that it tastes just as good as meat. If you can do your bit and cut down on meat and it tastes just as good, then why not?
Verity: I think the industry has evolved so much in the past ten years—we used to have to eat plant-based food like tofu, bean curd, lentils, or soy, which didn't always taste great. I think that's where this perception of vegan food as disgusting has come from.
People try it once and go, 'well I've had that, it was disgusting'. But right now, companies like Beyond Meat and Vivera are putting so much money into the research behind making the food taste exactly the same as meat, as well as making it healthier for you.
---
Is the taste of your plant-based menu indistinguishable from meat?
Verity: I actually can't account for the taste, because I've never eaten meat in my life. I was raised vegetarian and later went vegan. But I know you can easily get the same amount of protein using plant-based substitutes as you can with meat alternatives. And we prove that with our own burgers—don't you think, Mikey?
Mikey: Yeah, I mean, I'm not saying to anyone to cut out meat from their lives. But if you cut down slightly, it will greatly benefit the environment. If you can make small steps, then you're heading in the right direction.
---
What are the benefits of your plant-based menu for the environment?
Verity: We work with My Emissions to calculate all of our carbon emissions. Our burger is actually 83% better for the environment than its beef alternative. We communicate with them every day to see how we can improve, and then we offset those emissions through ecology.
Our Happy Planet Meal (which is like a McDonald's Happy Meal) is carbon neutral, and in the next two years, we're working our way to becoming completely carbon neutral.
---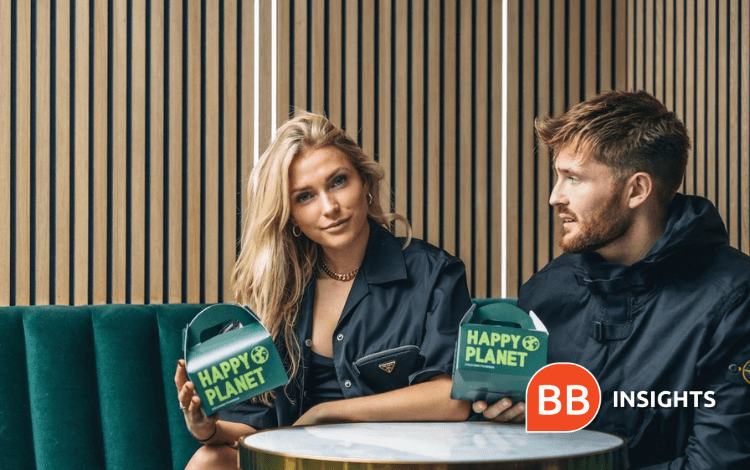 ©CleanKitchenClub
---
How do you see the demand for plant-based meat developing in the next decade?
Mikey: I truly believe the plant-based industry is only just beginning. Everyone I speak to now is saying they're trying to cut down on meat. The plant-based food sector is only going to get more advanced.
Verity: I think it comes down to climate education. We're starting to talk about it because we're seeing the effect of global emissions on the environment with our own eyes. And the more we start to talk about it, the more we can see exponential growth in demand for plant-based food.
---
What's in store for Clean Kitchen Club?
Mikey: Over the next few months, we're opening a few delivery kitchens. We're getting all the operations ready so that people can pick up from our sites and drop our food off across the UK.
We're also getting quite a lot of demand for the catering side of our business. We're working with some cool companies like TENZING Natural Energy and TALA (Grace Beverley is one of our investors, so we do her catering). We're also working with Dior.
From there, we're going to be doing another financing round to potentially open 50 or 60 sites across the country. So, we're just looking to expand and take every opportunity as it comes.
---
Next Read: How Can Sustainable Marketing Help Fight Overconsumption?
---
BB Insights draws on the expertise of world leading business school professors to cover the most important business topics of today.
---
This interview was cut down and edited for clarity.