Most people today use cloud computing software on a daily basis. This might be at home, when you're backing up your photos to iCloud, or at work, logging into Salesforce to manage your sales pipeline.

The global market for cloud computing is expected to more than double in size by 2025 as consumers and businesses alike tap into the benefits of cloud computing.

So why is cloud computing important?

BusinessBecause spoke to Kiron Ravindran, assistant professor of information systems and technology at Spain's IE Business School, to learn more about cloud computing and the career opportunities for MBA graduates.
---
What is Cloud Computing?
Cloud computing refers to the technology that enables individuals and companies to access computing services—like storage, databases, and analytics—over the internet rather than having to host them on their own servers.
According to Kiron (pictured), cloud computing as we know it now has been around since the mid-2000s, when Amazon launched its cloud software platform, Amazon Web Services (AWS).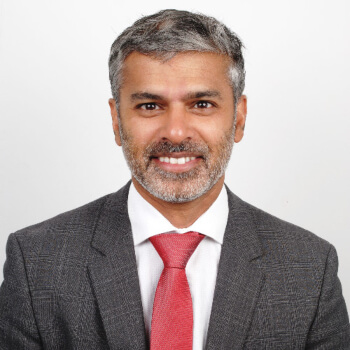 Cloud computing technology allows remote access to everything from customer relationship management (CRM) systems to TV streaming services, and it's only become more important as the coronavirus pandemic has expanded remote working.
"Now, it's already reached something like commodity status," says Kiron. "I can't think of an organization that wouldn't be using at least some cloud computing capability."
Cloud computing is such a mature and widespread technology that IE Business School introduced AWS certification into the MBA curriculum to boost the employability of its students.
This is offered alongside the IE MBA's existing technology offering, which includes the option to undertake a tech immersion lab, where students collaborate to start their own tech venture.
These kinds of tech skills are essential for MBAs to stand out for employers – but what makes cloud computing specifically so important for businesses?
---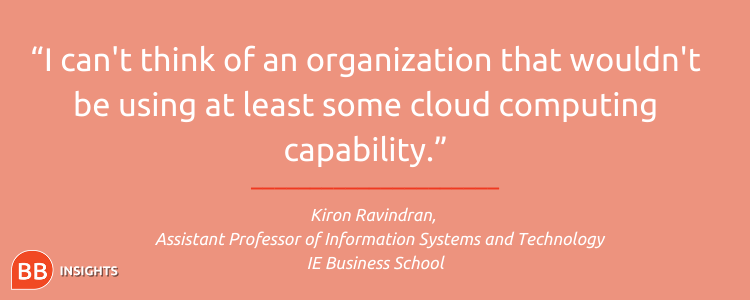 ---
Why is cloud computing important?
One of the key benefits of cloud computing for businesses is it allows them to scale, and fast.
"One of my favorite case studies is when Lyft, the taxi service in the US, wanted to launch their service in 24 cities overnight," Kiron explains.
"In the past, one would have had to plan for six months or more to physically get the service into your data center. Now, the fact that you can scale up and down in minutes is probably the best use case for cloud technology."
As well as being quicker to set up, cloud services are also usually cheaper to run, because they are offered on a pay-per-use basis and have greater uptime than can be expected from an internal IT team.
Cloud software is also much less likely to become swiftly obsolete.
"[When I purchase cloud software] I don't have to deal with the hassle of upgrades and maintenance because I'm [outsourcing this service] to somebody whose core business is to keep their infrastructure from going obsolete," Kiron points out.
Businesses need it; almost all are already using it. It makes sense, then, that knowing how cloud computing works and how to use it strategically would be attractive traits in an MBA hire.
---
Cloud computing jobs and opportunities for MBAs
In fact, Kiron believes that there are bountiful opportunities for MBAs in cloud computing.
"Machine learning and data science gets all the hype, but that's not an easy field to get into," he says. "One has to learn programming, start thinking like a programmer, be able to handle big data and learn statistics.
"Whereas, getting into being a cloud service engineer, a cloud service technician, or a cloud service consultant is something that has less hurdles."
This is where an AWS certification comes in handy, as it proves to employers that you're ready for a technical job. As cloud computing is so ubiquitous, grads will have their pick of industries. In fact, around 20% of IE MBAs land jobs in the technology sector after graduation.
Plus, the advantage of getting this certification as part of a broader qualification like the IE Business School MBA is that you are not just trained in the technology, but in how to apply it strategically.
On the IE Business School MBA, Kiran draws from his own research in IT to explain how service providers and companies form strategic partnerships for outsourcing certain processes to cloud software providers.
"Which processes do you keep in house? How do you maintain a relationship with the service provider so that they are incentivized to learn your business and innovate for you? How do you structure the contract?" he asks.
"Now the cloud has reached a certain maturity, I sense that people are going to want to improve these things."
As for the future, Kiron predicts we'll see significant changes to cloud computing, with the existing range of cloud capabilities becoming increasingly automated.
We're moving towards an era of "innovation as a service," he says. "I've got my email on the cloud, my office applications on the cloud, but why do I want all of this? To source innovation. And I think that's the Holy Grail."
Cloud technology that can facilitate full-scale digital transformation is the future and building your cloud computing skills now can help you gain a competitive edge.
---
BB Insights draws on the expertise of world leading business school professors to cover the most important business topics of today.
Related Content: