Ethical leadership in its most basic form relates to a manager or leader knowing or doing what is 'right'. But what constitutes being ethically right can differ between and within cultures, so for leaders working in and leading internationally diverse teams, getting it right can be tricky.

Learning to be an ethical leader is a key part of the education MBA students get at Xavier University Williams College of Business. All three of the school's MBA programs—full-time, executive, and online—are built on a strong foundation of ethical behavior, aimed at training leaders to achieve results while minimizing negative consequences.

Lynda Kilbourne, chair and professor of management and entrepreneurship at Xavier, explains that the school does this to prepare graduates to lead effectively in any context.
---
What is ethical leadership?
According to Lynda, ethical behavior means achieving positive results in line with usual organizational measures of success but doing so "within the parameters of the ethical principles of the organization."
Given that leaders generally use multiple criteria to make decisions involving several employees, ethical leadership involves weighing up the impact of a decision on multiple stakeholders.
"That means we're likely to have to use a decision rule such as, 'minimize costs or losses while maximizing benefits or gains,' explains Lynda.
"We recognize that the most important decisions will not be the best choice for all parties, so we try to do the best we can. That often means someone will be hurt, particularly in a large-scale change."
She teaches MBAs that ethical behavior on the part of the leader equates to ethical considerations and costs to all stakeholders being considered prior to making a decision. Though that might not change the decision that's made, thought is put into the possible fallout between certain stakeholders within a business.
---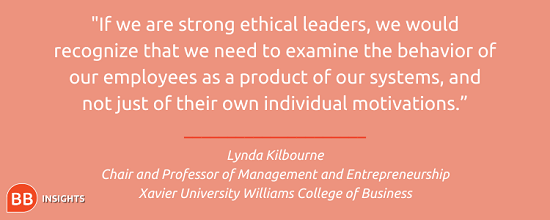 ---
Why is ethical leadership important?
Ethical leadership in the workplace is important because, without it, the decisions companies and leaders make can have a negative impact on society.
Think of a global oil company that jeopardizes safety procedures in pursuit of profit, and then suffers a major oil spill, for example. Or an autocratic leader who makes a unilateral decision on their company's approach to blitzscaling without considering the impact on staff, and then sees widespread burnout and negative mental health consequences spread across the organization.
An ethical leader ensures the values a company upholds are matched by the behavior expected of and demonstrated by employees.
"The employees are doing what they are rewarded for, or held accountable for, in the systems the managers have put into place. If we are strong ethical leaders, we would recognize that we need to examine the behavior of our employees as a product of our systems, and not just of their own individual motivations," says Lynda.
"If we incentivize sales numbers, we can cause people to subvert quota systems or to steal each other's clients; if we penalize waste of materials, we may cause lower levels of experimentation while we try to get people to be creative; and if we have a system that rewards old behaviors, but we ask for creativity, we will not get creative behavior."
Understanding that as a leader your actions have consequences beyond you and the overarching goal of your organization is a key part of understanding why ethical leadership is important.
"The systems and processes we as managers put in place to influence our employees' behavior can actually lead to unintended negative consequences," asserts Lynda, "and we need to look for those kinds of problems within our systems to ensure the systems aren't causing problems.
"We all have different touchpoints where each of us have the opportunity to influence others, and we need to make sure we influence in ways that are positive rather than negative."
---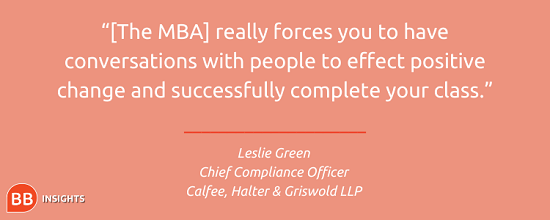 ---
How ethical leadership is taught at Xavier
Lynda explains that in the MBA classroom it can be a challenge for leaders to recognize that the systems they put in place directly cause the behavior of their employees—it's something she trains them to be aware of.
"In class, I have people think deeply about all the different touchpoints where each of us could have the opportunity to influence others in a way that's negative or positive," she says.
Leslie Green, chief compliance officer at Calfee, Halter & Griswold LLP, is an MBA graduate from Xavier University Williams College of Business who's using the ethical leadership skills she acquired at the school in her current role. She supports investment adviser and broker dealer clients in the development, administration, and governance of all compliance and risk management practices.
The MBA programs at Xavier train students to work and learn collaboratively, equipping them with the leadership skills to drive positive growth in diverse teams.
"At Xavier, you're in groups of people in dramatically different industries," Leslie recalls. "Many are trying to go for a leadership role, so you have a lot of strong personalities. It really forces you to have conversations with people to effect positive change and successfully complete your class."
The school also invites guest speakers to lecture on leadership and management. Lynda has previously invited CEO and chair (retired) of Cintas Corporation, Bob Kohlhepp; CEO of GE Aviation and vice chair of GE (retired), David Joyce; senior vice president of HR and of diversity and inclusion, Cintas Corporation, Max Langenkamp; entrepreneur and founder of the Military Channel, Doug Keeney; and CEO of Centrifuse, Pete Blackshaw.
---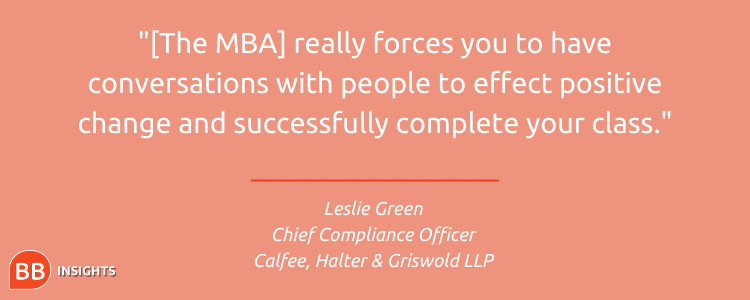 ---
"Xavier has so many connections, especially locally," Leslie says. "There are huge, global businesses operating in Cincinnati—Procter & Gamble, Great American Insurance Group, Western & Southern Financial Group—and all of these folks came here and [talked to us about] their culture and their leadership styles, and that was invaluable."
Ethical leadership and values-based leadership overlap closely at Xavier. There's a business law and ethics module that runs in each MBA program, and Leslie chose to pursue the school's MBA concentration in values-based leadership.
Students in the concentration choose three courses from Leadership and Ethics, Spirituality and Leadership, Business Ethics through Film, and Workforce Diversity, Ethics, and Leadership. There's also an option to study Doing Business in Europe: International Ethics, which includes a trip to London and Paris.
Students keen to specialize can also pursue MBA concentrations in several other disciplines, including Business Intelligence; Innovation, Change, and Entrepreneurship; and Supply Chain Management.
There's also the option to take the Capstone module in Corporate Governance, which puts students in the shoes of real leaders working to solve a real problem for a local client.
All of this encapsulates what Lynda says is an approach to education that prepares the next generation of MBA business leaders to effectively lead in all scenarios.
"We help students develop their ability to see and to listen", she concludes, "we develop leaders who can choose the appropriate leadership approach for each specific situation they face, all undergirded with strong data-driven decision making and a foundation of ethical behavior and leadership."
---
BB Insights draws on the expertise of world leading business school professors to cover the most important business topics of today.
Related Content: