Between rapid technological development, an increasing focus on sustainability, and the rise of remote work, today's organizations are operating in a rapidly-changing business environment.

To stay relevant, organizations are restructuring their business models, to better meet the needs of the customers of today.

Nicole Hinrichs is associate professor of strategy and entrepreneurship at EHL Hospitality Business School.

Her work focuses on innovation and transformational change, taking an interdisciplinary approach that incorporates cognitive and social psychology.

BusinessBecause caught up with Nicole to learn about three innovative business models that could dominate the business world in the coming years:
---
1. Servitization Business Model | Switching from products to services
In a servitization business model, customers pay for a service rather than purchasing goods outright. And an increasing number of companies are pivoting toward this business model.
According to OECD data, services already generate more than two-thirds of global GDP, and even companies that have historically sold products outright are pivoting toward the servitization model.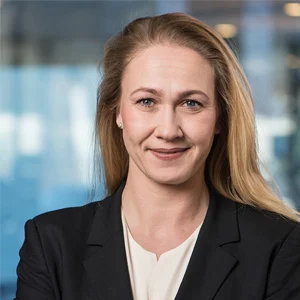 One example Nicole (pictured) points to is the engineering equipment manufacturer, Hilti. The company had traditionally operated a B2B service, selling tools to constructors.
In response to the coronavirus pandemic, however, the company opted to pivot in a new direction. Seeing the lock-down inspired trend for home improvement, Hilti spotted a problem. New DIY enthusiasts wanted to complete their projects, but not necessarily purchase a whole toolkit.
"If you have a picture to hang, you don't want to buy a machine just for that," Nicole explains. "What you really want to buy is the perfect hole in the wall."
To meet this demand, Hilti launched a new service allowing consumers to rent tools, rather than purchase them outright.
Organizations that already operate a service-based business model are still impacted by the servitization trend, Nicole adds.
"Even in the service sector we're seeing a generation where it's really experience based—so it's not just about the service, but the experience around it," she says.
As customer experience becomes more central to companies' strategy, developing a strong understanding of customer service will be essential. At EHL, Nicole explains, the school's heritage in hospitality ensures this customer-centric approach is at the forefront of teaching.
As well as an MBA in Hospitality and an EMBA with CEIBS, EHL is developing more programs and courses with a focus on service excellence and people centric leadership.
---
2. Dematerialized Business Model | A shift to the Circular Economy
Business models that encourage renting goods rather than buying them outright also play into the growing trend of dematerialization.
In a dematerialized business model, companies deliver the same product or service they always have, but use fewer physical resources. This trend is being driven in large part by a growing awareness of sustainability issues in both businesses and their customers.
"The trend comes very much in hand with social and ecological awareness," Nicole comments.
"Dematerialization is really everything that ecompasses the circular economy. Companies are asking how they can either mitigate waste production, or whether certain waste products can be used elsewhere."
In other business models, physical goods may be eliminated altogether. One example is the transition from buying music in the form of CDs to renting music through a platform like Spotify.
Spotify uses fewer resources—in this case jettisoning the need for metal and plastic—but continues to deliver content. Consumers can then pay to access this content via a subscription model.
---
3. Virtual Business Model | Digitalization to Virtualization
Another innovative business model is the virtual business model. Virtualization will be another important means of business model innovation as technologies like virtual reality, artificial intelligence, and the metaverse become more widespread.
Virtualization involves creating virtual, rather than physical, goods and services. Unlike digitalization, which moves existing physical services into the digital sphere, virtualization has the potential to create brand-new services and virtual 'products.'
"The virtualization approach we've been hearing about involves creating entire ecosystems or industry spaces in the virtual world," Nicole explains.
The American investment bank, JP Morgan, recently made strides in virtualization as the first bank to enter the metaverse.
In the bank's virtual Onyx lounge space, customers can make blockchain-based transactions—all in the presence of a virtual tiger that roams the space.
JP Morgan estimates that its metaverse activities could open up a $1 trillion of annual revenue.
But companies should consider these new business models carefully, Nicole cautions. "Companies still need to ask: Who is my customer and what problem do they have? And then according to that, defining a value chain."
Mimicking your competition can undermine the unique value proposition you can offer your customer base, she adds. Companies that go against the grain can still find success if they're addressing a real consumer need.
So what's next? With the rapid pace of change, Nicole expects to see more innovative business models in the years ahead.
"Every product and service has a shelf-life," she says. "Now we're seeing developments are taking bigger and bigger leaps."
---
BB Insights draws on the expertise of world leading business school professors to cover the most important business topics of today.
*Main image used under this license
Related Content: