Demand for Masters in Business Analytics (MSBAs) is booming, with over 80% of corporate employers reporting plans to hire MSBA grads in 2022, according to GMAC.

That's driven by a surge in well-paid jobs as companies in virtually every sector use analytics and big data to make better decisions and enhance their business opportunities.

So if business analytics grads are so in-demand, what can graduates from MS in Business Analytics programs expect to earn?
---
Demand for data analytics
Increasing demand for data analytics isn't new—in 2019 LinkedIn ranked data science as the most promising job in America—but despite being a growing phenomenon for some time, there are no signs of slowing demand.
The US Bureau of Labor Statistics estimates the data analytics and science field will grow 28% by 2026, driven by advancements in technology such as artificial intelligence (AI) and machine learning.
Many of the world's top companies have ramped up hiring of business analytics grads to match the increasing importance of data. That's not just among tech companies like Google and Apple. Consultancies including McKinsey and Bain hire business analytics graduates, while top finance firms are always looking for data experts to fill statistician and analyst roles.
In total, the US Labor Bureau predicts a 15% rise in data industry jobs by 2029, suggesting business analytics will remain a strong option to enter the job market with for years to come.
---
Masters in Business Analytics salary: US
So what can you earn with a Master's in Business Analytics?
MIT Sloan School of Management in Massachusetts runs the Master of Business Analytics (MBAn) degree, the world's top-ranking business analytics master's.
Of the students who graduated in 2021, the average base salary was $127,750, up from $122,627 in 2019. What's more, the average bonus compensation last year was $20,439, making the total compensation more than $148,000.
The pay was not far off the $148,000 average base salary earned by MIT Sloan's MBA graduates, even though they tend to have substantially more work experience. Most masters degrees in business analytics are for those with little to no professional experience.
The high pay reflects MIT Sloan's strong reputation for science, technology and business, but also employers' high demand for people who can interpret and use data to drive decisions.
At UCLA Anderson School of Management, which offers an MSBA ranked second in the world by QS, graduates from the class of 2021 earned salaries of $117,000 on average.
More than 50% of the UCLA class reported earning a signing bonus, which usually sat at around $21,000. To study on the MSc in Business Analytics, students have to pay tuition fees of approximately $70,700.
Graduates from the MIT MBAn also have the added advantage of it being a STEM-designated course, which gives overseas students an extra 24 months to work in the US, on top of the 12 months of Optional Practical Training. While offering impressive salary statistics, the MBAn is an expensive program, with tuition fees of $86,300.
---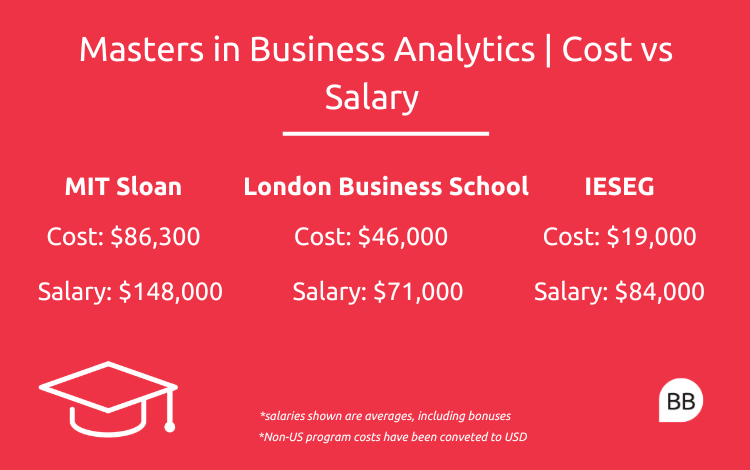 ---
Masters in Business Analytics salary: Europe & UK
Demand is truly global, and there are large regional differences in pay. ESCP Business School offers a business analytics MSc ranked among the top 10 in the world. Graduates from the ESCP program earn base salaries of around $52,000, while their fees amount to approximately $20,600.
IESEG Business School is based in Lille, France, and 90% of those who take its MSc in Big Data Analytics for Business program work in Europe.
The average salary across the cohort is around $84,000, including bonuses, but the program costs considerably less than US-based degrees, at around $19,000.
"Many companies are transforming their business models for the digital era. They are realizing that data is an extremely valuable resource and are looking to capitalize on this," says Kristof Coussement, professor of business analytics at IESEG.
The UK's London Business School, one of the world's most elite institutions, offers an MSc in Business Analytics that is one of a number of top UK business analytics degrees. It sees students earn salaries of around $71,000 on average, when bonuses are included.
The majority of students at LBS remain in the UK, however for students who went to work in Europe their average salaries rose to over $80,000. The tuitions fees for the LBS program amount to $46,000.
Despite the high cost of US degrees, graduates in the US tend to earn the most, reflecting the reputation of many schools there but also the skills shortage and number of unfilled jobs.
---
Next Read:
Are Masters In Business Analytics Worth It?