Jobs in analytics are booming. There'll be 97 million new jobs created by 2025, according to the World Economic Forum, and many of these will require the skills to analyze and interpret complex data sets.

That's good news for business leaders keen on pivoting their career towards or accelerating their career in data. The demand for analytics jobs will see an increase in available roles like consumer analytics expert, investment data solutions analyst, and senior data analyst.

That's what attracted Charles Hoffman and Jennifer Warner to the MS in Customer Analytics (MSCA) at Xavier University's Williams College of Business. They had little to no experience in data before they enrolled, but now Charles is an analyst for data consulting firm, 84.51˚, while Jennifer is a data analyst for decorative plumbing brand, Signature Hardware.

Here's how an MS in Analytics launched their careers in big data.
---
An MS in Analytics will teach you what makes customers tick
Charles (pictured below) was familiar with Xavier University when he enrolled. He also has an MBA from the school, a degree he pursued after a three-year career as an army intelligence officer for the US Army.
He pursued the Xavier MSCA after pivoting his post-MBA career towards marketing and advertising. With little to no formal experience, Charles was eager to understand the backend of a business—he wanted to figure out what made customers tick and how to identify and measure trends across certain fields.
He studied while working full-time as a senior analyst for Catalina Marketing, Inc. a firm focused on shopper behavior.
"Xavier's program seemed very practical—I could immediately apply the information I was learning to my role," he explains. "It allowed me to do my day-to-day job better and gave me more context into the overall industry."
---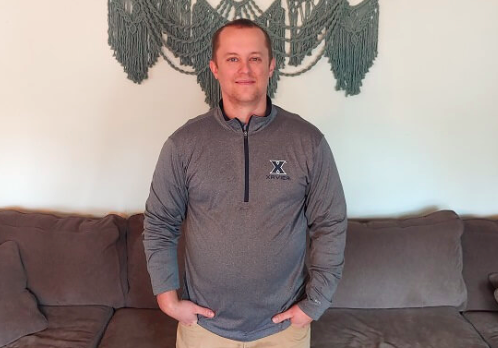 ---
Students are taught the fundamentals through modules in Statistical Programming® and Business Analytics for Managers.
During a Consumer Behavior module, Charles was encouraged to think critically about the customer experience. He also completed coursework that looked at real examples of customer inquiries, helping him to reframe a customer's question to solve their problem.
"I learned that you can't necessarily quantify things like what the customer journey looks like and the different motivating factors a customer has," he explains.
---
An MS in Analytics will build your collaborative leadership skills
When she enrolled in the MS in Analytics degree, Jennifer was working as a personal banker for Fifth Third Bank. She was also keen to learn more about the ways customers behave and act, and how to use data to solve problems.
Jennifer recalls how the program encourages a small cohort of students to work collaboratively to solve data problems.
"I saw the same classmates in multiple courses," she says. "By the end of the program, we worked so well together—we knew who had certain strengths or weaknesses, and we could build on that and help each other.
"I learned that there are so many ways you can look at a problem to solve it," she adds. "Through working with others, I learned how to apply appropriate tools to think creatively, which helped provide the necessary skills I needed for the real world."
---
An MS in Analytics will expose you to working with real-world data sets
During the program's compulsory module in Consumer-centric Category Management, both Charles and Jennifer looked at real-time data from retailers in the Cincinnati area.
"Being given the opportunity to work with a lot of different companies and feel comfortable with new stakeholders really helped me develop my consultative leadership skills," says Charles. "I was able to develop these relationships and conduct projects in a short time frame."
During the program, Jennifer also worked with local companies to manage their products. This entailed researching the product and quickly making decisions on what to sell and how much to put on the shelves of a store. After coming up with a hypothesis, Jennifer and her team pitched their recommendations to these companies and presented their findings, identifying the final direction the company should go in.
This experience meant Jennifer was well positioned to stand out during the application process for her current role at Signature Hardware.
"Working with real-time data really gave me the confidence to walk into that interview and say: 'This is what I understand, and this is how I can make a difference to your organization; I have these tools and I have the confidence to work with these tools," she says.
---
An MS in Analytics will grow your technical confidence
After Charles graduated from the program, he pursued his current role with 84.51˚, which offered the chance to gain experience in and be part of a larger analytics group. The company specializes in retail data science to create more personalized and valuable experiences for consumers.
"Xavier's program made me feel more qualified to make a move like that, which was better for my career," says Charles.
Students in the MS in Customer Analytics program also take technical courses in Statistical Programming, Database Management, and Data Visualization. On top of that, they must take prerequisite courses in R-Programming or Python Programming, Excel, and Power BI or Tableau® Data Visualization.
That set Jennifer up to build her data visualization skills and use Tableau in her current role, the main analytics program used by Signature Hardware.
"Once I understood that core program for analytics, it opened up the possibility to learn and use other programs on the job," she says. "Understanding how something works under the hood makes it easier to take on something new without having to undergo any formal training."
Related Content: