If you have a passion for getting behind complex data to find hidden insights, then a career in analytics might be for you. Tech careers in business analytics are exciting, varied, and often well paid. But where do you start if you only have a basic grounding in the subject or you've studied an undergraduate degree in another discipline?

This is where Master's in Business Analytics can be a great option—this specialized degree can help students get up to speed with the latest business developments in data analytics while teaching valuable management skills.

Here are 4 jobs you could land after a Master's degree in Business Analytics.
---
1. Data scientist jobs
If you're looking for a data-driven career, then a data scientist job may be a good choice.
As a data scientist, you'll be tasked with gathering data to extract findings that can be used to drive business decisions.
In the Master of Science (MSc) in Business Analytics and Technology Management program at Concordia University's John Molson School of Business, students can gain a solid grounding in the analysis skills needed for data scientist jobs through introductory courses such as 'Foundations in Data Mining'.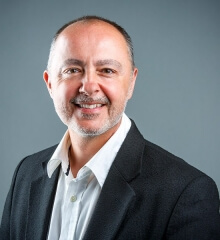 This two-year research-based master's in Montreal, Canada, is aimed at recent undergrads and professionals seeking a career boost or change who want to become industry specialists.
"The master's will help students become big-picture thinkers and have the confidence to trust themselves in what they do," says Bob Menard (pictured), career advisor at John Molson's Career Management Services (CMS).
CMS helps students prepare for the job market through workshops and one-to-one consultations in areas such as networking, resumes or cover letters, and interview preparation.
"We also work with employers to bring opportunities to our students; whether that be job postings, attendance at career fairs or company-specific information sessions, and referrals," he says.
---
2. Technology consultant jobs
Master's in Business Analytics grads can expect to land an array of technology consulting jobs, applying their knowledge of tech systems to help companies find solutions to tech-based issues.
Students in the John Molson MSc in Business Analytics and Technology Management can learn how to develop and blend their analytical, decision-making, critical thinking, and communication skills through the experiential learning opportunities on offer.
John Molson facilitates internships with real companies, case competitions, and even offers students the chance to present their research findings to a panel of experts at the Annual Graduate Research Exposition. These hands-on learning opportunities provide a chance for students to sharpen their specialization and carry this expertise to careers in academia, industry, and beyond.
"The program will make the students great storytellers, capable of making the data and numbers jump off the page, and become relevant and actionable for their employer," Bob says.
Top companies that hire technology consultants include Google, Bain, and Accenture.
Google has even just opened a new office in Montreal, which Bob believes will have many new employees working in analytics.
---
3. Analyst jobs
No matter where your area of interest lies within business analytics and technology management, there's likely to be an analyst role out there for you.
The John Molson Master's in Business Analytics prepares students to take up roles such as systems analyst, market research analyst, process analyst, or management analyst.
Courses, such as 'Multivariate Data Analysis', sharpen students' technical skills while others, such as 'Foundations of Business Technology Management', improves their general management knowledge.
"Employers want candidates who are not only specialists in their field, but they also want them to be able manage projects and others successfully. Through the MSc program, a student will be required to do both," Bob says.
---
4. Logistician jobs
Knowing how to understand data can lead to a career where you use data insights to organize and track the movement of goods or services—this is what a logistician does.
Depending on where you work, you could be involved with suppliers to ensure goods or services are delivered on time, or manage the movement of people such as military personnel.
The Master's in Business Analytics and Technology Management at John Molson offers courses in 'Data Management', teaching students how to use tools, such as Tableau, to visualize complex data sets.
There are also modules in AI and machine learning, helping Master's in Business Analytics students graduate from the program with a broad understanding of how innovative technology tools work in practice.
Towards the end of the MSc, students combine their findings in a research-based thesis on a topic of their choosing.
Master's in Business Analytics programs can provide a set of transferrable skills that can be deployed in a variety of data-driven roles.
If the master's focuses on both managerial capabilities in addition to the more technical aspects, students can graduate to become well-rounded data-driven industry experts ready to launch themselves into a competitive jobs market.
Related Content: