HEC Paris offers the best Master in Finance program in the world, according to the latest Financial Times ranking.
2021 marks the ninth time that HEC has taken the top spot in these Master of Finance rankings, which cover the best 55 pre-experience Masters in Finance (MiF) degrees worldwide.
HEC Paris isn't the only French school to make the top 10 this year. The five highest-ranked programs—HEC Paris, ESCP Business School, Skema Business School, Essec Business School, and Edhec Business School—are all based in France.
Here's our breakdown of the world's best Masters in Finance programs:
---
See the FT's full rankings table
---
Best Masters in Finance | The Winners
HEC Paris' consistent performance in the FT's Master in Finance rankings is largely down to the success of its alumni.
Master in Finance graduate salaries are important to the rankings; on average, graduates from the HEC Paris Master in Finance program go on to earn an impressive salary of $156,583 three years after graduating. This is a 92% increase compared with their earnings when they first graduated.
Other top Masters in Finance programs in this year's rankings boast similar results. Graduates from ESCP's MiF program can expect a salary around $141,984 three years' post-graduation, while Essec grads are paid an average of $120,666 three years on.
Beyond the top five, Europe continues to lead the way in the MiF rankings. Of the top 25 programs, 22 are European, with the remaining spots held by Chinese programs.
The best Masters in Finance program in China is offered by Tsinghua University School of Economics and Management in Beijing, which comes in at number 12 in the 2021 rankings, a few places higher than its 2020 ranking of 15.
Just four US programs appear in the rankings, and none made it into the top 25. In 2020, MIT Sloan placed eighth, but this year the school opted out of the rankings.
London Business School is one of the biggest climbers in this year's ranking, jumping into eight place after not appearing in the rankings last year.
In joint eight place is IE Business School, which jumped up from 12th place in 2020. France's Emlyon Business School jumped 12 places from 27th in 2020, to 15th in 2021.
---
Salary today = salary three years after graduation.
% salary increase = salary after graduation vs three years after graduation
---
Best Masters in Finance programs for…
Based on the FT's ranking metrics, the best Masters in Finance programs in the world for career progression are HEC Paris, followed by Rennes School of Business.
The best program for overall salary three years on from graduation is Tsinghua, with grads earning an average of $166,099 per year. In terms of percentage increase, however, Poland's Kozminski University comes out on top.
Grads from the Kozminski MiF increase their salaries by 93% over the course of three years post-graduation. However, in absolute terms Kozminski grads earn less than other top Masters in Finance programs, with an average graduate salary of $61,207.
The UK's Durham University Business School ranked highest for the proportion of women studying its MiF, achieving a class of 64% female students. Of the top 25, the Shanghai Advanced Institute of Finance performed best in this category, with 47% women in its MiF cohort.
Durham University Business School was joint first with the University of Glasgow's Adam Smith School of Business when it came to international students. Both MiF cohorts comprise 99% international students.
---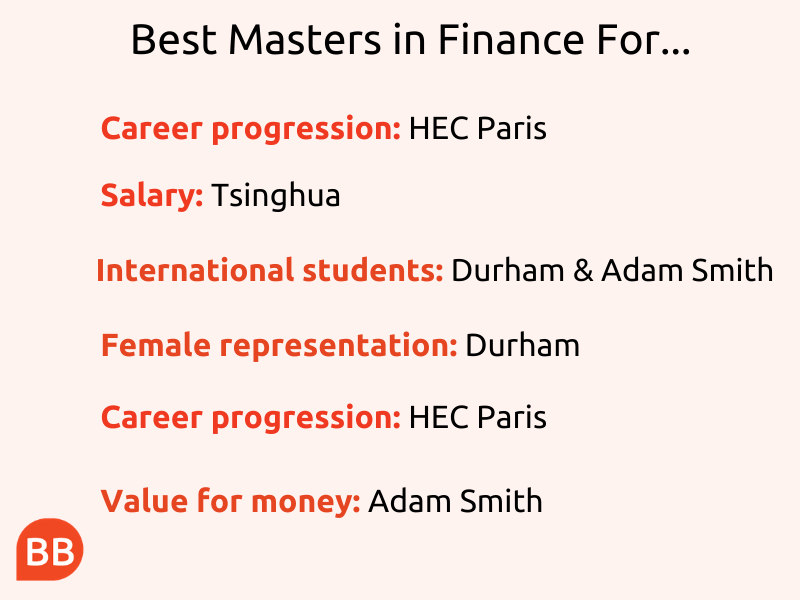 ---
Adam Smith also scored highest in the FT's value for money ranking, closely followed by Durham. Among the top 25 MiF programs, City Business School at the University of London achieved the best value for money score.
The FT's MiF rankings are calculated based on survey responses from alumni who graduated pre-experience programs three years ago, along with school data.
Schools are ranked using 17 different categories, such as alumni salary, international mobility, and employment statistics.
The FT also ranked the top four post-experience Masters in Finance programs using the same methodology. These MiF programs are designed for more experienced professionals.
In 2021, the best post-experience Masters in Finance are found at London Business School, Cambridge University Judge School of Business, Amsterdam Business School, and Singapore Management University: Lee Kong Chian School of Business.
---
FT Masters in Finance Rankings: 2020
---
Next Read:
Is Finance A Good Career Path?
Please Enter the Code Below