HEC Paris offers the best Master in Finance program in the world, according to the latest Financial Times ranking.

2022 marks the 11th time that HEC has taken the top spot in the Master of Finance rankings, which lists the best 55 pre-experience Masters in Finance (MiF) degrees worldwide.

HEC Paris isn't the only French school to make the top 10 this year. The five highest-ranked programs are all based in France, including ESCP Business School, Skema Business School, ESSEC Business School, and EDHEC Business School.

Here's our breakdown of the world's best Masters in Finance programs:
---
Download Our Master's Survival Kit 2022
---
Best Masters in Finance | The Winners
HEC Paris' consistent performance in the FT's Master in Finance rankings is largely down to the success of its alumni.
Master in Finance graduate salaries are important to the rankings; on average, graduates from the HEC Paris Master in Finance program go on to earn an impressive salary of $172,693 three years after graduating. That's a 111% increase compared with their pre-study earnings.
Other top-ranked Masters in Finance also boast impressive salary stats. Graduates from ESCP's MiF program can expect a salary around $155,113 three years' post-graduation, while ESSEC grads are paid an average of $127,967 three years on.
Beyond the top five, Europe continues to lead the way in the MiF rankings. Of the top 20 programs, 17 are European, with the remaining spots held by two Chinese schools and one based in the US.
Oxford Said Business School continues its run as one of the best Masters in Finance worldwide, rising from 10th to sixth place this year.
The best Masters in Finance program in China is offered by Tsinghua University School of Economics and Management in Beijing, which comes in at number seven in the 2022 ranking, up five places from 2021 and continuing an upward trajectory as it finished in 15th the year before. IE Business School maintains its 2021 position in eighth place.
Just four US programs appear in the rankings. M7 business school MIT Sloan returns after opting out of rankings last year to place in joint ninth, the only US school among the top 20. University of Rochester: Simon Business School is the next highest performing US school finishing 43rd.
London Business School entered the ranking for the first time last year and continues to perform strongly, placing ninth in 2022, joint with MIT. Further down the ranking, Canada's McGill University Desautels climbed 11 places—the most this year—to place in 25th.
---
---
World's best Masters in Finance programs | Breakdown
Based on the FT's ranking metrics, the best Masters in Finance programs in the world for overall salary three years on from graduation are MIT Sloan where grads earn $147,752, narrowly followed by Tsinghua, where graduates earn $174,729.
HEC Paris grads earn slightly lower at around $172,000, however in terms of percentage increase the school comes out on top with an average of 111%.
The FT ranks Swiss-based Università della Svizzera Italiana (USI) top for career progression, followed by Warwick Business School and EDHEC. For the fourth time in a row, ESCP's career service ranks higher than any other school.
The UK's University of Edinburgh Business School ranks highest for the proportion of women studying its MiF, achieving a class of 61% female students. Of the top 25, it's Oxford Said who performed best in this category, with 49% women in its MiF cohort.
Another UK institution, Cranfield School of Management, came top for the number of international students with a total of 98%. Both Oxford Said and EADA Business School in Barcelona placed second with 97% international students.
A trio of Swiss schools scored highest in the FT's value for money ranking; with Lucerne School of Business placing top, followed by University of St Gallen and HEC Lausanne University. That means St Gallen achieved the best value for money score among the top 20 programs.
---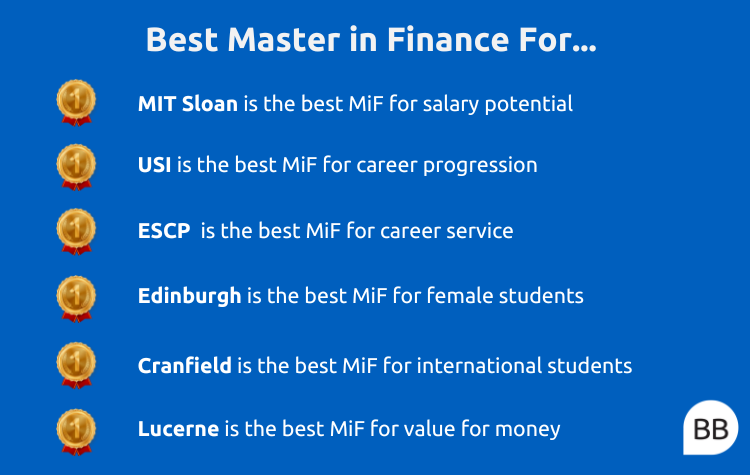 ---
The FT's MiF rankings are calculated based on survey responses from alumni who graduated pre-experience programs three years ago, along with school data. Alumni responses make up 59% of each school's score, with school data constituting the remaining 41%.
Schools are ranked using 16 different categories, broadly covering areas including salary and career progression, diversity, international opportunities, and faculty expertise.
The FT also ranked the top three post-experience Masters in Finance programs using the same methodology. These MiF programs are designed for more experienced professionals.
In 2022, the best post-experience Masters in Finance are found at London Business School, Cambridge University Judge School of Business, and Singapore Management University: Lee Kong Chian School of Business.
---
Next Read:
Is Finance A Good Career Path?