Walk around the INSEAD campus in Fontainebleau, France, and you'll see students wearing coronavirus masks emblazoned with the INSEAD Master in Management (MIM) logo. Everyone in the inaugural INSEAD MIM class is wearing one.

The idea started on a WhatsApp group the MIM students created and added their peers to as they were admitted into the program. Loïc Schreurs—a student on the program—mentioned the idea of INSEAD branded masks and the group loved it. The ball was set in motion.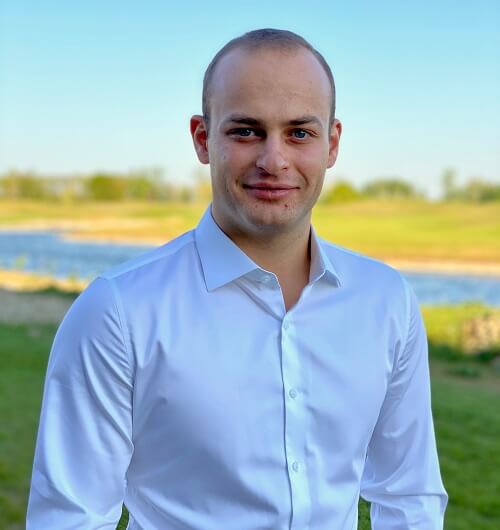 Adam Margulies—another student—has experience in manufacturing with his family's business in Vietnam. The group formulated a business proposition, set up a Zoom meeting with program director, Thibault Séguret, and pitched the idea.
INSEAD were onboard and granted the students unlimited access to their branding and logos. After confirming a design with the group, Adam (pictured right) then organized manufacturing and safety certification before the masks were shipped to campus.
The togetherness of the group over health and safety exemplifies a level of maturity that Thibault (pictured below) says makes the inaugural INSEAD MIM class at times indistinguishable from the school's MBA cohort.
BusinessBecause caught up with INSEAD MIM students and faculty to find out more about the new MIM program.
---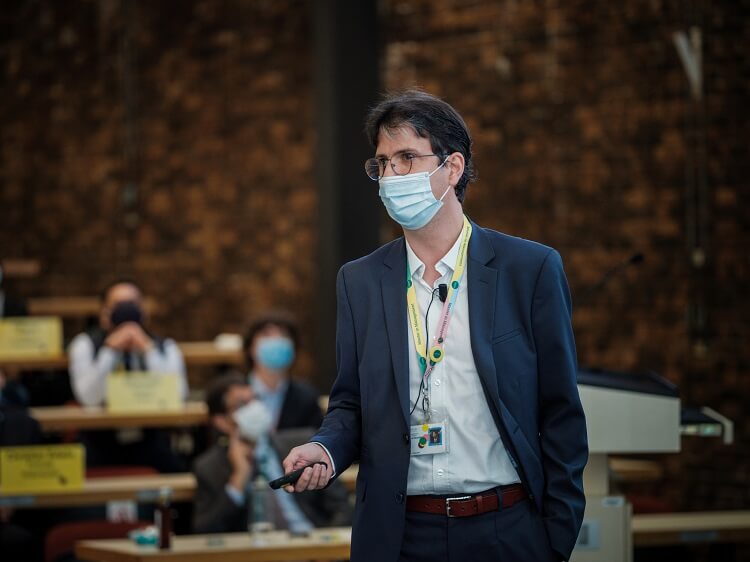 ---
INSEAD MIM: Class Profile
The idea for INSEAD's MIM program came seven years ago—it's been a lengthy process, explains Thibault, who joined the school in 2018.
"It was evident that we needed a MiM program to stay true to who we are," he says. "We picture ourselves as community builders, bringing talent together and transforming people into responsible leaders.
"Seven years ago, it became obvious that we were missing out on a talent group that would not necessarily end up doing an MBA. They were innovative and wanted to create a positive impact on the world, so we needed to include that age group to continue our mission."
---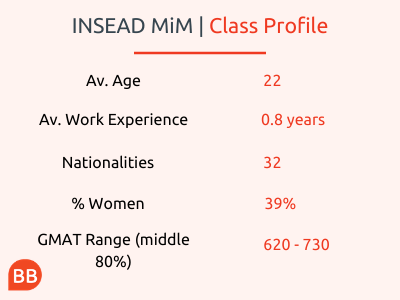 ---
The INSEAD MIM lasts 14-to-16 months—10 months of classes split between INSEAD's Fontainebleau and Singapore campuses, and four-to-six months of work experience. The average age of students is 22, with an average work experience of 0.8 years.
There are 32 nationalities in the 97-student program. The gender split is 39% women to 61% men.
Thibault admits the school had prepared for multiple scenarios related to COVID-19, but he never had any doubts they wouldn't launch the program. The start date was pushed back to September 1st after the French government gave higher education institutions permission to reopen from the Fall. The original date was mid-August.
Before the program launched students took pre-courses in the art of communication, and programming languages Python and R. There was also an optional language course, and a management module also taken by the INSEAD MBAs.
---
INSEAD MIM: Cost & Admissions
---
The tuition fee for the INSEAD MIM is $55,928 (€47,500) and there's an application fee of $211 (€180). The application process consists of six stages:

Stage 1 – Online Application
Stage 2 – Video Interviews
Stage 3 – Status Notification
Stage 4 – Interview
Stage 5 – Admissions Committee Evaluation
Stage 6 – Final Decision
All candidates are required to submit a GMAT or GRE score. There is no minimum GMAT score required to submit an application, but the GMAT is one of the elements the admissions committee considers when evaluating an application. The current class has a middle 80% range of 620-730. For the GRE, the committee expects percentiles above 80% in both the verbal and quantitative sections. The Master in Management is for students with little to no work experience. The current average is 0.8 years.
---
---
Application Deadlines:
---
INSEAD MIM: Students & Network
Belgian-born Adam was schooled in the UK before studying a BSc in Management at the London School of Economics. After graduating he went to work for his family's manufacturing business in Vietnam before returning to Europe for the Master in Management.
While working for his family's business he felt his development plateaued, which is why he sought out the Master's in Management. Every day is intense, he explains, with a lot of groupwork testing students' ability to think and manoeuvre cultural and personality differences.
"It makes for a really interesting discussion," Adam says, "as my classmates have ideas that hadn't even begun to cross my mind. The big thing about groupwork with the same group is that you get a feel for group dynamics and working under pressure. You begin to understand your limits and learn to trust your group and listen to other people's ideas."
---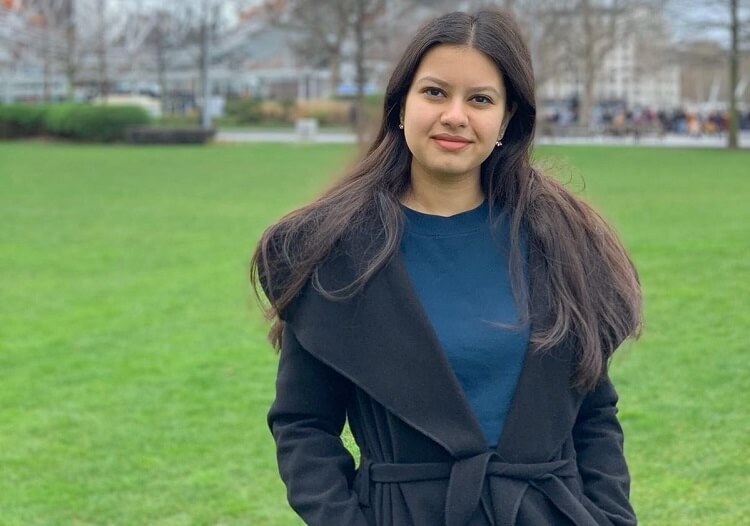 ---
Arshiya Ratan—another student on the MIM program—agrees. "You get to learn a lot from your cohort," she says. "It's one of the benefits of being here—the amount you learn just by being present, there's no parallel to it."
Arshiya (pictured above) studied a bachelor's in economics and management at Kings College, London, before joining the MIM program. She says that the schedule is hectic and academically rigorous, but there is a culture of support among her peers at INSEAD that drives students on.
"Your peers are an asset to you," she says. "Every time I have a problem I'm able to look at it from a different perspective, which comes from interacting with people who have been excellent in their different fields."
Students also have access to INSEAD's network of 60,000 plus alumni—which allows them to acquire knowledge on the core competencies companies are looking for as well as hone their interview skills. Alumni also recommend students for roles in their companies.
---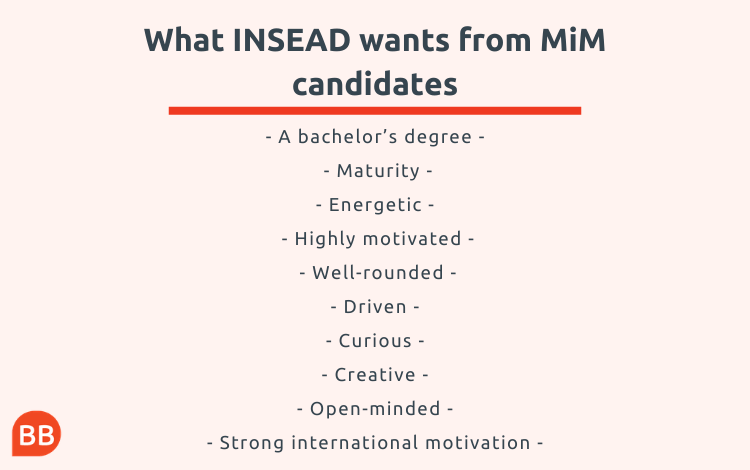 ---
INSEAD MIM: Curriculum & Professors
Students have so far taken core modules in Marketing, Financial Accounting, and Data Analysis, and an Integrated Problem Solving workshop.
Later in the program optional field trips take students to Abu Dhabi to learn about doing business in the Middle East; to China to learn about innovation; and to San Francisco to learn about entrepreneurship in Silicon Valley.
Thibault explains that these trips are visa dependent and their happening currently rests on the pandemic situation with regards to international travel.
INSEAD MIM students also have an array of electives to pick from. These range from Strategy and Investing in Impact, New Business Ventures, Business Sustainability Thinking, and Artificial Intelligence.
In the last two weeks of each period students are taught through a hybrid model of in-class education, experiential learning, and real-world application. Professors will lecture students on a single topic, immerse them in the practical applications of their learning, and then companies will come in and challenge students to solve a real-world business problem using the knowledge they've acquired.
"When it comes to doing, which is what recruiters want, this method forces you to apply what you have learned," Thibault explains. "You then get young people who get actual work experience, which is what they need most."
---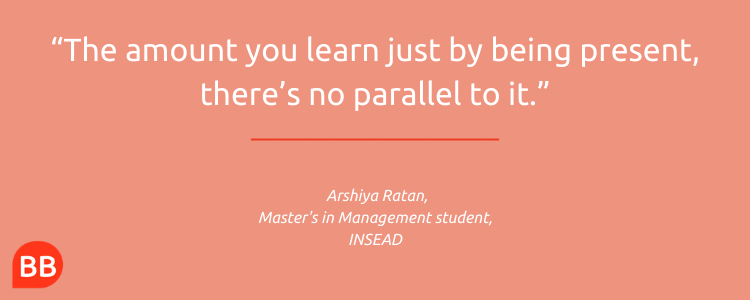 ---
Applying this approach at the end of each period teaches students to solve problems across each business function—it means when they enter the world of work, whether they work in finance, or marketing, they know how the rest of the business department's work and think.
"It addresses the needs of companies who say young graduates are oblivious to what's happening around them when they first join—it's not just about what you do but about bringing teams together and understanding the needs of each department," Thibault continues.
All of the professors teaching MIM students have extensive research backgrounds in their individual fields—five of INSEAD's faculty were listed among the Case Centre's top 40 best-selling case authors in 2018.
Professors also combine their academic expertise with industry knowledge which exposes students to practical teaching examples.
"I feel like there's a gap that needs to be filled in a lot of institutions in that regard," Arshiya explains, "and learning through the personal experience of professors at INSEAD tells us what we can expect to see once we enter the business world."
Real world application of theory will help both Arshiya and Adam in their future careers beyond the MIM. Arshiya is looking to enter consulting, as is Adam—for a while at least, until he returns to his family's business to apply what he's learned to help the business grow.
---
Read: Why The INSEAD MBA Is Still Worth The Investment
---
INSEAD MIM: Impact of COVID-19
The pandemic is the perfect case study from which students can learn, thinks Adam. It's happening in real-time with a level of unpredictability that pushes the limits of crisis management.
"It's something companies are dealing with right now," Arshiya adds, "and we're seeing first-hand how it's affecting operations. It's something we need to understand as it will have a long-term impact on strategy for every business coming out of the pandemic. In class we've been trying to understand how things would be done differently now."
The approach to education, the network you build, and the practical experience all mean that you come out of the program a completely different person than when you entered, Arshiya believes—it's challenging her in a way she never thought she'd be challenged.
Launching the program has paid off, thinks Thibault, something that is clear to him just a month in.
"The past month has really been a test. We were watching these young kids to see if they would fit in, succeed, manage the workload and intellectual wealth of INSEAD, and if they would resemble the MBAs—the parallels are astonishing."
---

The INSEAD Master in Management program is a degree which takes the rigor and academic expertise of the school's MBA program and builds that into a master's in management that demands maturity, commitment, and personal and collective ambition from its students. It's a degree for students with little to no work experience who want to accelerate their careers without taking large amounts of time out of education.
The school's approach to learning, which gives students in-class education, experiential learning, and real-world application, means this is the program for you if you want to quickly build professional maturity across a range of business departments. There's also the major pull of INSEAD's 60,000 plus alumni network.
It's still early days, but if INSEAD gets it right, expect to see this program make its way into the master's in management rankings in the years to come.

---
NEXT READ:
Is Now A Good Time For A Master's In Management?