Carl Warkentin started his sustainable sneakers business as a hobby during his master's degree at Bocconi University. Now, he's CEO of Monaco Ducks, the first climate neutral sneakers brand.

Carl worked in his native Germany, the United States, and travelled in South America after his undergraduate degree in business. He undertook internships in consulting, product management, and business development roles at multinationals like L'Oréal and Voith.

Despite his dynamic early career, Carl wanted to hone his management skills and embark on a new adventure.

He enrolled in Bocconi University's MSc in International Management, excited to see where his business school journey would take him.
---
Bocconi MiM | Learning from multicultural perspectives
The two-year Bocconi University Master in Management is ranked first in Italy and 16th globally by the Financial Times. 98% of Bocconi MiM students land exciting new jobs within a year of graduation and 78% by graduation day.
Carl recalls the benefits of studying in Milan during his first year, where he was joined by a cohort of multicultural students. Bocconi University students come from over 100 countries worldwide and Carl was able to learn from a range of different experiences, cultures, and ideas.
"I chose to study at Bocconi for two reasons," he explains. "First, I knew the university had a great program which was well-recognized. And secondly, I wanted to study in a city I felt comfortable in and felt excited about.
"Travelling abroad before my master's program really encouraged me to want to be outside my comfort zone, so that I could learn to bridge different cultures," he says.
Even today, Carl uses his Bocconi experience to drive Monaco Ducks forward, communicating with different companies across Europe to create his sustainable shoe wear.
Most of his sneakers are handmade in Italy, in a traditional, family-run factory. Monaco Ducks also partners with a factory in North Portugal, which uses vegan materials to make the sneakers.
Monaco Ducks produces net-zero greenhouse gas emissions in the manufacturing process and with each sale the company makes a contribution to environmental protection—making the entire company 100% carbon neutral and climate neutral, the Monaco Ducks website claims.
---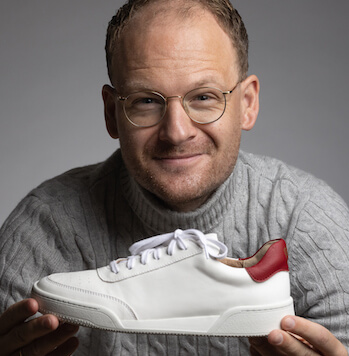 ---
Bocconi CEMS MiM | Stepping outside your comfort zone
After studying the fundamentals of management in his first year in Italy, Carl decided to join the one-year CEMS MiM degree program in his second year.
Bocconi University is one of the founding members of the CEMS MiM, a global program with 33 partner universities and around 70 corporate partners. Bocconi MiM students who complete the CEMS track in their second year are awarded both the CEMS MiM degree and the MiM from Bocconi.
The CEMS MIM program is offered Bocconi MiM students who can speak at least three languages. Once enrolled, you're given extra courses, you travel abroad, and you get the chance to be trained by companies during real-life consulting projects.
Carl chose to study in Hungary, at the Corvinus University of Budapest. "Studying in a different city really helped to shape my mindset," he explains. "I was able to tackle a project as a consultant in a team full of international minds, which really helped to motivate me and helped to gain my self-esteem."
Being given a lot of responsibility at a very young age, Carl's ability to take on new projects and step outside his comfort zone was crucial for the success of his sustainable sneakers company, he says.
After graduating, Carl returned to work at German manufacturer Voith. Put in charge as an organizer of a new corporate division with 1,600 employees, he worked to digitize the company's manufacturing processes.
But Carl grew disenchanted following his quick climb up the corporate ladder. He wondered whether to bite the bullet and start his new sustainable sneakers venture.
"Monaco Ducks started as a hobby during my time at Bocconi," he recalls. "Back then, everyone was laughing at the co-founder and myself, because nobody really wanted to have a sustainable product.
"But I wanted to innovate the industry and make it more sustainable. Once our project gained enough momentum, I took the opportunity and quit my job."
---
Watch: From a Bocconi Master in Management to IBM
---
MiM to CEO | Building Monaco Ducks
When choosing between business schools for his MiM, Bocconi University also stood out to Carl for its teaching of corporate strategy.
When Carl undertook Bocconi's compulsory course in Corporate Strategy, he was able to work on business strategies for real, international companies.
"In one of our projects, I worked on a growth strategy for an Italian car-sharing company," he recalls. "My team chose to grow the company through a wider product offer and grow the company internationally."
Now, Carl uses these the same strategy skills and knowledge he learned at Bocconi when building his own business venture. Monaco Ducks currently runs on a small scale in Germany, but Carl is planning to scale his business to become a global brand.
With his sustainable, environmentally-friendly sneakers startup, he hopes to challenge established brands and change the fashion industry for the better.
Related Content: