Growing up in a small town in Spain's mountainous Asturias region gave Miriam Llano big plans.
Asturias was home from the moment she entered school, until the day she graduated with a bachelor's from the local university. But, as an undergraduate in international business and marketing, Miriam felt it was time to kickstart a new path.
With an eventual goal to live and work in a new country, Miriam decided a master's degree at business school would provide a platform to help achieve her aims.
Her criteria when deciding where to study?
"I knew that I wanted to go big. I wanted to go to the best school that was possible."
---
Why IE Business School?
A key reason for opting to study a business master's degree was the highly theoretical education Miriam gained as an undergraduate.
Her bachelor's at Universidad de Oviedo, one of Spain's public universities, was rooted in books and academia and she felt she needed more practical knowledge to enter the world of work.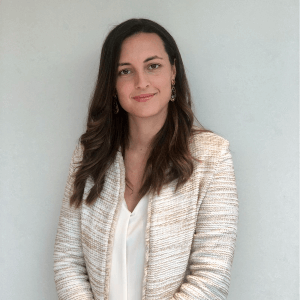 Searching for the right place to study, Miriam was attracted to the industry links that IE Business School boasted, particularly the credentials of faculty and teaching staff.
"Many of them were a blend between a professor and a private sector employee, at a multinational or an entrepreneur. They were people that had touched both worlds," she explains.
Enrolling at IE, one of Spain's top-ranked business schools located in the country's capital city, was exactly the type of move she felt was necessary to kickstart her new journey.
"From where I was standing, I really needed something big for me to be able to catapult to the next level."
---
Studying at a top global business school
Miriam enrolled in the Master in Management (MiM) at IE. Ranked among the world's top 20 programs by the Financial Times, the IE MiM is a highly international degree—the current cohort comprises 90% international students and more than 44 nationalities.
Shortly after arriving in Madrid, Miriam was immediately struck by this diversity: "The fact that I was surrounded by people all over the world in my intake, it was absolutely fantastic to have that wonderful mix."
The MiM program at IE combines an in-depth focus on generalist business topics with extensive career support including CV and cover letter workshops, career success classes, and a variety of networking events. A degree lasting just 11 months, Miriam set herself the goal of landing a job with a top international corporation after graduation.
But business school can be unpredictable. Unaware of IE's strong focus on entrepreneurship—the school offers in-depth entrepreneurial training, support, and even startup incubators—she was quickly swept up within the entrepreneurial environment.
"I didn't know the impact the massive focus that IE has on entrepreneurship would have on me," she says. "It really prepares you to not only be ready for the entrepreneur life, but to want to go for it. It puts that kind of entrepreneurial spirit inside you."
---
From corporate success to launching a startup
Miriam opted to stay true to her goals when it came to graduation. She accepted a job offer in the UK with architecture and design multinational, Cosentino, working within the firm's marketing department.
Starting as a marketing assistant, within a year Miriam was offered the opportunity to take on a new role at the company, this time in Dubai.
Relishing the chance to gain more international experience, she took the job. The decision began a seven-year stint among the city's luxury shops and skyscraper-filled skyline that would culminate in Miriam gaining the title of regional marketing director.
"That goal that I'd set in my mind one day—to finish my university degree and climb the corporate ladder—it really happened," she says.
But the spirit of entrepreneurship that began to form at IE never left. After achieving her initial goal, in early 2023 Miriam decided to take a leap and launch Amphora, a marketing consultancy specializing in the architecture and design industry.
In the few months since, Miriam has grown the business from a one-man band to a team covering strategy, events, PR, and digital marketing. Operating as the company's managing director, her day-to-day looks considerably different to life at Cosentino, and requires a new set of skills.
"You really need to be on top of everything, from your human resources, to your finance, your accounting, and your legal departments," she explains.
But, she adds, the broad business curriculum taught at IE prepared her for the task. She has also relied heavily on the support network she developed, particularly the IE alumni community which includes industry leaders and company executives and spans as far as Dubai.
Reflecting on her journey, Miriam feels the school played an integral role in preparing her for both the corporate and entrepreneurial spheres, while also providing opportunities for success.
But taking them was down to her, she says: "It's really up to you and if you want to squeeze it to the max and get the most out of it."
Related Content: