HEC Paris isn't just one of the top business schools in Europe, it's among the best in the world. The school's MBA program ranked seventh in the Financial Times' Global MBA ranking in 2021, finishing among the top three European programs.

The school has a strong reputation for academic excellence and is renowned as a hub of entrepreneurship, 25% of students go on to start their own businesses after graduating.

Located in Paris—home to some of the world's most recognizable brands including the likes of Louis Vuitton and Chanel—HEC Paris also has strong ties to France's luxury sector.

Unsurprising given its top ranking. The HEC Paris MBA attracts thousands of applications each year, while accepting just 20% of candidates. Successful applicants have an average GMAT score of 690, a reminder of its rigorous academic environment.

So, how you can you improve your chances of application success at HEC Paris? BusinessBecause spoke to Benoit Banchereau (pictured) executive director of communications, marketing and admissions, to find out how you can ace your MBA application.
---
What do you look for in your MBA applicants?
We seek candidates with overall excellence. We want our candidates to have at least two years of professional experience and to have shown career progression and leadership potential.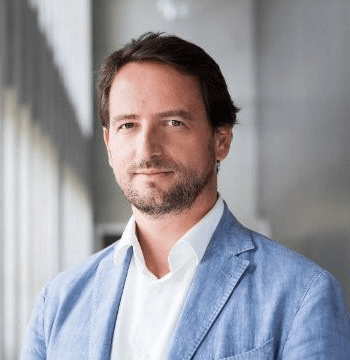 Our candidates are well-rounded, high-achieving individuals, whose past experience can add value to their classmates. International exposure and experience is a plus as we want to be sure that candidates fit into our diverse and global program.
Our MBA students have very varied and diverse professional backgrounds and we like to ensure that our class is made up of people from various industries and functions so that they can learn a lot from each other.
---
What are the main things candidates can do to write a better MBA application?
1. Be genuine
Be clear in your CV and with your career goals. Be genuine; please don't tell us what you think we want to hear! Don't forget to include the languages you speak and any interests or hobbies that are important to you—they make you memorable.
2. Have an open-mind
Demonstrate your open-mindedness. Let us know if you have lived, studied, or worked outside of your home country and what this experience has meant to you. Or tell us about your personal travels, or work experiences in which you dealt with other cultures.
3. Make the most of your essays
Use your essays to show us the real you. This is a place to share your experiences and ideas with us.
4. Choose your reference wisely
Choose the right references. When possible, you should select professional references, rather than friends or professors.
5. Study!
Study for the GMAT or GRE. We accept both and have no preference between the two tests. Take several practice tests, keeping in mind that taking the actual test is always a little more stressful, so your scores might be lower than in your practice tests.
6. Impress our alumni
Candidates chosen for the pre-selection round will meet two HEC Paris MBA alumni. This is your opportunity to gain more insight into the HEC Community and be inspired by our graduates. It's their opportunity to determine if they would want you as a classmate.
---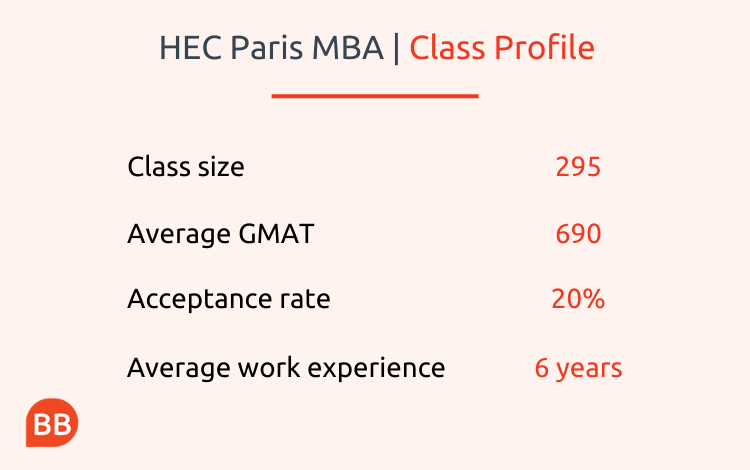 ---
HEC Paris 2021 MBA Essay Questions
1. Why are you applying to the HEC Paris MBA Program now? What is the professional objective that will guide your career choice after your MBA, and how will the HEC MBA contribute to the achievement of this objective? (500 words max.)
2. What do you consider your most significant life achievement? (250 words max.)
3. Leadership and ethics are inevitably intertwined in the business world. Describe a situation in which you have dealt with these issues and how they have influenced you. (250 words max.)
4. Imagine a life entirely different from the one you now lead, what would it be? (250 words max.)
---
What's the strangest thing you've seen in an application?
We love to see applicants who know and specify 'why HEC Paris' in their application. From time to time, we see those who have copied and pasted, and left another school's name. This is unfortunate as it doesn't show us why HEC Paris is the right fit for you.
Some of our candidates have sent us videos for their optional essay section. These are always fun and interesting and have ranged from musical talents, to a tour of their hometown, to 'why HEC', to a magic trick!
---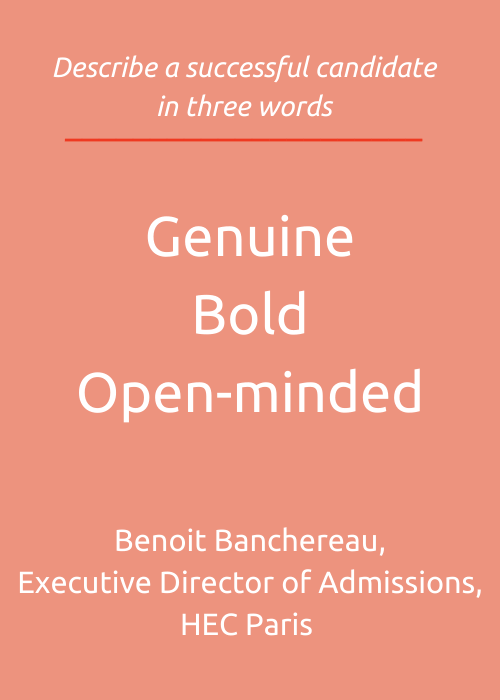 ---
What questions should candidates expect in their admission interview?
Our admissions interviews work in two ways—we get to know the candidate better but the candidate also gets to know the program better and this helps us all decide if the candidate is a right fit for the program. Prospective candidates should use all of the resources available to find out more about our school and our program prior to their interviews.
Candidates can connect with current students from their region or industry in order to gain a better understanding of the university's culture and to decide if the program is the right fit for them. They can expect to be asked questions about their experience, why they want to attend our program and what they know about the program so far.
---
What's one thing about the HEC Paris MBA application process that most people wouldn't know?
Our rolling admissions process guarantees candidates a quick response to their application. Candidates know if they have been admitted to the program within 5 weeks of submitting their application.
---
What's your top tip for HEC Paris MBA applicants?
Be yourself—show us the real you!
Related Content: