When Harvard Business School launched the world's first MBA program in 1908, the 33 students and 15 faculty members all had one thing in common: they were all white men.

Business schools today make a concerted effort to increase diversity—of gender, nationality, and race—in their cohorts. A quarter of Harvard's MBA class today consists of US ethnic minorities. And yet, schools overall are still lagging.

African Americans, who make up 13.9% of the US millennial population, make up less than 8% of business school candidates who take the GMAT, the world's leading business school admission test. Hispanic Americans, 20.8% of the millennial population, constitute just 7%.

The same underrepresentation still exists for women. Across the top 100 MBA programs in the US, female students make up just 34.8% of the class on average.

From the corridors of Harvard's Baker Library to the Corinthian columns of Sussex Palace at London Business School, it's easy to think of one word—prestige. But the flipside of prestige is something darker—elitism.

While the MBA is said to offer a ticket to business success, are the opportunities equal for everyone? Is the MBA still elitist?
---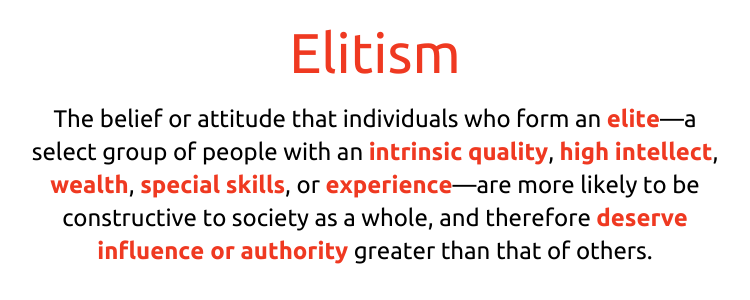 ---
Underrepresented groups
For many people, business school isn't seen as a legitimate choice.
"People lack a mindset that business school is a real option for them," says Aidan Currie, executive director of Reaching Out MBA (ROMBA), a global association for LGBTQ students and alumni.
For underrepresented populations (URPs), Aidan says a major problem is not having other people like them in business schools or in senior management positions.
One thing detracting URPs from business school may be the cost of an MBA—identified by the Graduate Management Admission Council (GMAC) as the second most important selection criteria for URPs.
70% of URP students identify grants and scholarships as a planned funding source, compared to just 49% of non-URPs. Minorities, meanwhile, are 50% less likely to fund business school through parental contributions than non-URPs.
The reward is also not the same, with a racial pay gap persisting for graduates. A white MBA graduate can expect to earn on average $117,834 a year after graduation, while minority graduates will earn 16% less, according to the Forté Foundation.
This widens to a pay gap of 52% when you compare white male graduates with minority female graduates.
John Benjamin, MIT Sloan MBA graduate and writer of the New Republic's The Bankrupt Ideology of Business School, claims these programs are designed around a system dominated by elites.
An unwavering belief in shareholder capitalism, he says, creates a belief system which is profit-oriented and elitist, evident in the high number of graduates in the high-earning finance or consulting industries.
"A real type of diversity is a diversity of thought, of beliefs, of how your mind works. If there is no variety in how people think, then that's a detriment to how you are learning," he urges.
MBAs in this sense, John suggests, are a bootcamp for the elite.
---
Addressing the problem of elitism
---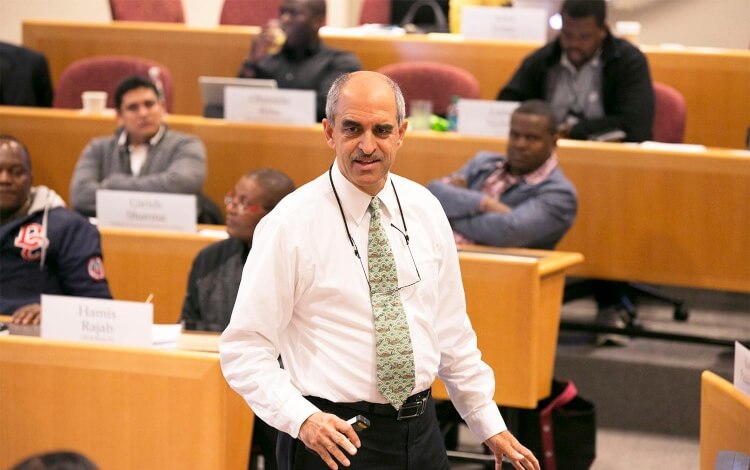 © HBS via Facebook
---
The world's leading business schools are looking for new ways to adapt and overcome the challenges they face with regards to elitism.
Haas School of Business at UC Berkeley, which has faced diversity challenges in its diminishing numbers of African American students, last year issued a diversity, equity, and inclusion (DEI) action plan.
The school hired a DEI Officer, reporting directly to the dean and responsible for executing the plan, which includes increasing scholarship funding for URP candidates and establishing a Diversity Admissions Council.
"A lot of diversity roles are what I would call 'diversity eye candy'— individuals who come in and make the organization look good, without making real change," discloses Dr David Porter, Haas' recently appointed DEI Officer.
But David was impressed by the thought and motivations behind the DEI action plan. "It recognized that the admissions process has inherent biases which needed to be addressed. It also made some quick changes that were critical to impact the incoming class," he says.
Owen Graduate School of Management at Vanderbilt University is taking a more grassroots approach to the structural problem of why minority and working class students don't see business school as a viable option.
The school's Youth About Business program introduces business concepts and leadership to high school students from mostly ethnic minority or low-income backgrounds.
The results speak for themselves—with a 98% high school graduation rate, a 90% college completion rate, and 70% going into careers in business.
---
So are MBAs elitist?
Outwardly, most MBA programs are no longer elitist. Business schools offer scholarships and run initiatives which open themselves up to people of all backgrounds to ensure that the same opportunity is publicly offered to all.
The problem is that, despite their efforts, top business schools are still perceived as elitist. MBA admission criteria demands strong undergraduate degrees, years of work experience, and a level of financial mobility which is more available to elites.
Accusations of elitism plague business schools and universities alike. The problem is also a societal one. How far a responsibility business schools have in changing societal structures is up for debate.
Business schools have made great progress in recent years, but in overcoming perceptions of elitism they still have some way to go.