Sarel van Baalen's pursuit of an MBA at Oxford Saïd Business School has been a long time coming.
He's been a keen entrepreneur from a young age. As a student at an all-boys boarding school in South Africa, he quickly found a way to make money.
His growing, teenage peers would always get hungry in the evenings. So, Sarel decided to use the small, unused storage room near his accommodation to open a tuck shop—with the headmaster's permission, of course.
Grown up, Sarel moved into civil engineering, with a bachelor's degree followed by a master's in engineering management. He's spent the last five years working his way up to a development manager's position at a construction company in Johannesburg, South Africa.
He now wants develop his skills, knowledge, and network at Oxford. But he is currently facing one big hurdle—the £57,200 ($70,000) tuition fees.
---
Why crowdfund?
Landing on Sarel's MBA fund webpage, you're met with an offer. 'Venture with me to Oxford', it says—tempting.
Those who do donate are given something in return (see below), part of Sarel's charm offensive to encourage the masses—incentives are key, he adds.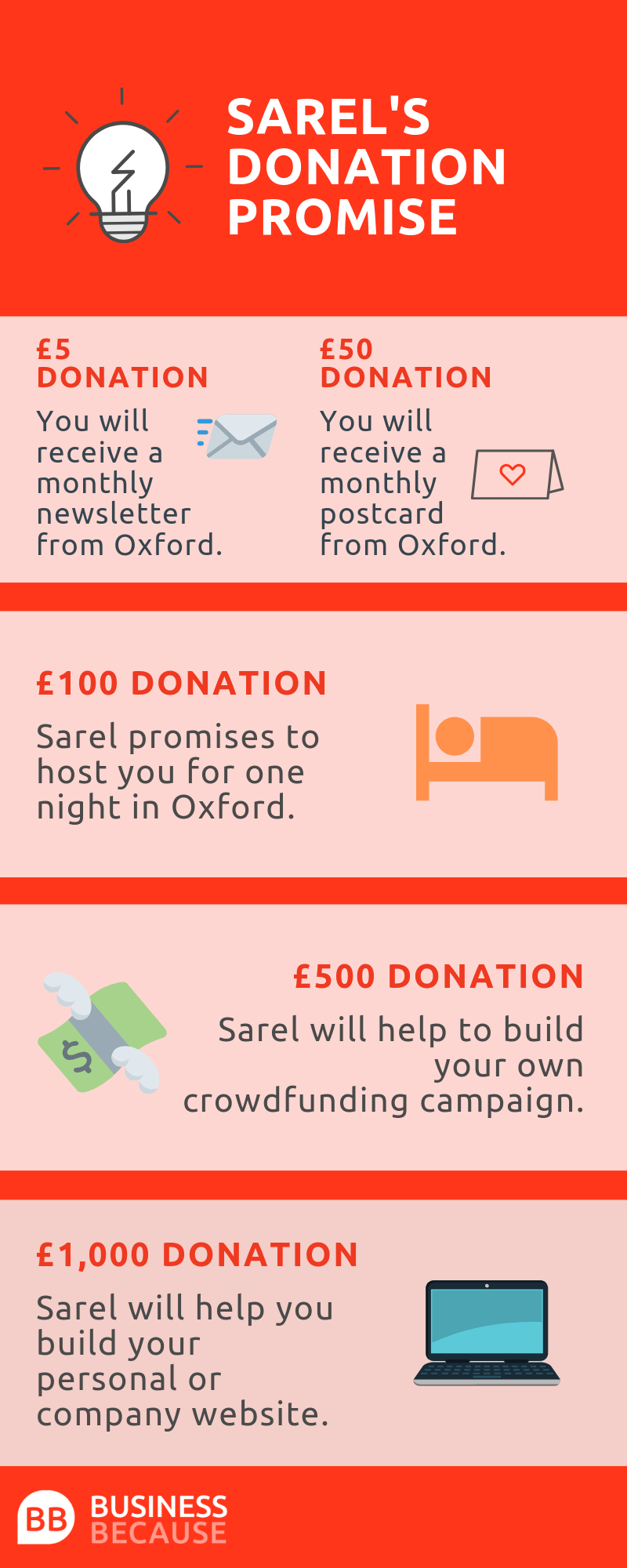 His £7,200 ($8,800) in savings and a £15,000 ($18,000) scholarship from the Saïd Business School Foundation started his funding journey. But he realized that he needed a lot of help if he was going to fund the remaining £35,000 ($43,000).
Crowdfunding wasn't his first option. He considered a loan but soon ruled it out. Too pricey; too much interest.
According to Bloomberg Businessweek, around 40% of MBA graduates from top-ranking business schools endure at least $100,000 in debt through borrowing money.
While return on investment is high for an MBA, this return isn't guaranteed until the end of the one or two-year program.
After some extensive research, Sarel came across several successful crowdfunding campaigns and reached out to the creators on LinkedIn for advice.
"If it was possible for them to do it, surely I should give it a chance?" he thought to himself.
Nearly a year later, he is now just over £22,000 ($27,000) away from his desired target. He's starting at Oxford this month.
"I'm not asking other people to give me money," says Sarel.
"I'm putting my case out to the world and inviting people to look at the case, look at something that they can connect or associate with, and feel that they would like to invest in this venture of mine. That's really my approach."
---
Using an MBA to make an impact
Africa needs an infrastructure revolution, says Sarel. With an Oxford MBA, he wants to provide that, helping to resolve the continent's problems in water, energy, transport, and real estate.
In order to bridge its infrastructure gap, Sarel states that Africa must spend $130-to-$170 billion yearly. The continent is currently short by 60%, he adds.
Sarel aims to bridge this gap by using foreign investment, new technology, and local human capital across infrastructure projects within the continent.
'Each donation is an investment in the venture', Sarel states on his website, putting him one step closer to his ambitious goals.
The investment theme is an idea that he picked up from Peter Cohen, one of the individuals he had reached out to on LinkedIn.
Peter, a Cass Business School alum, created a crowdfunding page that allowed visitors to donate funds and expect a return within three years.
The idea came about as a solution to the 2011 global financial crisis, which affected the MBA loan scheme and investors alike.
Sarel was also inspired by an Oxford MBA alum, Jayanth Kashyap, who advised him on the look and feel of his website.
"I've actually implemented a lot of the changes he suggested," Sarel says.
Jayanth told him the website's message was too formal and too much like a business pitch.
"He said that you have to bring in a personal element and show who you are, and what you're all about, [rather than] what the MBA is about or what Oxford is about."
Sarel's cause has been shaped by this advice, and he now sees crowdfunding as a viable option for future MBA candidates to strongly consider.
"There are so few of us that actually aspire to go to Oxford. You eliminate that option, especially with the exchange rate for international candidates, because it's so difficult to pay for tuition.
"Crowdfunding will open up the possibility of doing an MBA for a lot of people," he says.
Please Enter the Code Below