At the end of the first year of her undergraduate degree in philosophy, psychology & business, Francesca Spoerry worked an internship for Lehman Brothers focused on corporate social responsibility.

She worked there between July and September 2008. On September 15th, 2008, Lehman filed for bankruptcy, one of many self-inflicted wounds at the hands of the finance sector.

After university, Francesca moved into a collateral risk role with Morgan Stanley. She was charged with ensuring the bank had enough capital in reserve should 2008 repeat itself.

Seeing the negative impact finance and financial institutions could have on people persuaded her to pursue a career in sustainability and corporate social responsibility.

After an MBA from Copenhagen Business School, she was able to do just that. Francesca is now program manager at The Global Steering Group for Impact Investment (GSG).

GSG is a nonprofit intent on solving social and environmental issues through impact investing: investments made with the intention to generate positive, measurable, social and environmental impact alongside a financial return.
---
How you can make the most of an MBA
Francesca (pictured below, right) was after a degree with a strong combined focus on business and sustainability. An MBA prevailed because she was keen to develop a rounded business education and transition away from the large corporate world she was used to at Morgan Stanley.
Copenhagen Business School was the only school she applied to—the strong sustainability focus, corporate social responsibility modules, and small class sizes all stood out, she explains.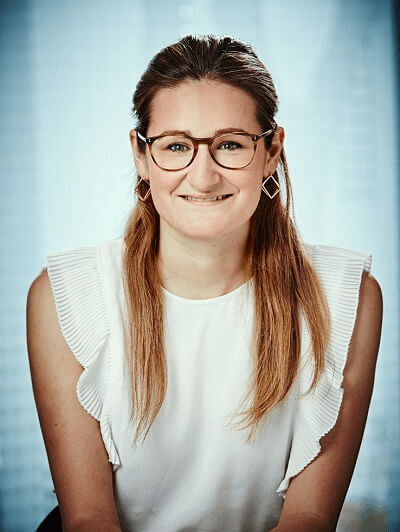 MBAs on the Copenhagen Full-Time MBA can also now personalize their degree, to specifically combine their business acumen with an area of interest.
Alongside the core curriculum, they choose from a personalized track in finance, digitalization, entrepreneurship, or governance and sustainability, and take these classes during the final leg of their MBA. The final term track classes are taken alongside students from Copenhagen's Executive MBA students.
"It changed my career path to exactly what I wanted to do," Francesca says. "I went from a company of more than 50,000 people, whose main purpose was to create more value for shareholders, to a startup company of five people supporting social enterprises committed to tackling environmental problems"
That was immediately after the MBA. Francesca landed a role with Green Tech Challenge, a social enterprise that helps green companies scale. She worked within investor relations and business development.
How she landed the role is a lesson in how you should approach an MBA, she says. You need to have a proactive, entrepreneurial attitude during and after the program, and be strategic about the roles you take immediately after the MBA.
She came across a social impact conference in Stockholm, but the cost of the ticket was too expensive for her as a student. So rather than miss the conference, Francesca contacted them and offered to work their reception, or run their social media channels, and to note take during each session. She would do it free of charge in return for a ticket.
Lo and behold they accepted her offer, and she took the train to Stockholm to work. While she was there, she met the founder running Green Tech Challenge, and that is what led to her six months at the firm.
She also created her own website while on the MBA. She wrote content about impact investing, and says it shows potential employers you're serious about your career direction.
---
How does an MBA set you up for career success?
Francesca is now in London, working for The Global Steering Group for Impact Investment as program manager, a role she's held since April 2018.
She says she's always been interested in how financial institutions and organizations can have a positive impact on the world—but before the MBA she didn't know what the solution was to take her career in that direction.
Complementing her finance background with the MBA has enabled her to get to where she is today, she says.
It gave her the confidence to apply for roles within the social impact space, as well as the ability to succeed in those roles.
"If you've only ever known one company throughout your career, then you can struggle to see how you can ever change, but it's possible, it just takes more willpower," she says.
"Somehow just going through that transition, gaining the confidence, knowing how a business operates, through finance, sales, HR, marketing and communications, it gives you the confidence and competence to make a drastic move."
The year-long Leadership Discovery Process runs alongside MBA modules at Copenhagen Business School. It develops your ability to influence yourself and others, explains Francesca, and is a core part of the MBA.
You get coaching and mentoring, and you get to identify what kind of leader you are as you develop your soft skills. "Crucial to success," says Francesca.
"I now work for an organization looking to change the way capital is being used, and a lot of what we're trying to do is influence others on how to think about environmental or social issues," she adds. "You need to be able to influence them, and you get that from the MBA."
Student Reviews
Copenhagen Business School (CBS)
Related Content: